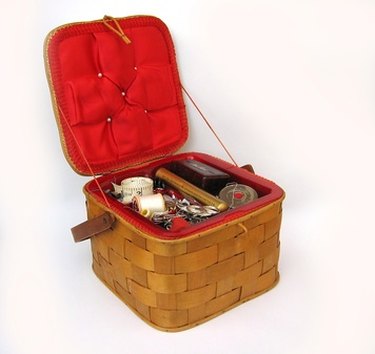 When you look on the back of a commercially printed sewing pattern, you will see a list of notions needed to make the garment successfully. Any object used to complete a sewing project is a sewing notion. Sewing notions range from the everyday, such as needles and pins, to more specialized items such as purse hardware and decorative buttons.
Needles
You cannot sew without a needle, making it the one of the most important sewing notions. You use a different needle depending on the type of material you are sewing and the type of equipment you are using. Hand sewing and machine needles come in a variety of sizes and needle points. Needles with a sharp point are for general use while ball point needles are suited for sewing delicate and knit fabrics. Thinner fabrics require thinner needles.
Thread
Thread is another essential sewing notion. You use a different type of thread depending on what sort of material you are sewing. Seamstresses consider polyester thread to be an all-purpose thread, since you can use it to sew knits fabric as well as woven cotton or linen. It is durable but cannot stand up to the heat of the iron, so if you sew a lot of crisp cotton clothing you may want to use a 100 per cent cotton thread instead. Silk thread is good for sewing wool, silk or other delicate fabrics. Use elastic thread to create shirred, stretchy stitches.
Pins and Pin Cushions
Pins are another important sewing notion. A seamstress uses straight pins to piece together a garment, purse or quilt before sewing it. The length of pins varies. Shorter pins are great for tight, curved spaces such as a sleeve while longer pins are good for piecing quilts together. Some seamstresses prefer pins with large, colorful heads while other like pins with flat heads. Pin cushions can either be the traditional small stuffed tomato (or another shape) or plastic covered magnets.
Buttons and Other Fasteners
Buttons, zippers and snaps are all sewing notions. You may use one or all of them in a project, depending on what you are constructing. Fasteners come in a variety of sizes, from tiny snaps to large chunky zippers. Attaching zippers with a sewing machine requires a special zipper foot that usually comes with the machine. You also attach buttons and snaps with most machines using a special stitch setting.
Tapes and Trims
Bias tape covers raw edges on quilts and bags.You can purchase pre-made bias tape or make your own by cutting fabric on the diagonal and folding it. A machine can also turn strips of fabric into bias tape. Ric-rac and other ribbon trims add a decorative touch to collars, shirt sleeves and hems. Fusible sewing and hem tape create either a temporary or permanent and take the place of straight pins or stitching.