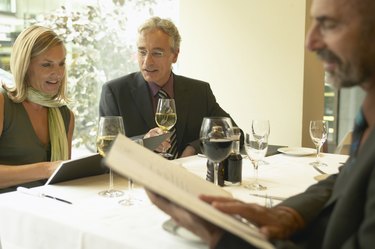 The menu a restaurant uses reflects its type of food service as well as its business plan. Fast-food establishments use a predictable menu, while fine-dining restaurants typically change their offerings regularly and package them at set prices. Other eateries have menus featuring combinations of individually priced dishes and multicourse meals. Menus also promote sales by focusing on children, special occasions, beverages and desserts.
Table d'Hote
A restaurant menu with set prices for a meal that includes several courses is known as a "table d'hote" menu. For example, you may have three cuts of steaks from which to choose for $28, and your selection lets you order one of two vegetables and either rice or a baked potato plus a salad. Your cost remains $28 whether you decline or order the accompanying dishes. When it lists one price for the entire meal from appetizer to dessert as is done at finer restaurants, this menu type is known as a fixed price, or "prix fixe," menu. Banquet menus offered by caterers, children's menus, tasting menus and single-use menus for holidays such as Valentine's Day and Thanksgiving are variations of the "table d'hote," fixed-price menu, as is the "carte du jour," which features one or two daily specials offered at a set price.
A la Carte
"A la carte" menus price each dish the kitchen offers separately and groups them by category such as starters and seafood. You choose individual dishes to create your own meal package. Although this type of menu gives you more options, it typically costs more than the all-inclusive pricing on a table d'hote menu. Some restaurants offer a la carte and table d'hote sections to sell individually one or more courses, such as dessert and appetizers.
Beverage and Dessert Menus
Although some restaurants include desserts and list beverages, beers and wines, on full menus, others opt to create dedicated menus for these categories to boost sales. Separate dessert menus often include coffee and tea suggestions, while a wine menu may indicate which wines can be purchased by the glass or carafe as well as by the bottle. One Los Angeles restaurant has a 45-page water menu in addition to a cocktail menu and wine list.
Static and Cycle Menus
Restaurants may have static menus that feature the same dishes all year long with an occasional addition offered at a set period of time such as a holiday. Fast-food restaurants and diners typically offer static menus that present food choices by category such as sides and sandwiches. School and institutional cafeterias, however, use cycle menus, which allow them to rotate their menus daily, weekly or monthly. Serving tacos each Tuesday and calling the menu "Taco Tuesday" is an example of a cycle menu as is having a set menu for each season and repeating this seasonal selection each year.