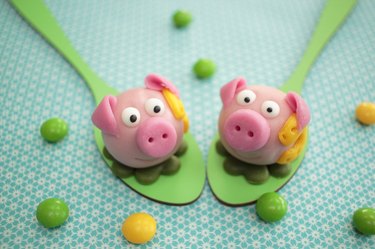 There are many unique and fascinating holiday rituals that take place around the world each year. They include marzipan pigs, which are a beloved New Year's Eve tradition in Germany. Exchanging marzipan pigs at Christmas is one way in which Germans wish each other good luck as a new year begins. Other countries have also adopted marzipan pigs as a holiday celebration, and these whimsical treats are easy to DIY at home.
Marzipan is a type of confection popular throughout much of Europe. It is made with ground almonds, egg whites and sugar. With a pliable consistency that can be likened to that of children's clay, though with a slightly rougher feel because of the ground almonds, marzipan can be molded into all sorts of shapes. Marzipan is usually ready to eat, unlike almond paste, which is usually a dessert ingredient that is not eaten on its own.
Traditionally, marzipan is shaped into fruits and painstakingly painted with food coloring to look realistic. It can also be molded into animal shapes, including adorable little pigs that are just a few inches in size and almost too cute to eat. Because of how easy it is to mold, marzipan can also be used in cake decorating in place of fondant.
The marzipan that is made in the city of Lubeck in northern Germany is considered to be some of the finest in the world. In fact, some people claim that marzipan originated in Lubeck. However the origins of this sweet treat are unclear, as marzipan candy is consumed in many other parts of Europe, including Italy, France, Spain and Portugal as well as the Middle East.
There is a phrase in the German language—​Schwein gehabt​—which translates literally to "having a pig" in English. In Germany, "having a pig" is another way to say that someone is lucky. The saying dates back to medieval times, when a pig farmer who successfully raised many pigs was considered prosperous. Therefore, as New Year's Eve approaches, people in Germany give each other pink marzipan pigs as a way to wish each other luck in the coming year. Around the holidays, the marzipan pigs are available for sale at German candy shops.
The tradition of gifting marzipan pigs around the winter holidays has also spread to Norway and Denmark. In fact, in another Scandinavian tradition, people often consume a sweet rice porridge on Christmas. Some cooks will add a single almond to the porridge. When the porridge is served, whoever finds the almond wins a prize, which is often—you guessed it—a good luck marzipan pig.
Plain marzipan that is ready to be dyed and molded can be found at some grocery stores. Alternatively, you can whip up some homemade marzipan yourself using almond paste, powdered sugar and corn syrup to create a stiff, doughlike product that can be kneaded and holds its shape. Adding red food coloring to the cream-colored marzipan will produce a pink color—the color of pigs. To add eyes or other features to your pigs, you'll want to dye some marzipan black.
Once your marzipan is dyed and ready to be shaped, you can use molds purchased at a craft or specialty store to fashion it into pigs. This will result in all of your homemade marzipan pigs being uniform in shape and size. However, if you do not have a mold, you can simply shape each piggy by hand.