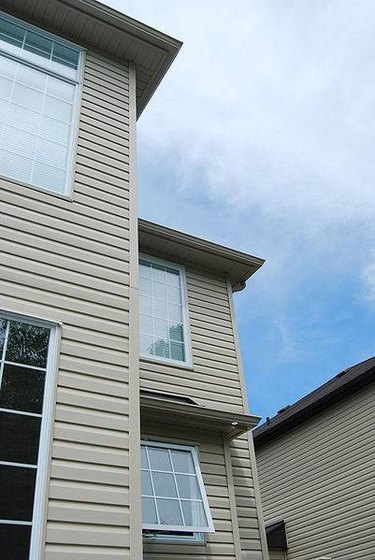 Building cladding is an exterior finish material that is installed over the wall framing or building support structure. It serves the dual purpose of improving the appearance of the building and helping to keep outdoor elements out. Cladding itself may not be water or wind resistant, but combined with other waterproofing elements like building wrap and insulation, cladding systems help to complete the exterior walls of a building. Cladding comes in many forms and materials, which are generally chosen based on the design and aesthetics of the building. In most of North America, the word "siding" is used instead of "cladding," which is more widely used in Europe and Australia. In much of the world, "weatherboard" is equivalent to the word "siding" as well.
Vinyl Siding
Vinyl siding is the most common exterior finish used on buildings in North America. This material is made from rows of polyvinyl chloride (PVC) resin panels. It is known as a cheap siding material that is easy to cut, install and replace as necessary. Vinyl siding is available is a wide array of colors, and is sold according to the thickness and durability required. This material does not need to be painted, and the only maintenance needed is cleaning via power washing when necessary, typically every year or two. As green building interests increase, more and more attention is being paid to the off-gassing effects of PVC siding. This material is said to release toxic fumes as it interacts with the air. These elements can potentially be harmful to humans, and may irritate respiratory illnesses like asthma.
Stone Veneer
One of the more expensive ways to clad a building is to use brick or stone veneer. This product requires a high upfront investment, but will likely last for decades once installed, and needs no maintenance. Masonry veneer may consist of various types of brick, stone, or clay products attached to structural framing. There are several advantages to this type of cladding. First, it is installed with an empty air space between the building and the back of the stone. Weep holes placed at the bottom of this opening allow for excellent drainage, and help keep water out of the building itself. In addition, this cavity provides plenty of space to install building insulation, particularly rigid foam boards, which can help control temperature and reduce heating and cooling costs.
EIFS
Exterior Insulation and Finish Systems (EIFS) are one of today's most popular exterior cladding products for commercial buildings such as schools, offices, and high rises. This material is often compared to stucco, but it is actually made from artificial components, rather than the sand and cement used to produce stucco. EIFS (commonly pronounced as eee-fuss among contractors) is a system of plastic insulating panels covered by a synthetic stucco-like material. The finish on these walls can mimic the texture of stucco or plaster, or can be troweled so smooth that it looks like a solid piece of stone. Dyes and pigments are used to color EIFS as it is applied, or it can be painted. Improved drainage technology is helping to grow the popularity of this product throughout the world.
Wood Siding
Wood siding and shingles are very common types of cladding using mainly in North America. This material is made up of wood planks derived from oak, pine and cedar trees. When rows are installed so that they overlap, the effect is called "clapboard," leading to the term "clapboard house." Wood siding is naturally weather-resistant, environmentally-friendly and thermally insulating. This material is quite durable, but requires more maintenance than most other kinds of cladding. It must be treated for termites every few years, and tends to need repainting or a touch-up quite frequently.
Metal Siding
Metal siding comes in two basic varieties. There is the corrugated steel used on storage buildings, and aluminum panels or siding used mostly on homes. Corrugated steel is popular on buildings where appearance isn't really an issue. This product is extremely strong and durable, and will last for years with no maintenance. While rust can be a problem, it can be avoided through the use of galvanized metal. Aluminum siding, on the other hand, is a popular cladding for homes in coastal areas. The aluminum will not rust or corrode when exposed to moisture or saltwater, and can withstand storms and harsh conditions better than many other cladding products. Metal siding in general is fairly expensive, though it is resistant to rot, termites, and most kinds of damage.