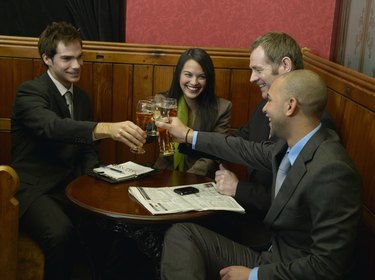 In the world of social media, organizing a high school reunion is a dying phenomenon. However, there's something to be said for putting together a party to catch up with long-lost classmates in a manner you can't experience through the computer. Although some high schools reconvene at the five- or 15-year mark, most reunions celebrate the 10th, 20th, 30th, 40th and 50th anniversaries of graduation.
Organizing a Reunion Committee
A successful high school reunion begins with the formation of a committee that will organize the event. While, traditionally, the responsibility might have fallen to the senior class president, now the task can fall to those most interested in putting together the evening. The committee should consist of people local to the high school's location and consist of a chair and treasurer, who oversees finances. In some cases, reunion committees begin forming two years before the event actually occurs, but at a minimum, give yourself a year to put the reunion together.
The Details of a Reunion
The majority of high school reunions are held within 12 to 15 miles of the high school, according to Great Reunions, as having "destination" reunions tends to decrease attendance drastically. Tasks to putting together a successful reunion include selecting a date and a venue, locating former classmates and sending invitations, hiring entertainment, a photographer and, if necessary, a caterer and bartender, and decorating the venue with mementos from the high school. According to ReunionAnnouncements.com, Fridays and Saturdays are ideal dates for a reunion, and the most popular time of the year falls from summer to late fall, including Thanksgiving weekend. The benefit of holding the reunion over the holiday weekend is that many out-of-town classmates are home visiting family. You might also consider holding the event the weekend of the high school's homecoming so guests can attend the traditional football game.
Multi-day Reunions
For classmates who just can't get enough of each other, a multi-day reunion features multiple events over a weekend rather than a single-evening affair. Although it requires more work than a one-night reunion, it also gives guests more time to catch up. On Friday night, hold an informal mixer, such as a happy hour at a local bar. On Saturday, include a daytime event such as a tour of your old high school before the big she-bang during the evening. On Sunday, hold a wind-down event such as a brunch or midday picnic. Be wary, however, as Great Reunions says that multi-day events are often too expensive and not as successful.
Attending Your Reunion
It's become a cliche that those attending an upcoming reunion fret over losing weight, boosting their career star power, and chase after a potential date so as not to show up alone. However, if you're attending a reunion, step back and calm down -- it's likely that although you're not the most successful person in your graduating class, it's almost a guarantee that you're not the least successful either. Attend the reunion without any expectations and keep an open mind as to whom you might see. Take the opportunity to reconnect with long-lost friends, bury the hatchet with former nemeses and hold off on downing one-too-many cocktails.