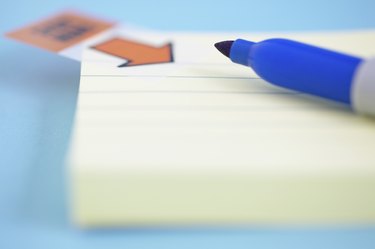 Sharpie, the popular permanent marker company, was founded in 1857, called Sanford, and sold ink and glue. In 1927, Norman Rockwell celebrated the company's 70th birthday with a painting whose caption read, "It's lucky for you, child, your Gran'dad wrote this will with Sanford's Ink!"
But what makes Sharpies work? Why are permanent markers permanent? The science behind permanent markers, often overlooked, involves the marker's three main ingredients: colorant, carrier and resin. In the right combinations, these three ingredients make permanent markers work.
Definition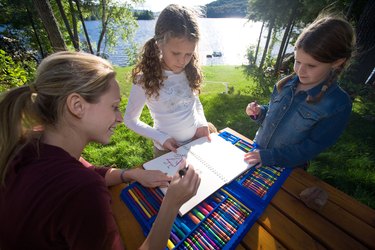 While the definition of a permanent marker sounds obvious, it actually is not. Technically, a permanent marker need only meet these two qualifications to be considered permanent: it must use dyes or pigments, and it must adhere to most surfaces and/or be water resistant.
According to Sharpie's website, writing from a permanent marker can be expected to last anywhere from a mere "three or four months" (with outdoor exposure and/or a nonporous surface) to several years.
Ingredients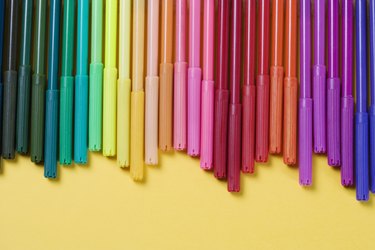 A permanent marker's ink must contain three ingredients in order to work: colorant, carrier and resin. The colorant is what gives the ink color. Colorants in permanent markers are usually pigments, rather than dyes, because they fade less easily and do not bleed through paper.
Carriers can also be described as solvents. They must be able to evaporate quickly once the ink is used, but they are what transmits the dye to paper. In the past carriers were made of chemicals such as xylene and toluene, but by the 1990s, these were almost completely replaced by alcohol-based markers.
The resin, also known as a binder, causes the ink to adhere to a surface. It must, therefore, have a "sticky" quality, forming a film over the pigment once the carrier evaporates.
Composition
Permanent markers are most often composed of an airtight plastic tube with one opening. A porous material, soaked in ink, is located inside the tube. When the marker is used, ink is siphoned to the tip of the marker. As mentioned previously, the ink must contain colorant, carrier and resin.
History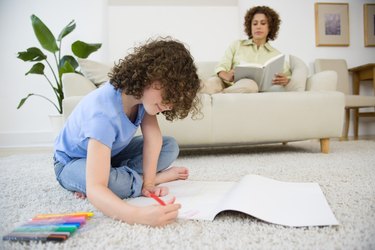 While Sanford's was founded in 1857, the permanent marker was not invented until much later. The felt-tip pen was developed in 1953, and markers quickly became popular. In 1964, Sanford began selling permanent markers under the Sharpie label, and the black fine-point Sharpie was the first pen-style permanent marker.
Permanent Marker Removal
While removal of permanent marker sounds like an oxymoron, there are effective ways to remove ink from permanent markers. Alcohol will remove permanent marker more effectively from nonporous materials, but it will work with porous materials as well. Many household items, such as deodorant or hair spray, contain alcohol, and could also be used effectively. Baking soda is another popular permanent marker remover.