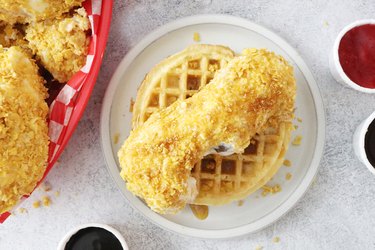 If you love fun and quirky desserts, you're going to ‌adore‌ this fried chicken and waffles ice cream recipe. Yes, you read that correctly: fried chicken ice cream! Our creation consists of vanilla ice cream bars that look amazingly similar to fried chicken thanks to a coating of crunchy crushed cornflakes. Each "chicken" drumstick even has a mini Twix bar "bone" inside, further adding to the novelty!
You may have seen "fried chicken" ice cream drumsticks on TikTok or from Life Raft Treats, creators of the delightful Not Fried Chicken ice cream. For our chicken-and-waffles version, we coated the ice cream with cornflakes and used white chocolate to fill in gaps that needed more cornflakes. The result is an ice cream bar studded with white chocolate chunks! Finally, we served our fried chicken drumsticks with waffles as a nod to a delicious classic. Think of it as an open-faced ice cream sandwich.
Video: "Fried Chicken" & Waffles Ice Cream
Of course, you can't have chicken wings or drumsticks (ice creamified or not) without dip. That's why we paired this sweet treat with a trio of dips: strawberry sauce, chocolate sauce and maple syrup. Yum!
When you're looking for a creative alternative to ice cream cake, loaded waffle cones or other traditional frozen goodies, this fried chicken ice cream will surely steal the show. Pick up some ingredients at the grocery store and let the sweet adventure begin!
Things You'll Need
2 pints vanilla ice cream

8 fun-size Twix bars

1 cup white chocolate chips

3 1/2 cups crushed cornflakes

Waffles


Strawberry sauce

Maple syrup

Chocolate sauce

Parchment paper

Sheet tray or freezer-safe plate

Rubber gloves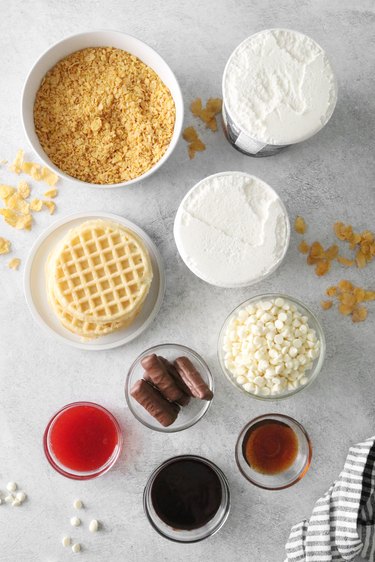 Tip
Before starting this recipe, clear out space in your freezer. Make sure there's enough room to fit a sheet tray or plate of fried chicken drumsticks. This will save time and limit how long the ice cream chicken stays at room temperature.
How to make Fried Chicken Ice Cream:
1. Mold ice cream drumsticks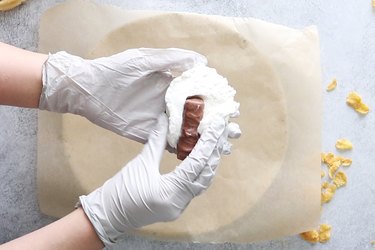 Line a sheet tray or freezer-safe plate with parchment paper. Put on gloves.
Using a large spoon, scoop out a chunk of ice cream. Flatten the ice cream with your hands and then place a fun-size Twix toward the bottom.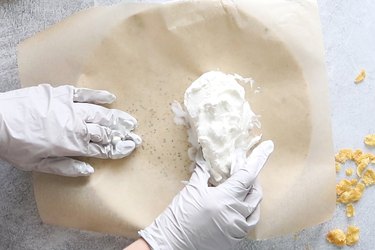 Wrap ice cream around the Twix using your fingers to quickly mold it into a drumstick shape. You can also add ice cream on top to help build out the drumstick.
Tip
It's OK if the ice cream isn't a perfect drumstick shape. You'll have multiple chances to mold it.
Make another one or two drumsticks and then pop them in the freezer. Repeat this process until you have eight ice cream drumsticks. By doing this step in batches, you'll avoid leaving any drumsticks at room temperature for too long.
Freeze for at least two hours. At the one hour mark, remove the drumsticks from the freezer and shape them with the back of a spoon.
If ice cream melted and pooled around the drumsticks, it will have refrozen by now. Use a spoon to push it back onto the drumsticks. You can also add more ice cream during this step if needed.
2. Coat in crushed cornflakes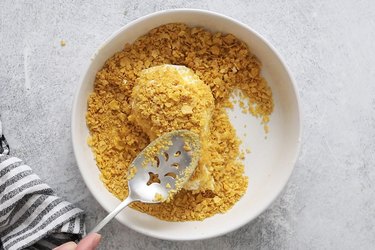 Place crushed cornflakes in a shallow bowl.
Remove a few drumsticks from the freezer. Lay a drumstick in the cornflakes, pressing gently to coat the bottom. Add more cornflakes on top and use the back of a spoon (or clean fingers) to press cornflakes into the ice cream.
Repeat until all of the drumsticks are coated. Freeze for another two hours.
Tip
To crush cornflakes, blend them in a food processor. Avoid blending for too long, as this might turn the cornflakes into a powder. Ideally, the cereal should be broken down into small pieces that look like breading on fried chicken.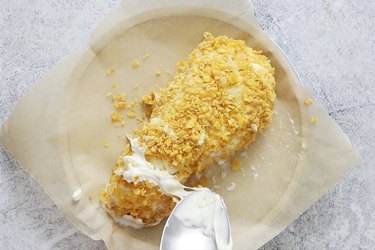 This step is optional. However, it's a great way to "clean up" gaps in the coating while adding chunks of white chocolate to the fried chicken ice cream.
Melt white chocolate chips in a microwave or on the stovetop. To use the microwave, place chips in a microwave-safe bowl and heat for 60 seconds. Stir and then repeat in 30-second intervals. Be sure to mix after each interval.
Tip
If you prefer to use the stovetop, make a double boiler with a small pot, stainless steel bowl and water.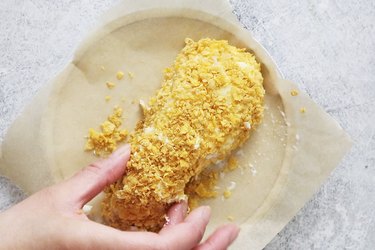 Spoon a bit of melted white chocolate onto any gaps and then sprinkle with crushed cornflakes. Reshape the drumstick as needed. Freeze for two hours.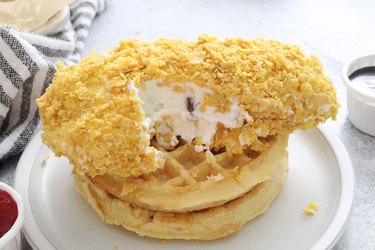 To enjoy your chicken ice cream bars, toast a few waffles according to the packaging. Place them on a plate and then top with a fried chicken ice cream treat. From there, drizzle a sweet sauce on the dessert or dip the bar in sauce.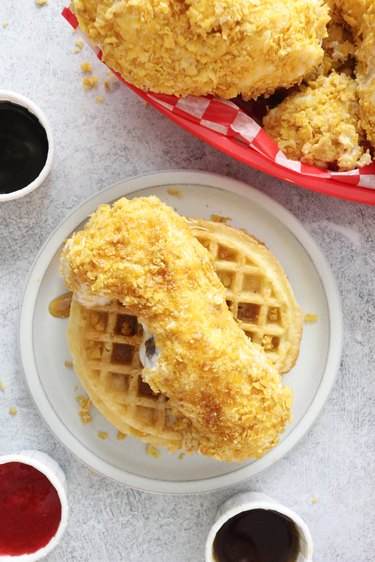 Serve crispy chicken ice cream bars at birthday parties, barbecues or whenever you're craving a cold summer treat with a fun visual trick. So good!