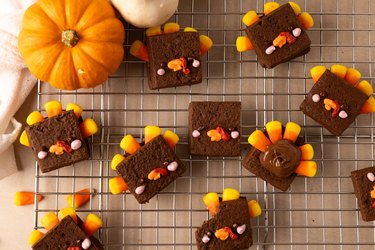 If you're on dessert duty this Thanksgiving and want to make something other than pumpkin pie, chocolate chip cookies or sugar cookies, this easy recipe is for you! And if this is your first time making shortbread dough, have no fear: Our simple tutorial will walk you through making the best shortbread cookies ever—and they're shaped like adorable turkeys. Win-win!
These tasty "turkeys" are actually buttery, chocolatey, melt-in-your-mouth cookies sandwiched together with Nutella. To keep things simple, all design elements are added post-bake using melted chocolates and candy corn. If you want to make it even simpler, consider picking up store-bought cookie icing as a quick decorating option.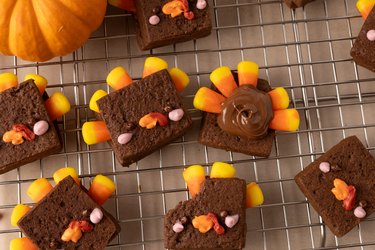 Not only is this recipe easy, it's also versatile! You can omit decorations and use different cookie cutters, dust shortbread with powdered sugar or even skip the cocoa powder to make classic butter cookies instead (Ted Lasso shortbread, anyone?). As Thanksgiving nears, add this shortbread cookie recipe to your holiday cookie collection and then adjust it for Christmas and beyond.
Quick Recipe Overview
‌SERVINGS‌:‌ ‌15 chocolate shortbread turkeys
‌‌PREP TIME‌: ‌‌‌10 minutes
‌CHILL TIME: ‌60 minutes
‌‌BAKE TIME: ‌‌‌10-12 minutes
‌‌TOTAL TIME:‌ ‌‌1 hour 20 minutes‌
Things You'll Need
Large bowl or bowl of stand mixer

Hand whisk, electric mixer or stand mixer fitted with paddle attachment

Rubber spatula

Plastic wrap


Rolling pin

Large knife or square cookie cutters

Parchment paper

Silicone mats (optional, can use parchment paper)

2 baking sheets

Cooling rack

1 1/4 cup all-purpose flour

1/4 cup cocoa powder

1/4 tsp. espresso powder

1/2 tsp. salt

1/2 cup unsalted butter, softened

1/2 cup granulated sugar or brown sugar

1 egg, room temperature

1 tsp. vanilla extract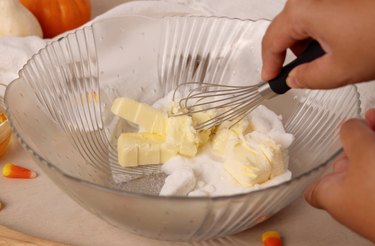 In a large bowl or bowl of a stand mixer, mix 1/2 cup unsalted butter and 1/2 cup sugar until smooth.
2. Add in egg and vanilla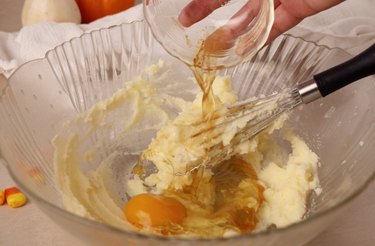 Mix in egg and 1 tsp. vanilla until fully combined.
3. Stir in dry ingredients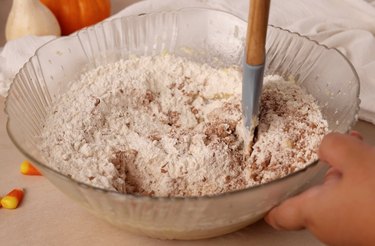 Using a rubber spatula, stir in 1 1/4 cup all-purpose flour, 1/4 cup cocoa powder, 1/4 tsp. espresso powder and 1/2 tsp. salt until no dry spots remain.
Tip
Adding espresso powder doesn't necessarily give this cookie a coffee taste. It actually enhances the cocoa powder, providing a deeper chocolate flavor!
4. Wrap and refrigerate dough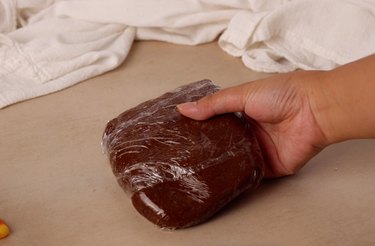 Cover dough in plastic wrap and refrigerate for 30-60 minutes. This will help dough firm up and roll out more easily later.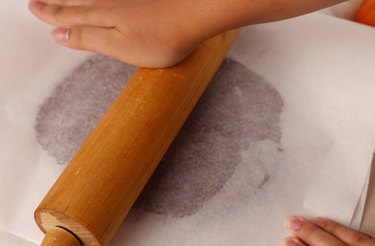 Cut two large pieces of parchment paper (10 in. x 15 in.).
Lay down one piece of parchment paper and then add all cookie dough. Place second piece of parchment paper on top. Using a rolling pin, roll out cookie dough into a large rectangle until dough reaches a little less than 1/2 in. thick.
Tip
This parchment paper stack makes rolling out dough much easier and mess-free!
6. Loosen parchment paper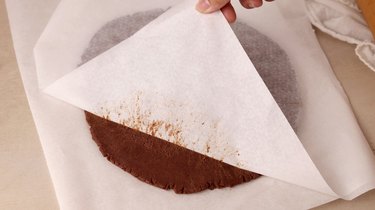 Peel off top parchment paper and then lightly stick it back on. Flip over entire parchment-shortbread-parchment stack and then fully peel off new side's parchment paper.
Tip
This step helps loosen shortbread so it's easier to cut and transfer cookies onto baking tray. If dough becomes too soft to work with, pop it into the freezer for 15 minutes or the fridge for 30 minutes.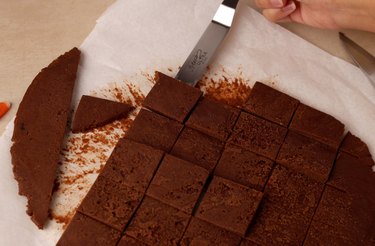 Preheat oven to 350°F and line two baking sheets with parchment paper or silicone mats. Use a large knife or cookie cutters to cut out even squares. Our shortbread squares were about 1.5 in. x 1.5 in.
Space squares about 2 in. apart on baking sheets.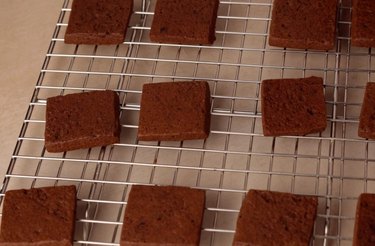 Bake for 10-12 minutes or until cookies have slightly firm edges and middles look set without any wet spots.
Let cool on pan for 5 minutes and then transfer baked cookies to wire rack. Match shortbread cookies in pairs and line them up.
Things You'll Need
Chocolate shortbread

4 small microwave-safe bowls

4 piping bags

Spoon

1/8 cup each candy melts (orange, red, pink)

1/2 Tbsp. milk chocolate chips

1/2 cup Nutella


75 pieces candy corn
1. Add turkey face details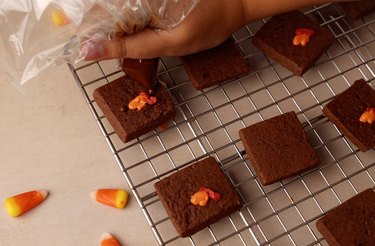 Decorate half of shortbread cookies since one side will form back of turkey.
In a small microwave-safe bowl, heat 1/8 cup orange candy melts at 30-second intervals until fully melted. Transfer to a piping bag and draw on turkey beaks.
In another bowl, melt 1/8 cup red candy melts. Use this for turkey wattles. Similarly, melt 1/8 cup pink candy melts and use this as blush. Lastly, microwave milk chocolate chips and use this as turkeys' eyes.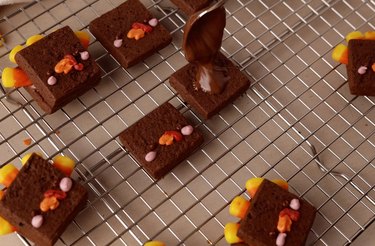 Spoon about 1/2 Tbsp. of Nutella onto bottom cookie of each shortbread pair.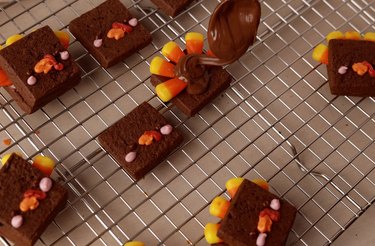 On top of Nutella, add 5 pieces of candy corn as pictured above. Lightly drizzle extra Nutella on top of inner pieces of candy corn. This will help top cookie stick.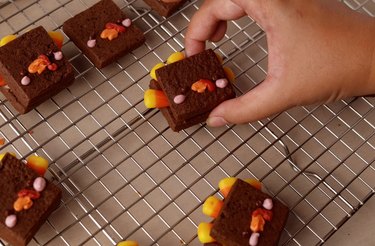 Top with matching shortbread cookie and enjoy! Store cookies in an airtight container at room temperature for up to a week.
Whether these shortbread cookies are made for a fall potluck or Thanksgiving Day, they'll surely be gobbled down!