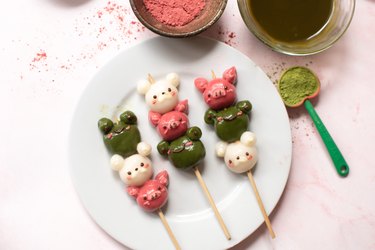 Ever heard of dango? The traditional Japanese snack is made with sweet rice flour and has a chewy texture, and while you might not immediately recognize its name, you've likely seen dango in the form of this emoji: 🍡! This kebab arrangement is known as hanami dango (hanami meaning "flower watching") and is commonly enjoyed during cherry blossom season in Japan.
Dango can be prepared in assorted flavors by using an array of tasty powders, like matcha or strawberry. It can also be topped with additional deliciousness, including anko (sweet red bean paste) or mitarashi sauce (sweet soy glaze). If you do use a sweet soy sauce, then the dango is referred to as mitarashi dango. Versatility is the name of the (delicious) game here!
Video: Adorable Dango That's Almost Too Cute to Eat
Now that you're up to speed on this terrific Japanese treat, are you ready to whip up a batch of your own? We've got an animal-themed dango recipe that's almost too cute to eat—the key word being "almost." Our recipe calls for shiratamako, a type of glutinous rice flour that's often preferable to mochiko or joshinko because it yields chewier, stretchier, smoother results. You can find shiratamako at most Asian supermarkets or on Amazon. We opted for a green tea anko spread to top things off.
These rice dumplings are easy to make and nothing short of delicious. Try them over a scoop of vanilla ice cream and a serving of that green tea spread or enjoy them independently. No matter how you enjoy this traditional Japanese sweet treat, it's sure to become a new favorite. Now, let's get mixing!
Quick Recipe Overview
‌SERVINGS‌: 3 skewers
‌PREP TIME‌: 30 minutes
‌COOK TIME:‌ 3 minutes
‌DECORATING TIME:‌ 15 minutes
‌TOTAL TIME:‌ 48 minutes
Things You'll Need
3 bamboo skewers

Large mixing bowl

Rubber spatula

Plastic wrap

Medium pot

Toothpick or piping bag

1/2 cup shiratamako


1/4 cup water


1 tsp. sugar

1 tsp. matcha powder

1 tsp. strawberry powder

Food coloring (pink and green)

1 Tbsp. milk chocolate, melted

1 Tbsp. white chocolate, melted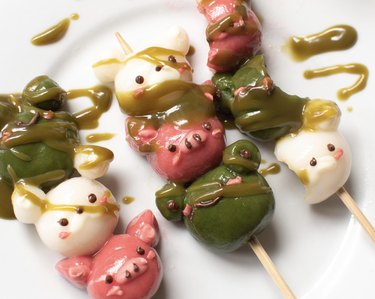 1. Combine shiratamako, water and sugar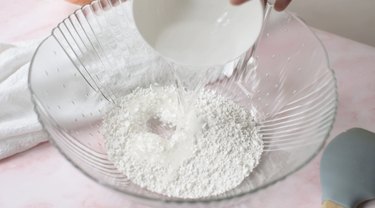 In a large bowl, mix together shiratamako, water and sugar and knead until the dough reaches a texture similar to an earlobe (yes, earlobe!). If dough is too dry, add small splash of water. If dough is too sticky, add a bit more shiratamako.
2. Split and color dango dough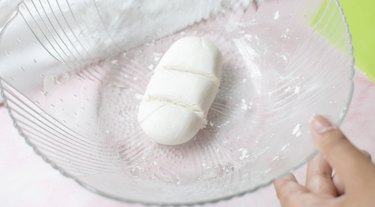 Split dango into three equal portions. We will make three colors: white, green and pink. Add matcha and green food coloring to one portion and then strawberry powder and pink food coloring to the other. Knead into balls until smooth. Lightly cover with plastic wrap.
Tip
If dough is still crumbly, add water in small increments.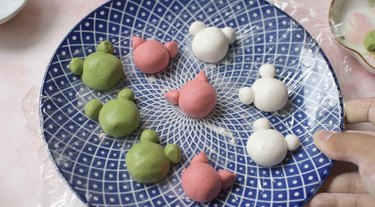 Split each color into four equal-size balls for a total of 12 balls. For each color, three balls will form heads. Split fourth ball of each color into six equal-size balls. These will form frogs' eyes along with bears' and pigs' ears.
Use water to glue ears and eyes onto animal heads.
Tip
After adding ears onto pigs, lightly pinch ends so ears are pointed.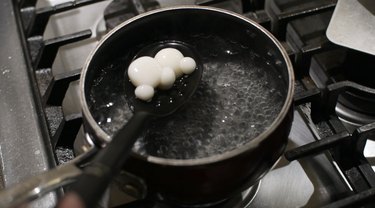 In a medium pot, bring water to a gentle simmer. Delicately add mochi balls to pot of water and cook for about three minutes or until they float.
Remove dango balls from pot.
Tip
It's important to make sure you don't add dango to boiling water because it will make the animal shapes fall apart! A gentle simmer is better in this case.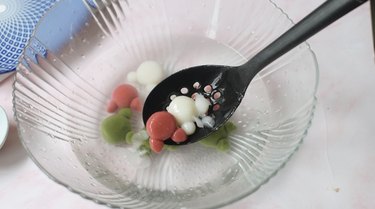 Add dango to a bowl of ice water to cool, about one minute. Remove from cold water.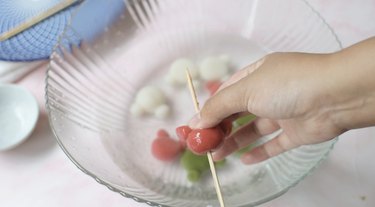 Add three dango balls to each skewer.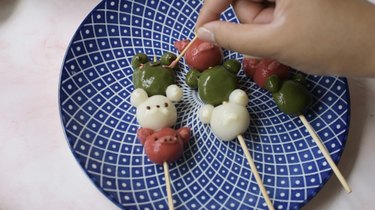 Use melted chocolate to decorate faces using a piping bag or toothpick.
Tip
If you don't have oil-based food coloring, your dyed white chocolate might get clumpy. If this happens, mix a neutral oil (canola, vegetable) in 1/2-tsp. increments until it smooths out again.
First, use white chocolate for bears' snouts and ears. Dye remaining chocolate with pink food coloring and then use this for pigs' snouts and ears. Save remainder for adding blush to each animal. Use melted milk chocolate for eyes of each animal, noses for bears, nostrils for pigs and smiles for frogs. Last, add blush to all animals.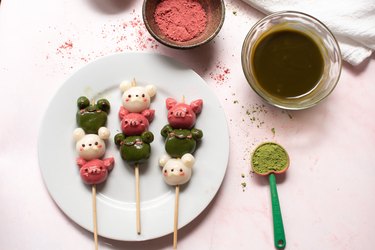 Feel free to eat dango plain, with a soy sauce glaze or with warmed matcha anko spread. Store this Japanese sweet treat in an airtight container in the fridge for up to three days. Dango pieces will become hard over time, so microwave them for a few seconds to reheat.
Adorable ‌and‌ delicious? Sounds like a win-win to us!