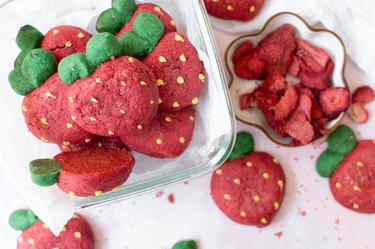 There's no denying that sugar cookies are a beloved treat. In fact, they even have their own holiday in the USA: National Sugar Cookie Day, which rolls around every July 9! And while we're all for celebrating food-based holidays, the good news is that delicious sugar cookies can be enjoyed year-round.
To help you get in the spirit, we've whipped up sugar cookies inspired by those super-soft, buttery bakery cookies found at the grocery store—but to elevate them, we added strawberry powder and shaped them like actual strawberries.
This sugar cookie recipe doesn't require pressing dough into thin layers or using cookie cutters. Instead, everything can be done by rolling, flattening and pinching dough by hand until it resembles a strawberry. It's a fun, simple recipe to make with friends or kids and a surefire favorite. Whether paired with a big bowl of ice cream or enjoyed solo, these colorful treats will sweeten up your season.
Quick Recipe Overview
‌SERVINGS‌:‌ 15 strawberry cookies
‌‌PREP TIME‌: ‌10 minutes
‌‌CHILL TIME:‌‌ 30 minutes
‌COOK TIME: ‌9–11 minutes
‌‌DECORATING TIME: ‌10 minutes
‌‌TOTAL TIME:‌‌ 1 hour 15 minutes
Things You'll Need
Large mixing bowl

Medium bowl

1 small microwave-safe bowl

Rubber spatula

Plastic wrap

2 baking sheets

Parchment paper or silicone mats

Toothpick or piping bag

1 1/3 cup all-purpose flour

3 Tbsp. freeze-dried strawberry powder

1/2 tsp. baking soda

1/2 tsp. baking powder

1/2 tsp. salt

1/2 cup unsalted butter, melted and cooled (1 stick/8 Tbsp.)

1/4 cup granulated sugar

1/4 cup light or dark brown sugar

1 tsp. vanilla extract

1 egg

Food coloring (green, red, yellow)

2 Tbsp. granulated sugar

1 Tbsp. white chocolate chips
1. Mix together butter and sugars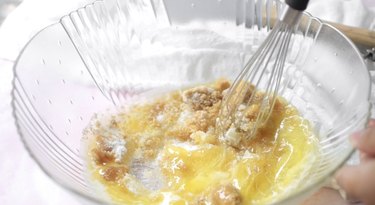 In a large bowl, mix together butter and sugars until combined.
2. Whisk in egg and strawberry powder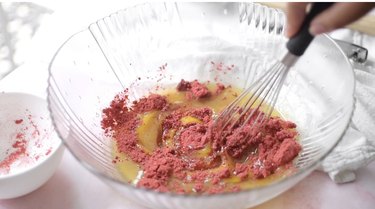 Whisk in egg and strawberry powder until smooth.
Fold in dry ingredients with a rubber spatula until no dry spots remain.
For strawberry leaves, separate approximately 3 Tbsp. of dough and place into a medium bowl. Fold in green food coloring and cover with plastic wrap. Add red food coloring to remaining cookie dough, which will form strawberries. Cover with plastic wrap.
Refrigerate for 30 minutes. This will help firm up dough and make it easier to work with.
5. Shape strawberry dough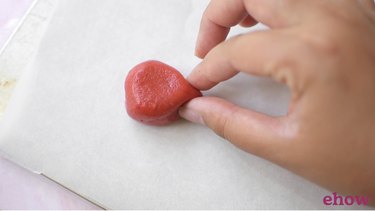 For each strawberry, separate 1.5 Tbsp. of red dough. Shape into a ball and place on lined baking sheet. Slightly flatten dough ball and pinch ends using your fingers to create a strawberry shape.
6. Shape strawberry leaves
Separate about 1/2 Tbsp. green dough and split it in two. Roll into two short logs and pinch ends together. Place on top of each strawberry.
Sprinkle granulated sugar on top of each cookie.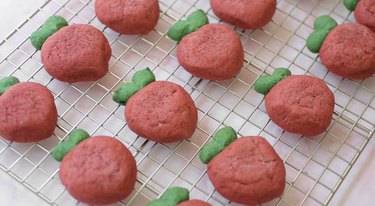 Bake cookies at 350°F for 9 to 11 minutes or until edges have set. Cookies should not brown because of food coloring. Let cool on tray for about 5 minutes and then transfer to wire rack.
9. Decorate with melted chocolate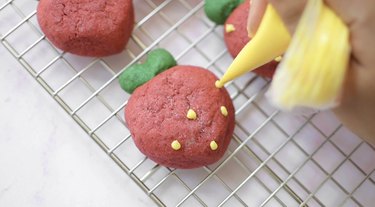 Add white chocolate chips to small microwave-safe bowl. Microwave at 30-second intervals, stirring in between, until chocolate is melted. Add yellow food coloring. Use chocolate to add strawberry seeds on each cookie with a piping bag or toothpick.
Tip
If you don't have oil-based food coloring, chocolate might clump. No worries! If it does, stir in 1/2 tsp. of a neutral oil (canola or vegetable) until it evens out again.
That's all there is to it—sweet! Store completed strawberry sugar cookies in an airtight container for up to five days.
These colorful confections are anything but ordinary, so prepare for plenty of compliments when you serve them at your next picnic, birthday party or National Sugar Cookie Day celebration. ‌Berry‌ delicious indeed!