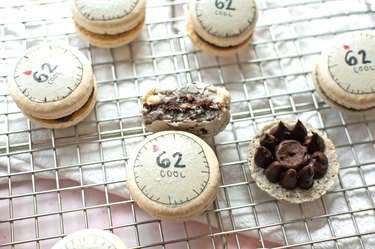 We all know how protective dads can be over the thermostat no matter the season. It's like they have a Spidey sense that tells them when the temperature is bumped up by ‌1 degree‌! So, let's make light of this dad superpower by creating a silly cookie gift for the best dad ever! The best part? This funny, unique Father's Day gift is also downright delicious. Talk about a win-win.
Our thermostat macaron design is great for beginners since the shells are plain circles decorated with edible markers. And don't sweat—we've provided a thermostat macaron template for you to use as a reference. You can also sandwich these Father's Day cookies with any filling you want, but our recipe includes a microwave chocolate ganache tutorial.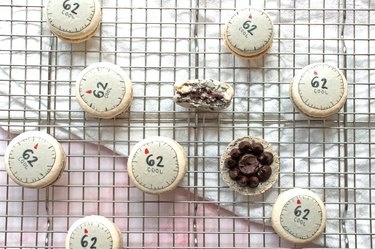 Ready to say "happy Father's Day" with a sweetly snarky DIY cookie gift box? These funny macarons fit the bill and are sure to bring a smile to Dad's face—just keep your mitts off the thermostat!
Quick Recipe Overview
‌‌SERVING SIZE‌‌: 10 thermostat cookies (1.75 x 1.75 in.)
‌PREP TIME‌:‌ 30 minutes
‌‌DRYING TIME‌:‌ 1–2 hours
‌‌COOK TIME‌: 15–18 minutes
‌‌‌DECORATING TIME‌: 15 minutes
‌‌‌TOTAL TIME‌: 2–3 hours
Part 1: French Macaron Shells
Things You'll Need
2 baking sheets

Parchment paper or silicone mats

2 medium piping bags

Hand mixer or stand mixer

Large mixing bowl or bowl of a stand mixer

1 medium mixing bowl

Rubber spatula

Toothpick or cookie scribe

50 g egg whites

60 g almond flour

50 g powdered sugar

40 g granulated sugar

Gel food coloring (purple, black)
1. Whip egg whites and granulated sugar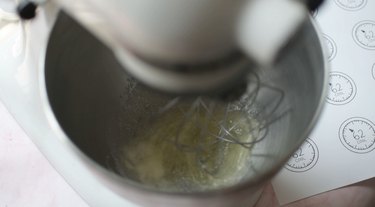 Set up tools and measure out all ingredients. This will help you move through the recipe more seamlessly.
Whip egg whites on medium speed until foamy. Gradually add granulated sugar in thirds while whisking on medium-high speed.
2. Beat eggs until medium peaks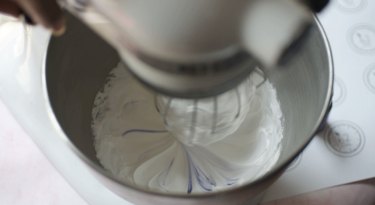 Continue to whip egg whites until thick and able to hold medium peaks.
Use a toothpick or cookie scribe to add a tiny amount of purple food coloring. This will help offset yellow tint of almond flour and yield whiter, brighter macarons.
3. Whip until stiff peaks
Continue whisking until stiff peaks form and you get a thick, glossy meringue.
Tip
Meringue should ball up onto the whisk and be very thick. When the whisk and bowl are held upside down, meringue should not move.
4. Sift in and fold dry ingredients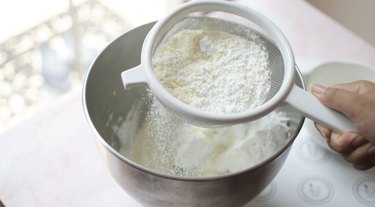 Add all dry ingredients into meringue. Using a rubber spatula, fold dry ingredients into meringue, scraping sides and bottom of bowl often. Fold ‌‌just‌‌ until no dry spots remain. Do not mix further since we will be splitting batter into two colors: gray and white.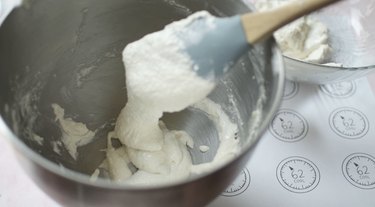 Split half of macaron batter into another bowl to be dyed gray later. Set aside.
Mix other half of batter until it reaches a thick, glossy consistency and falls off the spatula in continuous ribbons. The batter coming off spatula should melt back into remainder of batter in bowl within 20 to 30 seconds. Transfer white batter to its own piping bag.
6. Dye remaining macaron batter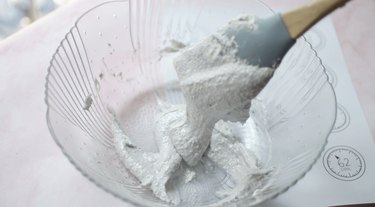 Dye other half of macaron batter gray with a dash of black food coloring. Again, mix until batter ribbons off spatula and then transfer batter to a piping bag.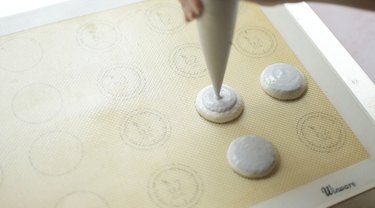 Use our macaron template as a guide underneath parchment paper or a silicone mat to pipe design.
Pipe white macaron batter in inner circle of thermostat. Then, pipe gray batter in middle until perimeter of white batter reaches outer circle.
8. Pipe bottom macaron shells
Use remaining gray and white batter to pipe backs of each macaron.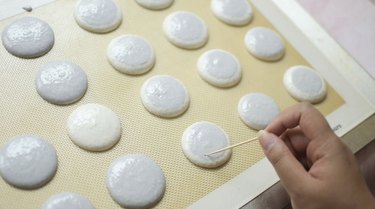 Tap baking trays on table or counter to pop air bubbles. Use a toothpick or cookie scribe to pop any remaining bubbles that rise to the surface.
Remove templates and let macarons sit for one to two hours or until they're dry to the touch. If room is humid, this step might take longer. While waiting, skip ahead and make chocolate ganache and then return to bake them.
Bake macarons at 325°F for 15 to 20 minutes, flipping halfway through. To test if they're done, poke side of one macaron. If it wiggles, they need more time. Let cool completely on a tray and then match macaron shell pairs.
Part 2: Chocolate Ganache
Things You'll Need
Small to medium microwave-safe bowl

Medium piping bag

Rubber spatula

50 g white chocolate

50 g heavy cream
1. Microwave chocolate and heavy cream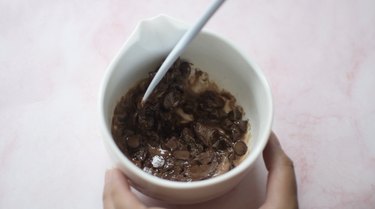 Combine chocolate and heavy cream in microwave-safe bowl. Microwave until melted and smooth, stirring every 30 seconds.
2. Refrigerate ganache until set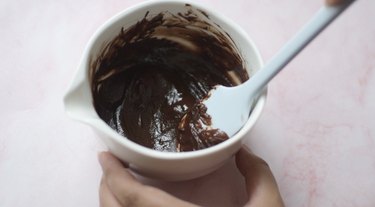 Cover ganache with plastic wrap and refrigerate until it's thick enough to pipe. Check ganache after 30 minutes and then every five to 10 minutes.
Once set, transfer to piping bag. Snip a medium tip before adding ganache to macarons.
1. Draw details on macarons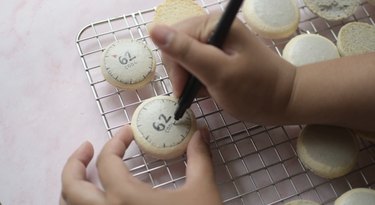 Use a black edible marker to outline thermostat, draw dial notches and write temperature. Use red edible marker to draw a triangle pointing to temperature.
2. Pipe chocolate ganache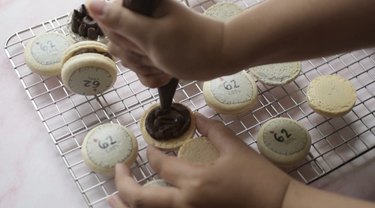 Using ganache, pipe a ring on perimeter of bottom macaron shell.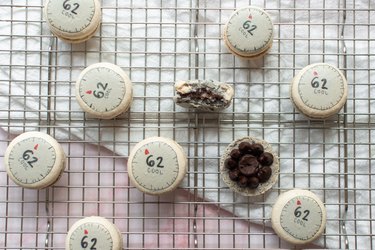 Top with matching macaron shell and enjoy! Store macarons in an airtight container in the fridge for up to five days or in the freezer for up to one month. Eat at room temperature.
And that's all there is to it! You've got a set of Father's Day macarons to brighten Dad's special day. To sweeten the deal, pick up a few additional snacks, like pretzels, Oreos, brownies, cupcakes or classic chocolate chip cookies and create the tastiest gift basket of all time. Who knows? Dad might even love this gift idea so much that he'll forgive you for that one time you played with the thermostat!