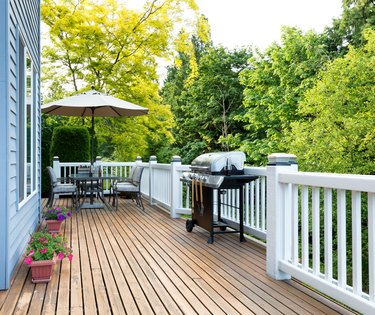 What does your backyard grill rest on? A stone or concrete patio? A wooden or composite deck? A patch of scrubby, well-worn lawn? It's an important question because the space under your grill is a no man's land of spilled sauces, splatters of hot fat and occasionally—if you grill over wood or charcoal—a live coal or two. These all represent potential problems. Food spills can attract insects, rodents and other pests; fats and oils can be a slipping hazard or damage your deck's materials; and hot embers could even burn your house down.
The solution for those problems is a grill mat. The mat sits underneath your grill and catches (or soaks up) everything that comes its way, protecting you and your deck from spills. Not all mats are created equal, though. Here are the ones we consider the best of the bunch.
What to Consider When Purchasing a Grill Mat for Your Deck
Before we get to specifics, though, what should you take into consideration when you buy a grill mat?
‌The Material of Your Deck or Patio:‌ Before you look at anything else, you'll need to consider the material of your deck or patio. Rubber-backed mats can cause discoloration on porous concrete patios and composite decks, and—unlike wood—you can't simply sand and refinish composites.
Tip
Some mats will also block UV rays, meaning that the area under your mat won't age and change color at the same rate as the rest of your deck. If moving your grill periodically isn't a good option, you might want to roll and store the mat when it's not in use.
‌The Size of Your Grill:‌ Kind of a no-brainer, right? The mat you choose should be large enough to cover not just the area directly under your grill, but ideally several more inches on all sides (to catch drips or splatters, which seldom fall straight down). When in doubt, go bigger: Larger mats are usually heavier, which means they're less likely to blow around on stormy days.
‌The Kind of Grilling You Do:‌ If you use a gas grill, your biggest issue is drips and splatters. Your primary need is a mat that will soak those up. If you grill over hardwood or charcoal, the risk of hot coals dropping onto the deck below means you'll need to prioritize mats that are heatproof and flame-retardant.
‌The Mat's Care Requirements:‌ Grill mats fall into two main categories. One type simply provides an impermeable physical barrier that spills and spatters can't penetrate. Since spills accumulate at the surface of the mat, it's relatively simple to wipe the mat clean once you've finished cooking. The other type is designed to absorb and trap spills, which means they'll handle a lot more mess but (usually) take more effort to clean up afterward. Both are valid options, so it really comes down to personal preference.
The Best Overall Grill Mat
Your deck represents an investment of thousands of dollars, so it's reasonable to spend a few bucks on protecting it. It's even better when it's only a few bucks, though, and this barbecue grill mat from Cuisinart offers pretty spectacular value for money. At 36 inches deep and 65 wide, it's big enough to fit most grills, and the surfaces are textured to keep it (and your grill) from slipping and sliding. Cleanup is a breeze as well because you can simply hose it down when it gets messy.
It does have a few limitations, of course. One is that it's not going to protect against a hot coal, which will melt its PVC material. The other is that it's not suitable for many types of composite decking, and can cause discoloration. Those are the only significant drawbacks to an otherwise solid product at a great price, which is why it's our top pick.
The Best Grill Mat for Charcoal Grills
If you grill with charcoal and want something that's going to stand up to heat, sparks and the occasional small ember, this heat-resistant grill mat from Diversitech is an excellent choice. It's rated for up to 600 degrees Fahrenheit, which means it's even safe for use under many firepits (as long as you've got at least a foot of clearance), let alone grills. The heavy rubberized material is safe for most deck surfaces and cleans up easily with just a hot-water wipe. For stubbornly stuck-on stains, a bit of scrubbing with liquid dish soap will usually do the trick. It's even American-made and backed by a 10-year warranty. Scaled-down versions are available at a lower price if you have a smaller or portable grill.
The Best Budget Grill Mat
If your needs are modest and your grill isn't especially large, you won't necessarily need to spring for a high-end patio grill mat. This economical option from KedsHome is perfect for that exact situation. This is the absorbent type of mat, with a solid PVC backing under a looped carpet-like mesh of nylon that will soak up all the sauce and grease splatters you care to throw at it. The 30-by-48-inch mat is suitable for all but the largest of grills, and it's actually machine-washable for ease of cleaning. You can also cut them down for use in spaces such as the trunk of your car, or anyplace in your garage where you store a yard machine that might drip oil. At this price, it's a great value for what you get.
The Best Grill Mat for Composite Decking
Composite decking has been a game-changer for backyard enthusiasts. It looks great, it's durable, and it requires minimal maintenance. Naturally, then, the best grill mat for composite decking is one that won't compromise your investment through staining or discoloration. Uperla's Premium Under Grill Mat is just what the doctor (or at least the deck guy) ordered. The sturdy recycled PVC mat won't stick to your deck like rubber-backed mats, or cause discoloration or bleaching like some of the competing PVC mats.
The extra-thick Uperla lays flat right from day one and won't curl at the edges like some lower-cost mats, so it's not a tripping hazard, and at 10 pounds the mat is heavy enough to stay put when the wind blows. It's also flame-retardant, so hot splatters, sparks and even small embers won't cause any issues. The mat measures 36-by-48 inches, so it will work with all but the largest of grills.
The best grill mat is one that's the right size for your grill, and that means you won't always need to "go big." This 36-inch round mat from Resilia is ideal for use under portables, smaller kettle-style grills and compact smokers, and won't take up too much of your patio or deck space. The mat is flexible and flame-retardant (important if you put it under a charcoal grill) and washes off easily with a hose, and—if you need any further incentive—it's made in the U.S. by a family-owned company. It's even available in multiple colors to suit your outdoor decor scheme. The only potential issue with the Resilia is that it blocks UV rays, which means composite decking under the mat won't fade in sync with the rest of your deck.
Your deck is large and beautifully built. Your grill is one of the biggest and best on the market. Why would you choose anything less than the biggest and best grill mat to go with it? That's what you get with Resilia's accurately named Large Under Grill Mat, which checks in at a whopping 72-by-48 inches, including a 12-inch lip at the front to provide extra spill and splatter protection. This mat provides plenty of room to accommodate even the largest of grills (and their side burners) with minimal risk of splatters and debris finding their way onto your deck.
It's made of the same durable PVC as Resilia's smaller round grill mat, so it's flame-retardant and very easy to clean. The mat is available in black, tan or silver, and in either the common diamond-stamped pattern or a textured "orange peel" surface for a less industrial look. It costs more than a lot of competitive models, but if you need an oversized grill mat it's still excellent value for the dollar.