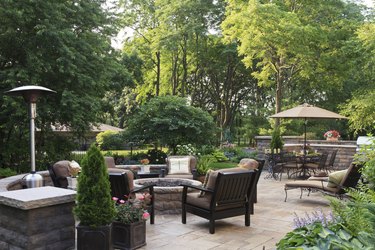 The whole point of having a nice deck or patio is the indoor-outdoor lifestyle you'll get to enjoy all summer long. Even a small outdoor space can make your whole home feel larger and more inviting, and give you more options for entertaining or just enjoying it yourself. So why give up on that when the weather gets cold? A patio heater can help the good times continue well into fall (and get them started earlier again the following spring). If you're ready to stop shivering but not give up your patio, good news! We've picked out six of the best patio heaters for your consideration.
What to Consider When Purchasing a Patio Heater
‌Fuel:‌ The most common patio heaters are fueled by a standard 20-pound propane tank, like your gas grill. A few compact models use the smaller one-pound canister you'd find on a portable grill, and some use natural gas instead and can be connected to your home's existing gas line. For those who aren't comfortable with gas, there are also electric models. Those are divided between conventional heating elements (like most indoor space heaters) and more efficient infrared heat.
‌Style:‌ The typical patio heater you'll see most often is the so-called "mushroom" type, with a rounded cap atop a pole, over a larger base (to conceal the propane tank). Others look like a tall, skinny pyramid, while electric heaters are often horizontally-oriented and can stand on a tripod or be wall-mounted. There's no right or wrong, it's more a matter of personal preference. A fire pit could also be considered a patio heater, but they're different enough that we'll consider them in a separate roundup.
‌Heating Area:‌ This is a big one, and it's more important than the raw heat output as measured in BTUs (British Thermal Units). The shape, size and design of a heater dictate how well that BTU output is utilized, and similar heaters can vary widely in terms of how much space they'll effectively heat. Depending on the manufacturer, the heating area of an outdoor patio heater will usually be measured in terms of square feet or the radius of its heating area.
Tip
To convert a radius measurement to square feet, multiply the radius by itself, and then multiply that result by 3.14 (pi, minus several decimal points). So if a heater will warm a 6-foot radius you'd multiply that by itself to get 36, and then by pi to get roughly 113 square feet.
‌Added Features:‌ Does the heater have wheels or casters to make it easy to move? Does it have a remote, or a timer, for ease of use? Does it have an automatic shut-off in case it's tipped over? Is there a small table incorporated into the design where you can set down your drink? These aren't the big details (choosing the right fuel, the right look and the right heating area are more important) but they can certainly help you decide between two otherwise-comparable heaters.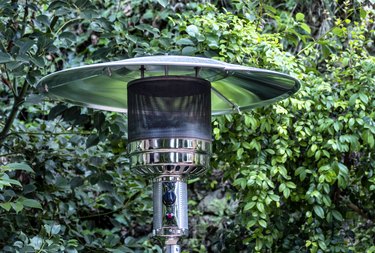 The Best Overall Patio Heater
Cuisinart COH-400 Perfect Position Propane Patio Heater
There are more powerful heaters out there (and on this list), and most of them cost a lot less. So why is the Cuisinart Perfect Position our top pick? Because it addresses a core problem with patio heaters: In order to heat the area, they have to be right smack in the area. Often that means only part of your seating area can be in the "warm zone," and everybody else has to huddle around the heater. That's not the case with the Cuisinart, which has an offset arm holding the actual heater and its reflective dome. You simply place the base and its tank behind your seating area and position the heater over your seating area. Presto, everybody's warm! It doesn't have as much power or warm as large an area as other models, but it doesn't need to. Its oversized dome gets the most out of its 38,200 BTUs (so you won't burn as much propane, which helps defray the added cost), and puts the warmth right where you need it. Win-win.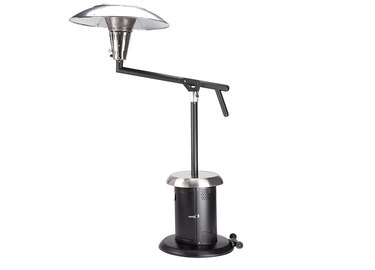 The Best Electric Patio Heater
Dr. Infrared DR-238 Infrared Patio Heater
This might be the most versatile heater in our review. Dr. Infrared is a well-established manufacturer of commercial and residential indoor space heaters, and the DR-238 reflects that heritage. It's a relatively compact unit at 8 inches high, 4 inches deep and 35 inches wide, and it can be wall-mounted or ceiling-mounted right where you need the heat. Or, it can be used as a freestanding heater with an optional tripod (sold separately).
It's suitable for indoor as well as outdoor use, so when you finally abandon your patio for the season you can use it in the garage or any drafty corner of your house. The great thing about infrared heaters is that they warm the humans in a space rather than the air itself (the same way the sun can feel warm on your skin even on a cold day). That means an infrared heater remains effective even when there's a cold wind blowing, which is an issue for gas patio heaters. You'll also get a remote control, a timer, and three different heat settings. This unit simply plugs into any regular 120-volt outlet, though there's a more powerful Dr. Infrared Heater available that uses 240 volts. For most of us, given the price difference, it would be easier (and arguably better) to simply get two of the 120-volt models.

The Best Value Patio Heater
Amazon Basics 46,000 BTU Propane Patio Heater
Amazon positions itself as the world's marketplace, but it also sells a select number of products under its own name. This is one of them, and it's a solid competitor in the category. It pumps out 46,000 BTUs (good for warming about a 9-foot radius), which is better than most brands at this price point. It has a piezo igniter for one-handed lighting (a nice convenience) and its safety features include an auto shutoff if it's tilted, and a base that can be filled with water to make the whole thing more stable. It's not as solidly constructed as some if its higher-end peers, and you have to lift the base to change the propane tank (many models give you a door instead), but Amazon backs it with a year's warranty which is rare in this price range. All in all, it's a great way to keep yourself and your friends toasty without spending a whole lot of money.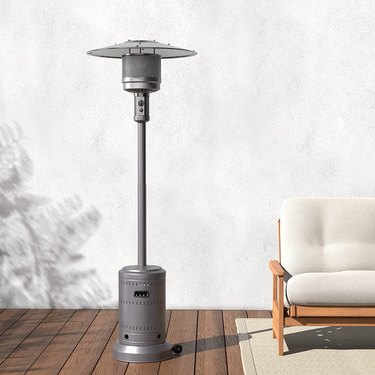 The Best Patio Heater for Larger Spaces
AZ Hiland 48,000 BTU Patio Heater
At 48,000 BTUs, this is the most powerful freestanding patio heater in our roundup, and it'll warm a larger outdoor area. At high heat it can warm a radius of up to 10 or 12 feet, meaning you won't need to crowd your outdoor furniture into its immediate vicinity. It's a lot more stylish in appearance than the relatively spartan Amazon unit, with its two-tone design in stainless steel and a powder-coat bronze finish (there are other finishes available).
There's an access door in the base so it's easier to swap out your propane tank when the time comes, and the heater as a whole is sturdier and more durable than most of its competitors. You'll find similar models at comparable price ranges, like the Hampton Bay line from The Home Depot, but AZ patio heaters stand out. There's a company-owned repair center with a full stock of parts to back up the one-year warranty, so problems are almost always fixable (and their customer service is excellent). You'll still need more than one if you have a really large patio, but for most of us, this one will get the job done.
The Most Stylish Patio Heater
AZ Hiland Pyramid Glass Tube Propane Patio Heater
The standard "mushroom"-style patio heater is functional, but it's not aesthetically appealing and doesn't do a whole lot for your patio's ambiance. That's not the case with these pyramid patio heaters, also from AZ and its Hiland brand. In a conventional heater, the flame is hidden under the mushroom-shaped reflector at the top of the heater. In the pyramid design, it's plainly visible in a glass tube that rises within the enclosed heater. It helps light your patio after dark, as well as keeping it warm, and it's just as hypnotic to watch as an open fireplace. That being said, it's also a powerful and efficient heat source. It packs an output of 40,000 BTUs, and will run for 8 to 10 hours at its highest setting. That's plenty to help you enjoy outdoor living for a few weeks longer each year, and—importantly, if style is your thing—it'll look really, ‌really‌ good while doing it.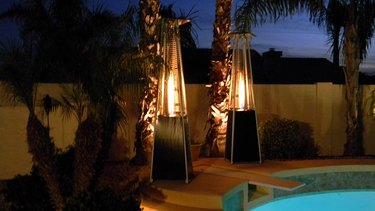 The Best Tabletop Patio Heater
Cuisinart COH-500 Portable Patio Heater
Sometimes you don't need to warm a big area, just the table you're sitting around. That's exactly the use case for this portable model from Cuisinart. Despite its diminutive size, it's an effective heater, with 11,000 BTUs at its disposal and a heating area of roughly 30 square feet. It's designed to run from a small 1-pound propane tank, so you can easily take it with you to the beach or campsite as well, or you can get an adapter and hose (sold separately) and use it with a standard 20-pound tank instead. Like the larger models, it has a safety switch to shut it off if it's tilted or falls over, and—because it'll be right on the table among you and your guests—there's a guard around the burner to keep you from brushing against it and accidentally and burning yourself. It's as sleek and well-designed as you'd expect from anything bearing the Cuisinart name, and in a lot of spaces, it may be all you need.