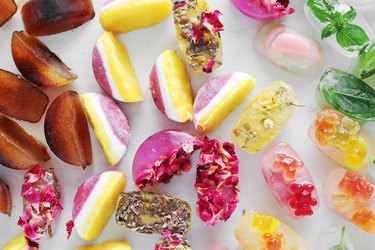 Whether you're trying to drink more water or planning a cocktail party, one of the easiest ways to spruce up your beverages is to add flavored ice cubes. Not only do they make beverages more visually pleasing but they're tasty too. Flavored ice cubes can also be made with a wide variety of ingredients (and ingredient combos), so the possibilities are endless. Besides, who says ice cube trays are just for water?
What's more, the ice cubes themselves can be used in myriad ways. You can think of flavored ice cubes as mini ice pops but also as ingredients in drinks themselves. Want to take your mojitos and mocktails up a notch? Try basil-infused ice cubes. Want to encourage your little ones to drink more water AND get more fruit and veggies? Enter fruit-infused ice cubes and green smoothie ice cubes! You could even mix and match different types of ice cubes for a deliciously unique beverage.
If you're looking for inspiration, you're in luck. From striped smoothie ice cubes to dried flower versions, the following five creative ice cube recipes will make your summer drinks extra cool.
Things You'll Need
Canned coconut milk (or milk of choice)

Mango puree or smoothie

Berry puree or smoothie

Ice cube tray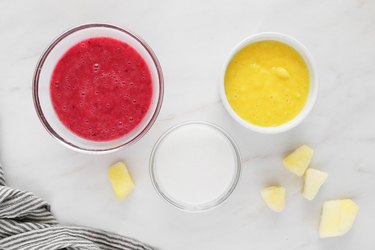 Tip
To puree a fruit, simply blend it in a food processor or blender. You can combine several fruits if you'd like. To make a healthy smoothie, blend the fruits with milk of your choice. For example, for our striped ice cubes, we used a berry smoothie made of strawberries, blackberries, blueberries and oat milk.
Fill 1/3 of each cavity in the ice tray with the berry smoothie. Place the tray in the freezer for at least two hours.
Fill the next 1/3 of each cavity with coconut milk. Place it in the freezer for another two hours.
Top off the ice tray by filling the last 1/3 with mango puree or smoothie. Return it to the freezer for another two hours.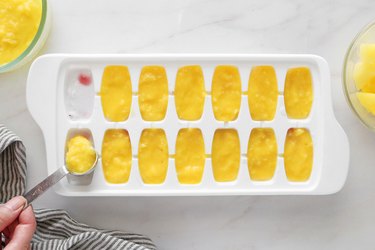 4. Enjoy striped ice cubes in summer drinks
Whether you're drinking plain water or fruit juice, these striped ice cubes will add flavor and fun to your summer beverages.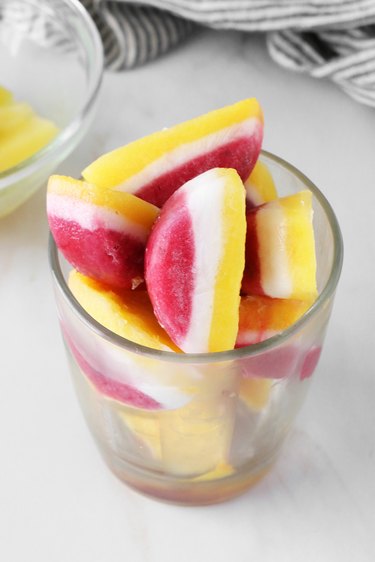 Tip
Keep in mind that the coconut milk, mango puree and berry smoothie are just suggestions. Feel free to replace these ingredients with other types of purees or smoothies depending on the color palette you're going for. For example, you can use kiwi puree for a green layer, blueberry puree for a dark purple layer or strawberry smoothie for a light pink layer.
Things You'll Need
Dried rose petals

Dried lavender buds

Dried calendula and/or chamomile petals

Water, lemonade or iced tea

Ice cube tray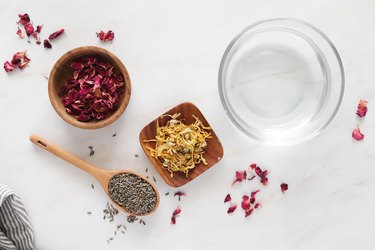 Tip
Always use dried edible flowers that have been grown for culinary use. You can buy them at tea shops, specialty health grocery stores or apothecaries.
1. Mix and match dried flowers
Add 1 or 2 teaspoons of dried flowers to each cavity in an ice cube tray. You can add more or less depending on the finished look you want. Remember that flowers have their own scents and flavors, from subtle to strong. This will depend on many factors, including how the flowers were dried and how old they are.
Since edible flowers are so versatile, they taste lovely with a wide range of drinks. However, there are some combos that work especially well together. For example, for a relaxing iced tea, try lavender and chamomile ice cubes. For grapefruit juice or lemonade, we recommend rose.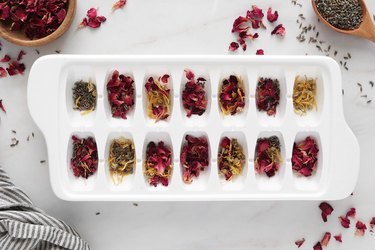 Tip
You can also use fresh edible flowers if you're able to find them. The availability of fresh edible flowers might depend on the season.
2. Fill the tray and freeze
Add water until the tray is full. For more flavor, we recommend using lemonade or iced tea instead of water. Place the tray in the freezer and freeze for at least four hours.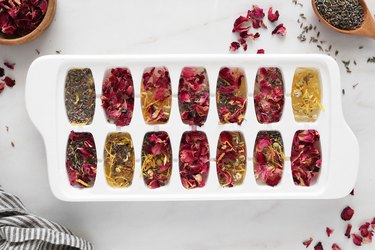 3. Dress up your drinks and serve
Enjoy your floral ice cubes in water, iced tea, seltzer or lemonade. For extra fun, try adding a lemon slice or fresh sprig of rosemary to the glass.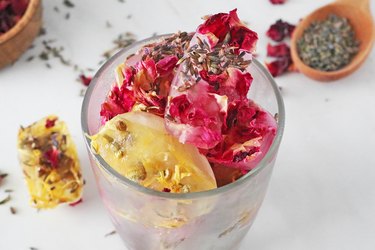 When it comes to herb-infused drinks, mint and basil are classic options. You can use them together or on their own depending on the flavor profile you're going for.
Things You'll Need
Fresh mint and basil

Water or lemonade


Ice cube tray
Separate the basil and mint leaves so that they can fit in your ice cube tray. Add one to four leaves to each cavity depending on the size of the leaves and the amount of flavor you want. You can also use just basil or mint for each cube if you'd like.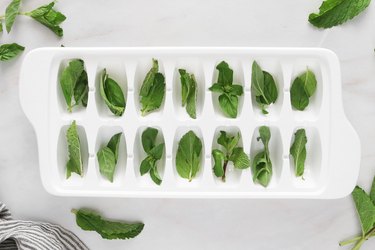 2. Fill the tray and freeze
Fill each cavity with water or lemonade for more flavor. Place it in the freezer and freeze for at least four hours.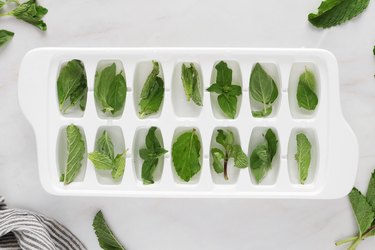 3. Add the herb-infused ice cubes to your favorite drinks
Serve your mint and basil ice cubes with cocktails, lemonade or plain water. For cocktails, we recommend enjoying these ice cubes with drinks made with lime or lemon.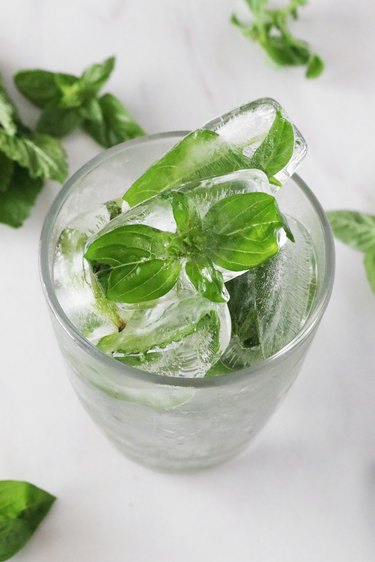 Things You'll Need
Cold brew or black iced coffee

Ice cube tray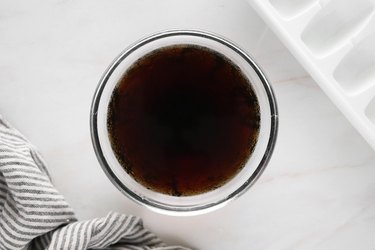 1. Add coffee to the tray
To make these easy flavored ice cubes, simply fill the ice cube tray with cold brew coffee for the best flavor. It's brewed slowly over 12 to 24 hours, so it's more concentrated and has a smoother flavor. This means it will be less likely to dilute your drink or change its taste.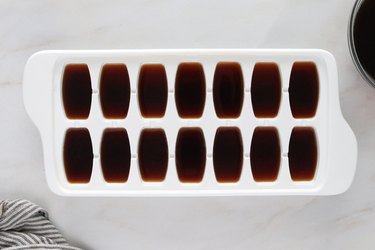 You can also use iced black coffee that has been brewed over a few minutes, but this version tends to taste more bitter, so it might change the flavor of your drink. Iced black coffee is also less concentrated than cold brew, so it may dilute your beverage.
Tip
Avoid using hot coffee. Not only will the heat potentially damage your tray but it will take much longer to freeze.
2. Freeze and add a touch of coffee to your favorite drinks
Freeze for at least four hours.
Coffee ice cubes are perfect for, well, coffee! Compared to normal ice cubes, they won't water down your coffee as they melt, making them ideal for iced coffee and lattes. You can also add coffee ice cubes to your favorite milk for a delicious beverage.
Things You'll Need
Gummy candies

Water

Ice cube tray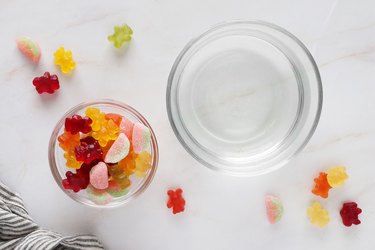 Tip
You're welcome to use sour gummy candies for this ice cube recipe. However, keep in mind that the gummies will lose the sour coating in the water.
Add three or four gummy candies to each cavity in an ice cube tray. Feel free to mix and match colors and types of candies...and try not to eat them all just yet!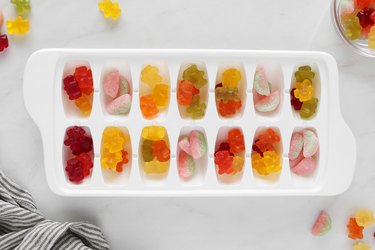 Tip
While the gummies don't actually add flavor to drinks, you'll be able to eat them once the ice melts. So, you can choose gummy flavors that complement your drink if you'd like. For example, if you're serving a peach drink, consider using peach gummy rings for a fun touch.
2. Fill the tray with water and freeze
Add enough water to fill each cavity. Place the tray in the freezer for at least four hours.
Tip
For a colorful twist, use orange juice or cranberry juice instead of water. You could even pair the gummy candies with lime slices.
3. Elevate your drinks with gummy candy ice cubes
Thanks to the bright colors of gummy candies, this version is super fun and attractive. Enjoy gummy candy ice cubes in sparkling water, summer cocktails or even plain ice water. Once the ice cubes melt, you'll be left with a tasty treat.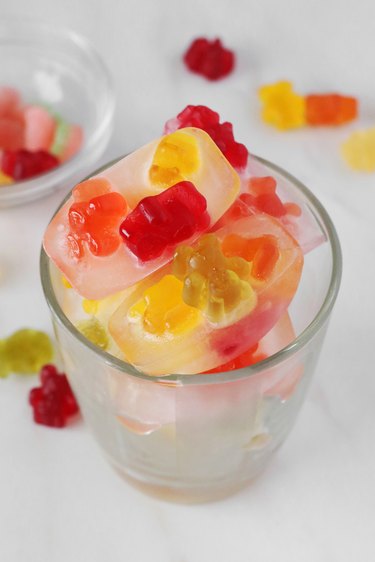 Best Molds for Making Flavored Ice Cubes
When making flavored ice cubes, consider using an ice cube tray with a lid. This will keep the contents from picking up odors from your freezer. Plus, if your ice cubes have solid ingredients, like dried flowers or herbs, the lid will help them stay put as the cubes freeze.
How to Make Clear Ice Cubes
The best way to make clear ice cubes is to freeze water in a mini cooler overnight, remove the ice and cut the ice into cubes using a serrated knife. However, this technique might not be ideal, especially if you have a small freezer.
You can also make ice cubes with water that has been previously boiled. The ice cubes won't be completely clear, but they will be clearer than ice cubes made with nonboiled water.