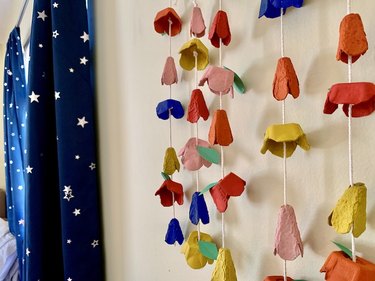 We could all use an extra dash of color to dress up our home decor. Whether you're looking for spring craft ideas to spruce up your space, intentionally adding vibrancy to your interior design or seeking ways to make your DIY endeavors more sustainable, we've got an ‌egg-ceptional‌ option: colorful egg carton flowers on a yarn garland.
Yes, that's right—egg cartons! If you ask us, egg cartons are one of the most underrated crafting materials. They're easy to cut and totally paintable, and they can be used in all sorts of inventive projects. What's more? Many of us end up tossing excess egg trays when they're empty, so this tutorial offers an opportunity to make use of materials that would otherwise go to waste.
For our egg carton craft, we used both the egg cups of each carton along with the conical connecting pieces, which resulted in two distinct flower styles to complete the garland: one rounder style with wider petals and one skinnier, longer style.
With a bit of effort, plenty of paint and a sprinkle of imagination, you'll soon have a beautiful flower craft to hang in a bedroom, living room or even a covered outdoor space. Round up those extra egg trays, pick your paint colors and get ready to dive in with our step-by-step tutorial.
Video: A Colorful Egg Carton Flower Garland to Spruce Up Your Space
Things You'll Need
Egg cartons

Yarn or thread

Acrylic paint

Paintbrushes

Green construction paper

Scissors

Regular craft glue or hot glue gun

Piece of wood, branch or small rod
Tip
We used three egg cartons to create this fun flower garland. Egg cartons can break easily, so be aware of that during the process. It might be helpful to have extra egg cartons on hand. Three egg cartons should be enough to create about 30 flowers.
How to make an Egg Carton Flower Garland: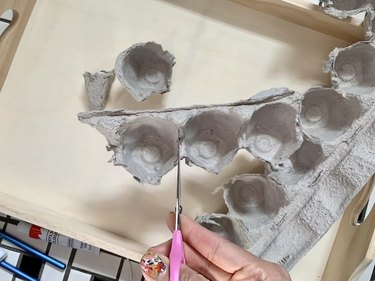 First, remove the cone-shaped pieces in the middle of the egg carton using scissors. Then, remove the egg cups.
Tip
If possible, use a small pair of scissors that fits well in the egg carton's tiny interior holes. Alternatively, rip up pieces by hand. Sometimes, going fully hands-on is the most effective method!
Begin by cutting "petals" into both the egg cups and cone-shaped pieces. Use scissors to add round edges and bend back newly cut petals for additional shaping if desired.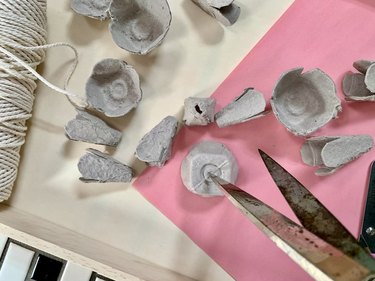 Use one point of the scissors to create holes in the egg carton flowers. (Of course, be sure to handle the scissors safely.) The connecting conelike pieces will likely already have holes, but you'll need to add holes to the cut-out carton cups.
Now, it's time to get creative! Use a paintbrush to decorate the egg carton flowers in a variety of different colors—the scheme is totally up to you. We used acrylic paint in pink, orange, red, yellow and navy blue, but the DIY design options are endless.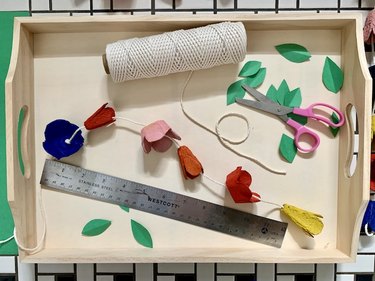 Cut approximately 120 cm. of yarn to create the garland. This might sound like a lot, but you'll need excess yarn to tie knots and keep the paper flowers in place.
Measure 30 cm. to leave at the top of the garland and then string on the first flower and secure it with a knot. Add the following flowers, leaving approximately 5 cm. between each one. All flowers will need knots at the bottom so they remain in place when the garland is displayed.
You'll have approximately 20 cm. of leftover yarn at the end, but that extra length will come in handy for adhering completed strands to a branch or rod later on.
6. Create leaves for egg carton flowers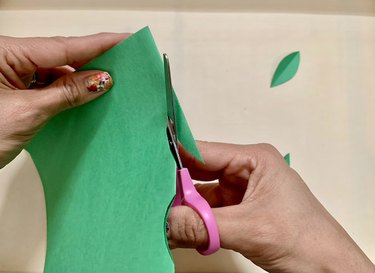 Fold green construction paper and cut out leaves. Leaf shape and size is totally up to you, so let your imagination take over as you design!
7. Glue leaves to flowers
It's time to get gluing! We used regular craft glue to attach leaves to the flowers, though a hot glue gun would also work. We opted to use leaves on only some of the flowers, but this is another element that can be personalized to suit your style.
8. Hang and display completed garland
Tie the top of each garland string to a piece of wood, a branch or a small rod to complete your DIY egg carton flower garland. Add an extra length of yarn to create a mechanism for hanging your finished product.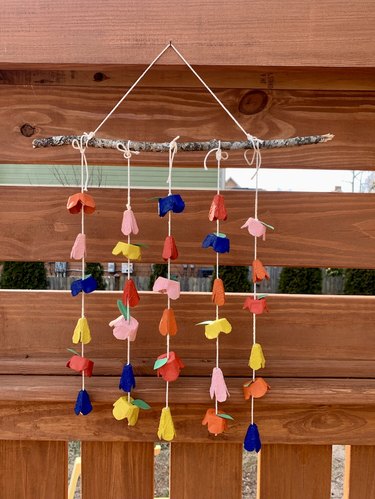 Of all the creative ideas and DIYs in the crafting sphere, our favorites are those that encourage sustainability and reuse of materials. When you make egg carton flowers, you're not just adding a dash of delight to your decor scheme—you're also embracing a recycled craft.