Things You'll Need
Blender

Makeup fixer

Measuring cup

Isopropyl Myristate

Measuring spoons

Rubbing alcohol

Pancake makeup

Bottle or jar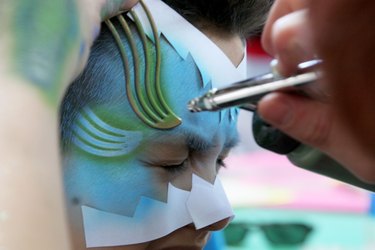 Facepainting has been a popular attraction at birthday parties and county fairs for generations. As technology moves forward, airbrush face painting has become more commonplace. Commercial airbrush face paints can be quite expensive, especially if you need a lot of a particular color. You can make your own for a fraction of the cost using materials available at your local costume shop.
Step 1
Thoroughly clean a blender with soap and water. Rinse out all of the soap.
Step 2
Pour in 1 1/2 cups of makeup fixer, which is available at most costume shops. It is sold under various names, such as Ben Nye's Final Seal, MAC's Mist & Fix and Kryolon's Fixer Spray. This is the main medium for the face paint and will help it to adhere to the skin.
Step 3
Add 2 oz. of Isopropyl Myristate to the blender. This will make the face paint easier to remove.
Step 4
Add 1 oz. of 70 percent rubbing alcohol to the mixture. This will help to keep the face paint sterile.
Step 5
Blend the mixture at medium speed for 30 seconds.
Step 6
Break up an 8 oz. disk of pancake makeup in the color of your choice. This provides the face paint's pigment.
Step 7
Add the pieces to the blender one by one with the blender still on medium. Remove the lid's center cap for this; do not take off the entire lid while the blender is on.
Step 8
Turn the blender to high when all of the pancake makeup has been added. Blend the mixture for 5 minutes.
Step 9
Pour the face paint into a jar or bottle and screw on the lid. This mixture dries very quickly, so it should not be left open.
Tip
This technique produces just under 2 cups of face paint. This face paint is removed with soap and water. Thin this face paint (if needed) with more makeup fixer, not water.