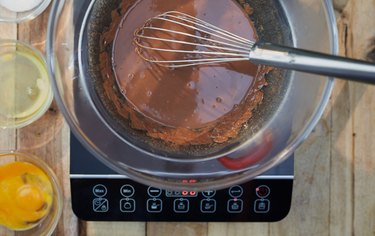 Most homes have either electric or gas cooktops, and for years serious cooks have favored gas for its quick heat and fine control. Unfortunately gas—like other fossil fuels—is approaching its sunset years, and that has put the focus squarely on induction cooking. Induction still uses electricity, but instead of using electrical resistance to generate heat (which is inefficient) induction uses a magnetic coil to heat pans directly.
What this means in practice is the rapid temperature control of gas cookery, but without the byproducts of burning petroleum, and with greater energy efficiency than you'll get from conventional electric ranges. Unfortunately, a full-sized induction cooktop is still pretty pricey, and you may not want to jump in without testing the waters first. A portable induction cooktop is an excellent way to do that; introducing you to induction's advantages without requiring a big investment.
So what are the best portable induction cooktops? We have some opinions, and we'll explain what sets our choices apart in this buying guide.
Before we get into the discussion of individual cooktops, it's worth taking a moment to talk about cooking on induction. There are some differences from cooking on conventional gas or electric cooktops:
You'll need cookware that's induction-compatible. There's a simple test: Pull out your pots and pans, and grab a magnet from your fridge door. If a magnet sticks to the pot's bottom, it'll work on induction.
Induction heats things ​really​ fast. Don't put a pan on to preheat and then walk away, or you'll return to a smoke-filled kitchen and a permanently damaged pan. Instead of cranking it to high heat, as you might on a regular stovetop, it's better to preheat at a moderate temperature setting and then turn the heat up once your pan is thoroughly warmed.
Induction is inherently safer: If you take your pot off the burner, it will shut down after several seconds' delay (though that can be frustrating if you're just adding or draining water). Also, since it's the pot that heats—rather than the cooking surface—touching it absentmindedly means you'll probably burn yourself at a "wow, that hurt!" level rather than a "trip to the ER" level.
Induction cookers make a bit of noise. Conventional stoves are pretty silent in ordinary use, but induction units—like computers and other devices—rely on fans to keep their electronics cool and functional. Some people can also hear a high-pitched whine from them, though there's a lot of individual variation: Some people are more sensitive to high-pitched sounds, and some induction units are noisier than others.
What to Consider When Purchasing an Induction Cooktop
Portable induction cookers all share the same basic set of characteristics: They require pots made of ferric metal (cast iron, some kinds of steel), they all take up space on your countertop, and they're all a lot more energy-efficient than conventional electric or gas ranges. So what sets them apart from each other? There are a few key distinguishing features.
​Power Levels:​ Most home units draw up to 1800 watts of power, the most you can have on a conventional 120-volt circuit at 15 amps (you multiply volts and amps to get the watts). That translates to cooking temperatures that top out in the high 400-degree range Fahrenheit, which is perfectly fine for most purposes. A more telling feature is how many power levels you can set. On a regular stove, you'd just turn the dial to get the right temperature, but an induction cooktop has preset power/temperature levels. Low-priced models might have only 8 or 10 temperature settings at 40-degree increments, better units can have 20 or 100 (or more) at much smaller increments. Serious cooks welcome the extra control, but it's usually a trade-off with price.
​Ease of Use:​ Portable induction cookers almost invariably use push-button or touch controls, rather than dials, and unfortunately some of those push-button systems are much easier to understand than others. We could also include "ease of cleaning" under this heading because models with lots of nooks and crannies can be tougher to wipe up. Newer models often have a single glass surface covering the entire cooktop, which makes for easy cleanup.
​Special Features:​ You'll often notice that one cooktop adds features that a comparable unit doesn't, from a child safety lock (also handy if you have anyone in the house with dementia), to timers and delayed start options, to easy presets for specific functions (boil, keep warm). These won't usually be the biggest factors in your decision, but they make a handy tie-breaker.
​Physical Construction:​ The coil in a portable induction unit (the part that actually makes the pans heat up) can vary from 7 inches or so up to 9 inches or more, providing even heat across larger pots. Other physical factors include sturdiness and quality of workmanship, the ability to handle a larger pot (anything over 10 inches in diameter) without hiding the buttons or display, or the weight-bearing capacity to stand up to your larger pots. Aesthetics figure into this as well: Some are sleek and stylish, while others are relatively large and graceless.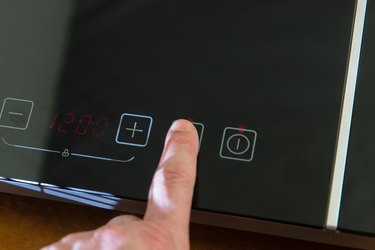 The Best Overall Induction Cooktop
Duxtop Model 9600 LS Induction Cooktop
If you're just dipping your toes into the cooktop market, this model from Duxtop hits all the right notes. The sleek design is easy to clean and doesn't take up too much space, and its 20 power levels give you more control over your cooking than you'll get with lower-priced cooktops. The touch-sensitive buttons are easy to use, the interface is intuitive, and the buttons and display are angled so you can see them from the front, rather than hovering over the heated pot to check your temperature or find the right button. Duxtop is one of the leading brands in portable induction cooktops, and this model shows why.
​Power Levels:​ 20

​Child Safety Lock:​ Yes

​Timer/Delayed Cooking:​ Yes (10 hours)

​Presets:​ Keep warm, boil

​Warranty:​ 2 years limited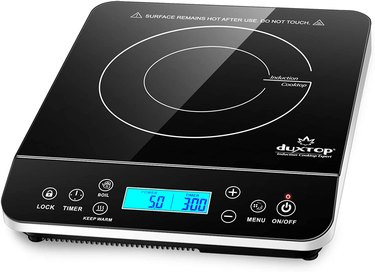 The Best Value Induction Cooktop
iSiLER Sensor Touch Electric Induction Cooker
If you don't expect to use your induction cooktop enough to justify a purchase price that's north of $100, this stylish unit from iSiLER might be just what you're looking for. It puts together a range of features that's not too far short of our top-choice Duxtop—18 power levels, safety features, a sleek and compact design, easy-clean cooktop surface, touch-sensitive buttons—at a substantially lower price point. The iSiLER's touchpad isn't angled, so you'll need to be closer in order to see it properly, and it lacks the convenient "boil" and "keep warm" presets of the Duxtop, but it remains an unusually capable cooktop for the price.
​Power Levels:​ 18
​Child Safety Lock:​ Yes
​Timer:​ Yes (3 hours)

​Presets:​ No

​Warranty:​ 1 year, limited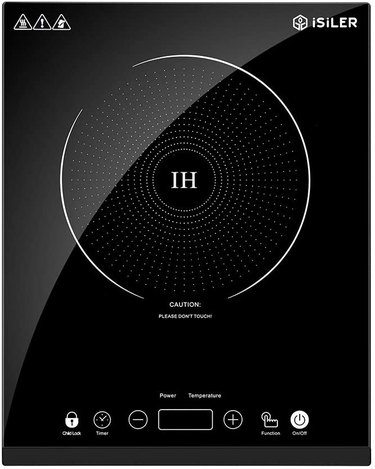 The Best Dual Element Induction Cooktop
There are times when a single-element cooktop just isn't enough. You could plunk down two single-element units, but this cooktop from Duxtop with dual elements is a more elegant solution. It's essentially the same unit as our top-choice 9600, with all the same features, but with its 1800 watts of power being split between two induction coils.
Lesser units (some at almost the same price) deal with the 1800-watt limit by maxing out one element at 1000 or 1200 watts, and the other at 600 or 800 watts. The Duxtop takes a more flexible approach, allowing one heating element to use all 1800 watts while the other cooking zone is not in use, and capping the second at 1000 watts. If both are in use and you turn up one of the elements, the Duxtop will automatically scale back power on the other to keep within the limits of a 15 amp breaker. In normal cooking, you'll typically operate at 600 to 1000 watts—less for simmering—so this is a practical way to provide more cooking capability. It's ideal for your RV, accessory dwelling unit (ADU) or creating a kitchenette in a short-term rental.
​Power Levels:​ 20

​Child Safety Lock:​ Yes
​Timer:​ Yes (up to 10 hours)

​Presets:​ Boil, keep warm

​Warranty:​ 2 years, limited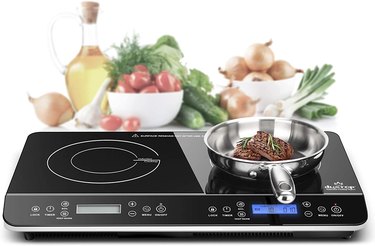 The Best Induction Cooktop for Large Pots
One of the more notable limitations of portable induction cooktops is that they're designed to be compact and lightweight (portable, in short) which means that they're not sturdy enough to support the weight of a large pot and its contents. Most are at their best with pots of 12 inches in diameter or less, and in some cases 10 inches or less. This burly unit from Max Burton (another big player in the field) addresses those concerns with a large 9-inch induction coil—hence the "XL"—which capably heats pots of up to 14 inches in diameter, and it's sturdy enough to support weights of up to 60 pounds (including the pot), which is over 6 gallons.
The unit has finesse, as well as muscle. Its 21 power settings are plenty for normal usage, but you can also clip a wireless probe to your pot and use it to maintain your desired temperature automatically. That, and the ability to program your own cooking modes, is a feature you'll typically only find on higher-end models. The interface uses a rotary dial and touch-sensitive buttons, so the extra features remain easy to use.
​Power Levels:​ 21
​Child Safety Lock:​ Yes

​Timer:​ Yes (up to 3 hours)

​Presets:​ Boil, simmer

​Warranty:​ 1 year, limited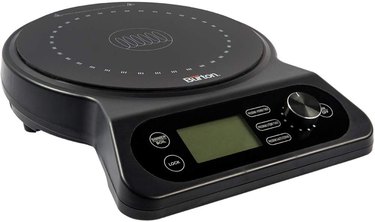 The Best 240-Volt Induction Cooktop
ChangBERT Induction Cooktop 3200-Watt NSF Certified
An 1800-watt induction cooker typically tops out at around 450 degrees Fahrenheit, because that's how hot you can get with 1800 watts at your disposal. That's enough for most cooks, but if you need more oomph you'll need to upgrade to a 240-volt circuit. That means bringing in an electrician, though if you're taking out an existing stove, you can reuse the same circuit and just change the plug. Most 240-volt models are aimed at the commercial kitchen, but some—like this one—are suitable for home use as well.
The ChangBERT has the usual heavy-duty commercial styling, with a stainless steel frame and glass cooktop, and an angled control pad (which uses actual buttons, rather than a touchscreen). It's heavy-duty enough to support 100 pounds of pot, water and food, ideal for Midwestern corn boils or an East Coast "low country boil." As an alternative, especially in an ADU or vacation-rental context, you might favor the same company's dual induction unit, which can be used as a portable unit or inset into your counter. It gives you two full-power, 1800-watt elements, each with 10 power levels and a child lock.
​Power Levels:​ 12
​Child Safety Lock:​ No
​Timer:​ Yes (up to 2 1/2 hours)

​Presets:​ No

​Warranty:​ 1 year, limited
The Best Induction Cooktop for Sous Vide
Hestan Cue Smart Probe + Induction Cooktop
Over the past couple of decades, ​sous vide​—low-temperature cookery at precisely-controlled temperatures—has migrated from commercial food production to leading-edge chefs and now to home cooks. Usually, you'd use an immersion circulator to do that, but some induction cooktops can now offer that kind of finely-controlled cooking as well. While lower-end models from Max Burton and Cuisinart can do that with their wireless probes, this unit from Hestan (producers of some of the best cookware on the market) is much more sophisticated.
When used in conjunction with its wireless smart probe or the company's own smart cookware (the electronics are in the stay-cool handles), and the companion smartphone app, the Hestan Cue delivers accuracy to within 2 to 3 degrees Fahrenheit. That's accurate enough for sous vide cookery, as well as other exacting kitchen tasks from melting chocolate to caramelizing sugar. The app is well laid out and contains hundreds of curated recipes with step-by-step walk-throughs, so it's almost impossible to mess one up. The downsides? The unit works best when paired with Hestan's own cookware (available in a bundle or separately), though you can use your own pots with the probe. If you opt to work in manual mode, instead of using the app, you'll only have 10 power levels to choose between and lose the fine control.
​Power Levels:​ 10 in manual mode, essentially unlimited when used with the app

​Child Safety Lock:​ No

​Timer:​ No

​Presets:​ No (though the app goes well beyond "boil" and "keep warm")

​Warranty:​ 1 year for the cooktop and probe, 2 years for smart cookware (not included)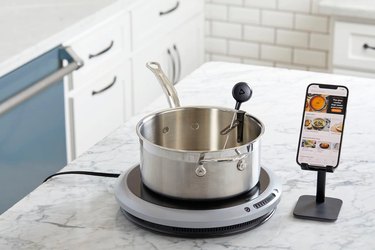 The Best High-End Induction Cooktop
Breville/Polyscience Control Freak
Most of us know someone whose car stereo is worth more than the actual car; or who lives mostly on ramen but has a $3,000 computer for gaming. When you're "all in" on something, the money is secondary to having ​everything​ you want in your system. If that's you, and you're looking for the ultimate induction cooktop, that cooktop is called the Control Freak. Designed by Polyscience, the company that first brought sous vide to chefs (now owned by Breville), this one has just about everything we've talked about so far and then some.
You want control? The Control Freak starts at 86 degrees Fahrenheit and goes up to 482 degrees Fahrenheit, in one-degree increments (that's 397 power levels, for the math-challenged). It'll maintain temperatures to within 1.8 degrees (it samples the temperature 20 times per second), and its fully programmable controls mean you can have the temperature increase as quickly or as slowly as you need. It's spill-proof and easy to clean, and sturdy enough to hold up to 200 pounds of pot and contents. Unlike the Hestan, it doesn't require an app and can be controlled entirely from the front panel. You can even save your programmed recipes to a thumb drive, so you can recreate them any time (or on a different Control Freak). It's pricey, but no other induction cooker on the market can match the Control Freak's combination of muscle and finesse.
​Power Levels:​ 397
​Child Safety Lock:​ Yes

​Timer:​ Yes (up to 72 hours, ideal for lengthy sous vide cooking)

​Presets:​ No (but you can set your own and save them)

​Warranty:​ 2 years, limited