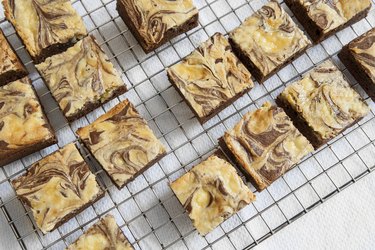 It's entirely possible to finish a meal and get up from the table without having any kind of dessert, but where's the fun in that? A little bite of something sweet afterward is a manageable piece of self-indulgence, a remedy for the stresses you've faced all day. Learning to make those sweet treats for yourself is empowering, and there are plenty of dessert cookbooks out there to help get you started. We've picked out 10 of the best that have come out over the past year or so, from a mixture of rising stars and established icons of the baking world. Any one of them can give you a wealth of new ideas, and any two or three will keep you happily baking for years.
Tip
All prices listed are accurate at the time of publication for the hardcover edition of the cookbook. Prices will fluctuate over time, and between hardcover, paperback and e-book editions.
1. "Snackable Bakes: 100 Easy-Peasy Recipes for Exceptionally Scrumptious Sweets and Treats" by Jessie Sheehan
Calling Jessie Sheehan a "TikTok star" is accurate, but misleading. She's an established recipe developer and cookbook author, but it's her hit TikTok videos that brought this book to life. Her videos focus heavily on the kind of quick, no-fuss recipes you can crank out at the drop of a hat after an exhausting day at work, or when friends call to say they're coming over unexpectedly (and they're already in the Uber). The recipes in this book run a wider range than you might expect—cake, fritters, donuts, ice cream—but they're all built around the kind of quick gratification and easy one-bowl preparation that have earned her videos millions of views. Sometimes, that's all you need.
Rose Levy Beranbaum's "The Cake Bible" is one of the greatest baking cookbooks of all time, and this year the award-winning author returned with the latest in her ongoing series, "The Cookie Bible." It's a baking book for home bakers at all skill levels, with the meticulously tested recipes—and insightful instructions—that are Beranbaum's trademark. If you love cookies you need this cookbook, it's that simple.
3. "Baking With Dorie: Sweet, Salty & Simple" by Dorie Greenspan
Like Rose Levy Beranbaum, Dorie Greenspan is responsible for several of the best baking cookbooks ever. She's a perennial New York Times bestseller and has racked up five James Beard Awards along the way (so far). So what does her new cookbook bring to the table? You'll get over 150 recipes in total: completely new recipes, innovative twists on popular favorites, and a few updated standards from Greenspan's earlier books.
The Really Big Deal here is that the book serves as a bridge between novice-friendly baking and the kind of more-sophisticated recipes you'd expect in books from professional bakers and pastry chefs. There's nothing here that a home baker with modest skills can't achieve; Greenspan's genius lies in helping you do things—easily—that you thought were outside of your ability.
4. "Cheryl Day's Treasury of Southern Baking" by Cheryl Day
Self-taught baker Cheryl Day's Back in the Day Bakery is a landmark in Savannah, Georgia, and its tongue-in-cheek name reflects both her surname and her love of the region's traditional recipes and folkways. The dessert recipes in this book are rooted in the past, the kind of thing you'll find in hand-written and grease-spotted notebooks left behind by generations of grandmothers (including her own enslaved great-great-grandmother), but this book isn't just an archive. Day is one of the foremost figures on today's Southern baking scene, and her recipes—however deep their roots—are fully modernized and re-imagined to suit contemporary tastes, techniques and ingredients. If you love Southern food and have a sweet tooth, you need this book.
5. "Middle Eastern Sweets: Desserts, Pastries, Creams and Treats" by Salma Hage
For thousands of years, the Middle East has been the world's crossroads, the place where spices, fruits, sugar—and especially ideas—arrived in the West via the Silk Road through Central Asia, or in the ‌dhows‌ of Arab traders. Western baking traditions have been heavily influenced by those of the Middle East, but those roots are long-forgotten and most of us are familiar with only a few examples of modern-day sweets from the region (looking at you, baklava!).
The plain truth is that the Middle East has one of the world's great baking cultures, and this offering from Lebanese cookbook author Salma Haga is one of the relatively few recipe books to showcase those traditions. There will be a few ingredients you may have to order online, but the clearly-written recipes are easy to follow and they're surprisingly well-suited to modern tastes. Lots of them revolve around alternative sweeteners like dates and honey, and a number are (naturally and traditionally) vegan or gluten-free.
6. "Desserts Illustrated: The Ultimate Guide to All Things Sweet" by Cook's Illustrated
You may love or hate the ethos behind Cook's Illustrated and America's Test Kitchen—"We're gonna find the one ‌absolute best way‌ to make this"—but it's impossible to argue that they don't put in the work. This massive book is intended to be a benchmark reference, with over 600 baking recipes aimed at home cooks with ambitions. It's a massive compendium of recipes, including all of your favorites (brownies, cupcakes, chocolate chip cookies, and so on), and more importantly, it's also a high-level tutorial on the techniques and ingredients used in baking.
In the classic ATK style, the recipe testers' goals and methods are explained in detail, so if you want a different outcome (perhaps a crunchy cookie rather than a chewy one), you'll have enough information to make that change for yourself. It's not everyone's cup of tea, but if you want to become a Really Good Baker, this is a great place to start.
7. "Martha Stewart's Fruit Desserts: 100+ Ways to Savor the Best of Every Season" by Martha Stewart
It's impossible to guess how much Martha Stewart herself actually contributes to any of the cookbooks that bear her name—this one is credited to both Stewart and the editors of Martha Stewart Living—but that doesn't matter. Her brand is based on putting out solid recipes that produce reliable results and look good as well, and this latest offering is true to that history. As the title suggests, the topic this time is fruit-based desserts for all seasons, from autumn's tree fruit and winter's citrus to midsummer's bounty of fresh berries. The recipes themselves range from chic and Instagram-worthy to straight-up comfort food, so there's something here for just about every taste. And the photography, as always in Stewart's books, is stunning.
Home bakers deal with a couple of common "pain points" that can interfere with getting desserts onto the table on a regular basis. One of them is the inevitable time crunch, and the first book on our list addresses that. A second is just the sheer impracticality of making full-sized recipes for small-sized modern households, and that's the target market for this brilliant book from British food blogger and cookbook author Edd Kimber. It's got all of the usual favorites—cookies, cakes, pies, breads and more—but in scaled-down recipes that work beautifully for just one or two people (want to bake ‌one‌ cookie? There's a recipe for that). Yup, you can bake something new every day without bingeing every day. Who knew?
9. "What's for Dessert: Simple Recipes for Dessert People" by Claire Saffitz
Two years ago, Claire Saffitz' bestseller "Dessert Person" took her from the relative shadows (she'd been a recipe developer and senior food editor at Bon Appetit) and revealed her as a standout cookbook writer in her own right. In her follow-up book, "What's for Dessert," she mines the same vein: crafting simple recipes that anyone can follow, which yield stellar results despite their simplicity. All of those years working in test kitchens have borne fruit because each of the recipes in this book is meticulously tested and thoroughly reliable. Will any one recipe be the best dessert you've ever had? Maybe not, but they may well be the best desserts you've ever ‌made‌.
10. "Delectable: Sweet & Savory Baking" by Claudia Fleming
Two decades ago, Claudia Fleming—award-winning pastry chef at New York's Gramercy Tavern—published a dessert cookbook called "The Last Course," which was hailed as an instant classic and one of the best books ever written on the subject. After a long wait, she's finally back with this new book. Unlike her first, it's not adapted from restaurant recipes; this time, she crafted the recipes from start to finish in her own home kitchen and tested them with friends and family. The result is stellar, putting professional-quality results within the reach of almost any home baker.
Bonus Section: A Half-Dozen Absolute Classics to Round out Your List
Of course, there are lots of outstanding dessert cookbooks that don't come from within the last year or two. To round out your list (in case you've missed some), we offer up this list of a half-dozen established classics.
The 2006 original featured recipes from the titular San Francisco bakery; this 2019 update revises and enlarges it. If you want pro-caliber recipes tweaked to fit home kitchen skills, this is as good as it gets.
When legendary pastry chef Alice Medrich wrote the original "Bittersweet" in 2003, we were just getting used to seeing chocolate that listed its cocoa content by percentage. Medrich's recipes guided bakers through adapting their recipes to get foolproof results from premium chocolate at any percentage, and this new edition is updated to reflect the growing choices we have now. If your favorite desserts include chocolate, you need this one.
Blogger and pastry chef Stella Parks uses familiar, comfortable recipes as a platform to explain the science of baking in a readable, entertaining way. You won't just learn how to do things, you'll learn ‌why‌ to do them that way.
Not all desserts come via the oven. If you love ice cream, sorbets and frozen desserts of all kinds, you need this updated edition of pastry chef David Lebovitz's classic recipe book.
If you're obsessive about baking, you'll want to understand the science that underpins it, and there are few better guides than culinarian and former chemist Shirley Corriher. The recipes are good, the writing is approachable, and her understanding of the science is unimpeachable.
It's in its 35th year and still selling strongly, often to the children and grandchildren of its original audience. It's a classic among classics: If you love cake, you need this book