Paper crafts are wildly popular for kids as they not only teach them important fine motor skills like paper cutting, but they're also relatively easy to create—‌hello‌ paper plate crafts!—and boast tons of creative inspiration. That being said, paper crafts aren't just for kids. In fact, there are loads of gorgeous and fun paper craft kits for adults to try, too. Whether you're interested in getting into the dollhouse trend and want to make your own miniatures out of paper or are looking for a fun craft idea to do with your kids, you can turn to paper craft kits to supply you with everything you need to create your project.
Below, we break down the best paper craft kits for all ages and skill levels, plus share insight on what to consider when shopping for paper craft kits.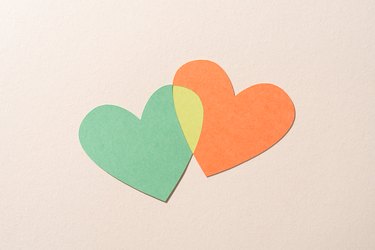 What to Consider When Shopping for Paper Craft Kits
‌Included Craft Supplies:‌ When shopping for craft kits, in general, the included craft supplies are always important to consider—and paper craft kits are no different. For the most part, a kit should come with everything you need to complete the project, save for a few generic supplies like scissors. Whether you're making a paper doll or an Easter arts & crafts project, it also helps to check and see that the kit includes detailed instructions (and, in some cases, a template) and whether or not the pieces are pre-cut or if you need to cut the paper out yourself when creating the project.
‌Experience:‌ With so many different types of paper craft kits available, it helps to consider what your skill level is and what projects might be the most accessible. Crafters with lots of experience might prefer learning how to create hand-drawn greeting cards with this Cupixel card kit, while brand-new crafters might want something a little less challenging, such as the Elemental Leaf Solar Printing Kit. And, if you're used to working with more delicate materials, learning how to make crepe paper flowers out of tissue paper for a Mother's Day bouquet is a fantastic avenue to take (psst: the Lia Griffith Crepe Paper Flower Kits at JOANN are lots of fun).
‌Tutorials, Templates and Stencils:‌ Regardless of your project, it's imperative that you look at what kind of instructions come with the paper craft kits you consider. Depending on the art kit, it should include—at the very least—a step-by-step tutorial. Some projects might also require (and include) a stencil, templates, and even some downloads to complete the paper project.
‌Seasonal Projects:‌ Paper crafts are especially fun to create for various holidays, and there are DIY kits available for everything from Easter to Mother's Day to Halloween to Christmas. If you have a specific holiday in mind, it helps to include it in your search query to get a better idea of what is out there and to spark your creativity.
‌Repurposing Materials:‌ Another thing to consider when shopping for paper craft kits is if any of the materials can be repurposed for future paper projects. For example, if you purchase an origami kit—such as the Kool Krafts Origami Paper Kit—you can easily purchase more paper and use the tutorial and templates in the instructions to make more origami projects. Another idea is to purchase a download tutorial on Etsy—like the Corrie Beth Makes Dale Sena Begonia Paper Plant Template—so you can pull your own supplies and make more however many you want from the download.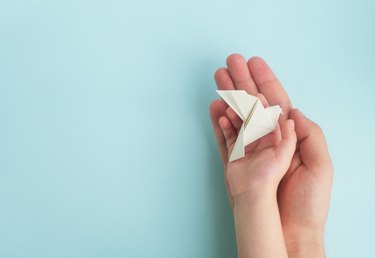 1. Elemental Leaf Solar Printing Kit
Solar printing is one of the most exciting ways to use nature in your crafting—and it's the perfect project for all skill levels, including those who have never crafted a day in their life. The Elemental Leaf Solar Printing Kit from Etsy comes with everything you need to get started, sans the botanical pieces used to create the final print. An excellent choice for those who love to collect leaves, flowers and twigs while hiking or on a nature walk, all you have to do is put the items on top of the paper and lay them out in the sun. From there, the sun's rays will fade the negative space into a gorgeous blue hue and, once you remove all of the botanical pieces, you're left with a stunning piece of art that looks kind of like a pressed flower print.
2. MY CREATIVE CAMP Beginner's Quilling Kit
Quilling is a type of paper craft that involves taking thin strips of paper and rolling them to create different designs and illustrations. For the quilling-curious, the MY CREATIVE CAMP Beginner's Quilling Kit is a fun way to learn this art form for kids and adults alike. Available on Amazon Prime, the kit comes with everything you need to create 10 projects, including over 500 quilling strips, a slotted tool, a needle tool, tweezers, glue, gem stickers, card stock and more. Additionally, it has an easy-to-follow instructions booklet that walks you through how to make a variety of quilling projects.
3. Lia Griffith Crepe Paper Flower Kit
Crepe flowers are a truly elegant paper craft with lots of versatility. If you're wanting to try your hand at tissue paper flowers, the Crepe Paper Flower Kit from Lia Griffith is where you should start. This kit comes with a video tutorial as well as detailed instructions that walk you through how to make crepe paper flowers. With enough supplies for 12, you can craft a beautiful bouquet of blooms, or transform them into other projects like the most aesthetically pleasing Easter garland, stunning DIY gift toppers and more.
4. National Geographic Kids Paper Making Kit
Both fun and educational, the National Geographic Kids Paper Making Kit is another top pick for the best paper craft kits. This craft kit on Amazon teaches kids how to make thick card stock-like craft paper for watercolor, block printing and more. It comes with everything you need to craft (including high-quality art supplies) and is considered a STEAM educational craft, so kids can discover the science behind paper making while creating their own custom works of art.
5. Kool Krafts Origami Paper Kit
Origami dates back to 17th century Japan and continues to be a wildly popular paper craft to this day. For those looking to try this renowned art form, a craft kit such as the Kool Krafts Origami Paper Kit is the best place to start. This art kit comes with 350 pieces of patterns in a variety of colors and patterns, along with a colorful book with templates for all sorts of origami creations, such as hearts, flowers, dogs and cranes. And, the best thing about this art set is that once completed, you can turn your origami creations into anything from a baby mobile to a wall hanging to a fun name card for a holiday table.
6. Cupixel Greeting Card Set
Greeting cards are another paper craft idea that is super fun and useful, whether you want to create a homemade card for your mom's birthday or DIY holiday cards. We love the Cupixel Greeting Card Set from JOANN because it comes with everything you need to sketch works of art on top of greeting cards for frame-worthy creations. The art set comes with a one-month free membership to the Cupixel app, so you can learn how to use the technology to create works of art as well as take a variety of classes that take your skills to new levels. Perfect for beginners and experts alike, this is a fun and functional craft kit for those who want to improve their drawing skills and create gorgeous cards in the process.
7. Pipity USA by Kate Paper Dolls Craft Kit
This wouldn't be a list of the best paper craft kits without discussing paper dolls. The Pipity USA by Kate Paper Dolls Craft Kit is an ultra-fun project for kids to learn the magic of paper doll creations. Unlike traditional paper dolls—which are flat—this kit creates 3D dolls in a more cone-like shape, so they stand up, stack together, and are easy to change. And, speaking of changing, the kit comes with enough supplies to create 40 outfits (including eight make-your-own designs) plus eight accessories for four different paper dolls. It also comes packaged in an accordion folder so everything is easily stored together.
8. Tiny Paper Craft Greenhouse Dollhouse
Dollhouses are one of the biggest craft trends of 2023—but you don't need woodworking skills to try it out. This papercraft kit from Etsy comes with all the supplies needed to make an adorable paper greenhouse, including several plants, a welcome sign, and a bunch of kitties to enjoy the serene area. In addition to the paper supplies needed for this project, the kit also includes a craft knife—which is essential for intricate cutting—a cutting mat, and a pincette. The only things you need to supply yourself are scissors and PVA glue.
9. Corrie Beth Makes Dale Sena Begonia Paper Plant Template
This last paper craft kit is technically not a kit, but it's such a fun and budget-friendly way to get into paper crafts that we had to include it. The Corrie Beth Makes Dale Sena Begonia Paper Plant Template is a downloadable document on Etsy that walks you through step-by-step how to create your own stunning paper plant. You can use this in several different ways, depending on the supplies you have on hand. First, you can print the template out on computer paper and then simply cut the leaves out and decorate them. Or, you can load the SVG file into a creative studio—such as the Cricut Design Space—and cut the designs out with a cutting machine using card stock. Once completed, you can add the leaves to a vase or stone pot for a gorgeous botanical arrangement.