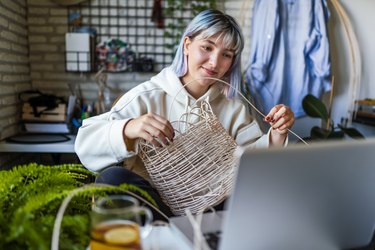 Wintertime is the best time of year to prioritize relaxation by setting your phone down, snuggling up on the couch, and chipping away at a slow craft like knitting, crochet, tufting, or embroidery. Whether you're an experienced crafter with a serious lust for crochet projects or are looking to try your hand at something new like tufting, adult craft kits are an excellent way to start a new project, since they come with (mostly) everything you need to complete the craft and you don't have to leave your home in frightful weather to get a bunch of craft supplies.
From knitting projects to quilting kits, find our top picks for the best adult crafts for winter, ahead.
What to Consider When Shopping for Adult Craft Kits for Winter
‌Project Type:‌ When it comes to cozy crafts, there are so many to choose from. This is not just in terms of knitting vs. crochet vs. embroidery, but also in terms of project types, such as beanies, scarves, sweaters, wall hangings, embroidered wall art, and more. To prevent decision fatigue, it helps to have a good idea of the type of project you want to create before looking at your options. Before browsing, we recommend taking a look at social media—TikTok is a treasure trove of winter crafts—or Pinterest for inspiration. It also helps to look around your home to see what you might need. The beauty of many of these crafts is that they often serve a purpose, so whether you need a new beanie for your winter wardrobe, a wreath for your front door, or coasters for your coffee table, you can make notes and find a project that fits your needs.
‌Skill Level:‌ Your skill level is another beneficial thing to consider when shopping for craft kits for winter. Whether you buy a kit with all the supplies needed or opt for the more budget-friendly pattern route, most kits and tutorials should note what skill level they are intended for. After all, there is ‌nothing‌ more frustrating than starting a knitting project and realizing your skills aren't quite there yet.
‌Materials:‌ It also helps to consider the materials required—whether they come in the kit or not. For the most part, a craft kit should include all the items necessary to complete a project. However, in some cases, you might also need to supply your own tools like crochet hooks or knitting needles. Some craft kits also allow you to include these extras as an add-on so, if you don't already have them on hand and they don't come in the kit, be sure to click add to card on those additional materials, too.
Since winter crafts tend to be more textile-heavy, scissors are also often a requirement, and rarely included in a kit. Before purchasing a craft kit, consider what kind of scissors you might need to finish the project. For the most part, sharp craft scissors will do the trick. However, some sewing kits might require special sewing scissors (we love the Gingher Knife Edge Dressmaker Sheers) or thread snips.
‌Display:‌ If you choose a project that can be displayed in your home—such as an embroidery kit or wall hanging—also consider how you might display it and where. If it requires a frame, it also helps to keep the size in mind so you can have one ready to go once your project is complete.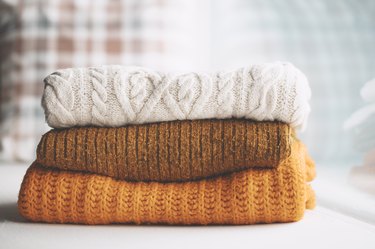 1. AdultsAndCraftsLLC Wood Slice Wreath Kit
If you're looking for a chic way to give your front door a refresh after all the holiday decor, this stunning wood slice wreath kit from Etsy is a fun project to try. The kit comes with everything you need to complete the project, including a circle base, wood slices to decorate the base, glue, flowers, and greenery. Once completed, it's around 17 inches wide and works for both indoor and outdoor decoration.
2. We Are Knitters Simone Cardigan Easy Knitting Kit
It's impossible to think about crafting in the winter without thinking about making something ultra cozy. Whether you're a beginner or an experienced knitter, the Simone Cardigan Easy Knitting Kit from We Are Knitters is a fun craft project for the chilly months. Plus, once completed, it will keep you warm, too. We love this kit because you can easily customize it and select from a collection of yarn colors, sizes, pattern format, and pattern language. You can also choose whether or not you want the kit to include knitting needles.
3. PittsburghCrochetCo DIY Crochet Beanie Kit
Etsy is home to some of our favorite winter craft kits, including the DIY Crochet Beanie Kit from Pittsburgh Crochet Co. This kit is beginner-friendly and a fun first crochet project to try, since it's relatively quick, too. Through this project, you learn how to create a ribbed-like crochet stitch for a beanie with lots of texture and flair. Plus, you can choose from over 15 different colors and have the option to add a crochet hook if you don't already have one, too.
4. Wool and the Gang Here Comes the Sun Blanket Intermediate Crochet Kit
Granny squares are one of the most popular crochet trends of the year and, whether you already know how to make them or are looking for a challenging winter craft to try, the Here Comes the Sun Blanket from Wool and the Gang is a fun way to dive into this beloved art form. The kit comes with three different yarn colors—which you can completely customize to a color scheme of your choosing—and the option to add crochet hooks to your order if you don't already have them in the required size.
5. Punchatelier Tufting Coaster Kit
Tufting is another popular craft trend. However, you don't need to overwhelm yourself with a full-size DIY rug project this winter. Instead, take it easy and try a relaxing coaster kit such as the Punchatelier Tufting Coaster Kit from Etsy. With six different sets to choose from, this kit is a fun introduction to tufting and rug making, allowing you to create tiny rugs for your mugs. The kit comes with a punch needles—which is what you use to manually tuft—punch needle fabric, an embroidery hoop, yarn, four designs, and detailed instructions, plus a how-to video so you can easily learn how to make punch needle coasters no matter what your crafty skill level may be.
6. Wool and the Gang Circus Scarf Beginner Knitting Kit
If you're new to knitting and want to create a functional and stylish project, the Circus Scarf from Wool and the Gang is a must-try. This scarf features three colors of your choosing in a color block design that is easy to follow for beginner knitters. It comes with everything you need to finish the project, including three skeins of yarn, knitting needles, and a pattern with step-by-step instructions that are easy to follow.
7. MyFabricAddiction1 Pre-Cut Baby Quilt Kit
Slow crafts are our favorite winter activity and nothing says slow crafting quite like quilting. If you've always wanted to try quilting but it felt a little too daunting, we totally get it—that's where the My Fabric Addiction Pre-Cut Baby Quilt Kit comes in. This quilt kit on Etsy comes with everything you need to create a 42 x 48 in. baby quilt and, the best part is, everything comes pre-cut so you don't have to stress about cutting out all of the tiny pieces of fabric before sewing. It's an excellent project for someone who wants to test their quilting feelers and gain a stronger understanding of the art without the added stress of precise fabric cutting.
8. SundriesModern Triangle Scarf DIY Kit
For a quick and beginner-friendly knitting project, consider the Sundries Modern Triangle Scarf DIY Kit, which comes with everything needed to make a large triangle scarf for the frosty season. The kit features three yarn skeins in a color of your choice (there are 19 different earthy colors, including over five different neutral shades). Plus, every kit comes packaged in the cutest tote bag with a variety of sayings to choose from, making it an excellent gift to give.
Embroidery is another fun winter craft to try. And, much like crochet and knitting, it's one you can keep near the couch and pick up here and there until it's completed. This kit from Eight 22 Crafts on Etsy is designed with beginners in mind and comes with your choice of either bamboo or beechwood hoop, DMC floss skeins, needles, and felt for the backing, so all you need to provide are a pair of thread snips or sharp scissors. Additionally, it comes with the option of downloading the instructions or having them printed and sent with the supplies, so you can choose whatever works best for your lifestyle and preferences.