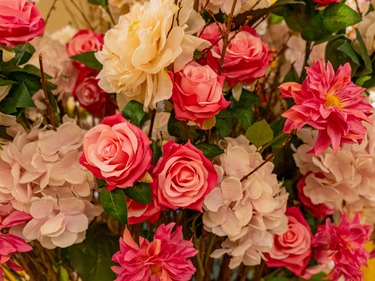 With the Winter Solstice behind us, the days are slowly but surely getting longer and longer (even if we don't notice it quite yet). This shift in the season has our crafty hearts ready for (OK, craving) springtime and all things floral—faux floral to be exact. Fake flowers are a fantastic craft supply because they allow you to make stunning, nature-inspired creations without worrying about their longevity. Whether you're looking to make a centerpiece, flower wall, or faux flower arrangement out of the silky botanicals at your local craft supply, or want to challenge yourself and actually make those flowers yourself from felt or paper, there are lots of faux floral crafts to try as you summon spring.
Up ahead, we share the best crafts for fake flowers, plus some tips on what to look for in a floral craft.
What to Consider When Shopping for Faux Floral Crafts
‌Project Type:‌ Fake floral crafts range from crochet blooms to paper flowers and everything in between. When shopping for crafts featuring faux flowers, consider the type of project you want to create and the different mediums available to you. For beginners, a project like the Elemental Leaf DIY Solar Printing Kit is an excellent choice because it allows you to simply use faux flowers (or even real flowers) to create simple prints using sunlight. More advanced crafters might appreciate something like the Fibita Spring Bouquet PDF Crochet Pattern, which offers a step-by-step faux floral tutorial for creating a crochet wedding bouquet.
Another reason why the project is important to consider is that not every project is considered a DIY craft kit. Some—especially the crochet and paper flowers—are a PDF pattern or tutorial instead. This means that, in addition to considering the project type for your skillsets and interest, you'll also need to consider the materials required for the project. PDF patterns and tutorials are often not returnable, either, so it's important to be aware of what is needed to complete the project before clicking add to cart.
‌Faux Floral Material:‌ Along with the project type, also consider what the fake flowers are made out of and whether or not that aligns with your style, home decor or preference. Artificial flowers are made from all different types of materials, including paper, silk, felt, leather and other types of fabric. Silk—such as a gorgeous silk peony—has a more traditional faux floral feel since that is typically what the fake flowers at craft supplies like JOANN and Michaels are made up of. Felt and paper can feel more cottage chic and leather can have a more fashion-forward feel.
‌Included Craft Supplies:‌ As with any DIY craft kit, you'll also want to consider the craft supplies included in the kits. Most kits will include all materials necessary to complete a project—whether that be a flower wreath, flower arrangement or an actual fake flower (such as the Heart Grooves Handmade Felt Flower Craft Kit)—but some might require additional tools and supplies. This is especially true when working with a PDF pattern instead of a physical kit.
‌Additional Craft Supplies:‌ If your craft project doesn't come with everything needed to complete a project, consider what you might need to purchase in addition to the craft supplies included. Often, it might be something as small as a bottle of glue or a pair of scissors that you already have lying around the house. But, sometimes, you might need or benefit from investment supplies, such as the Cricut Maker 3, which is designed for precise cutting and is a fantastic tool for paper flowers, fabric flowers, felt flowers and other faux flowers.
‌Flower and Greenery Types:‌ As far as personal style goes, the type of faux flowers and greenery also matters. While some kits and projects might not require greenery, those that do can include anything from a succulent to a eucalyptus sprig. And, there are ‌many‌ options for the type of flower, too, including peony, hydrangea, orchid, cherry blossom, tulip, calla lily, carnation and even some artificial roses.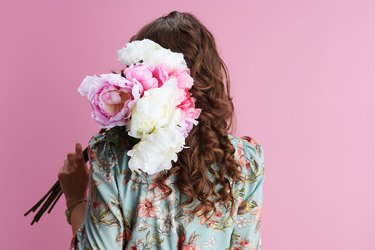 1. Heart Grooves Handmade Felt Flower Craft Kit
If you want to learn how to make felt flowers, this kit from Etsy is an excellent place to start. The kit comes with everything you need to make one large anemone, two succulent plants, two artificial roses, three flower buds with leaves, three berry stems and two eucalyptus stems. We love it because it allows you to create a variety of artificial flowers that you can then use for various projects, including home decor projects like floral wreaths and welcome signs, as well as wedding decorations and centerpieces. You can also attach the flowers to a barrette or headband for some spring-inspired fashion accessories, too.
2. OverTheRiverFelt Floral Headband Kit
For those who love the felt flower look but want to create a specific project, this headband kit is a must-try. The Etsy craft kit comes with enough materials to make a few headbands, including lots of stretchy elastic, 24 flowers, 18 leaves and 12 circles, plus a step-by-step tutorial. Whether you want to create DIY headbands for your baby, a fun and festive accessory for your flower girl, or something chic and stylish for yourself, this kit allows you to create your own custom fake florals regardless of your skill level.
3. ElementalLeaf DIY Solar Printing Kit
Beginners might feel intimidated by a DIY faux floral craft, but this one is completely accessible and friendly for all skill levels. The Elemental Leaf DIY Solar Printing Kit comes with several sheets of special solar printing paper that you can place in the sun with greenery sprigs and fake flowers on top. Over time, the sun will fade the areas that aren't covered in blooms into a gorgeous blue color. And, when you remove the blooms, you're left with a fun botanical print. We love this craft project because you can use your favorite faux florals or use real flowers, greenery and other objects you picked up while on a nature walk.
4. MayContainGlitterUK Floral Tassel Garland Craft Kit
Paper flowers are another fun and interesting way to create unique artificial blooms—and this kit taps into the art of paper florals with a quick and easy garland project. The under $20 craft kit comes with all the materials needed to craft a garland that is just over 3 feet long. Perfect for spring home decor or Easter decorations, the project is a fantastic introduction to paper flowers and all the different ways you can incorporate them into your creative projects.
5. FauxFloralFantasies DIY Paper Flower Kit
Another paper flower option, this kit from Etsy features a more traditional way of making paper blooms, which involves crepe paper, floral wire and floral tape wrap. In addition to these supplies, the kit also comes with templates as well as a step-by-step tutorial so you can learn how to make crepe paper flowers with ease. Once complete, the project results in a bouquet of 10 artificial flower blooms that you can either place in a vase or use for other spring craft projects, such as decorating a wicker basket or attaching to an Easter hat.
6. CreativeGiftsNI DIY 3D Layered MDF Flower Pot Craft Kit
Faux flowers can also come in wood—and this kit features a unique spin on fake floral crafts. Perfect for beginners, this kit comes with everything you need to create a decorative wooden flower display. We love it because it requires zero woodworking skills and you can customize it to your style—whether that means painting the flowers in a cohesive color palette and leaving the box raw wood, or painting the box and decorating the flowers in a variety of wildflower-inspired hues.
7. PaintyeeDesigns PDF Pattern Leather Peony Flower
For those looking for a stylish flower craft to try, this leather peony is a fantastic place to start. Unlike other options on our list, this craft is a PDF pattern and tutorial from Etsy, so you download it and then purchase the supplies needed to create the fake flower. The tutorial offers detailed step-by-step instructions that teach you how to create the peony look out of leather. And, once complete, you can turn it into anything you want! We love it as a brooch, but it also looks beautiful attached to a sun hat or tied onto the straps of your market tote bag.
8. BerginandBath Felt Flower Wreath Kit
Get your home in the spring spirit with this DIY faux floral wreath. The project features felt flowers attached to a macrame wreath for a bohemian decor moment. This kit comes with everything needed to create four different flowers plus a macrame wreath which you can then use as home decor or even a cute gift topper. It's a fantastic pick for someone interested in learning a couple of craft skills and creating a project they can actually use.
9. Fibita Spring Bouquet PDF Crochet Pattern
Calling all crocheters! This is the fake flower project for you. This PDF pattern teaches you step-by-step how to create a gorgeous tulip and lavender floral arrangement out of yarn. Since it isn't a kit, you'll need to purchase supplies such as yarn, floral wire and polyester fiberfill before getting started, which means you can choose your own yarn colors for a more unique and custom spring floral arrangement.