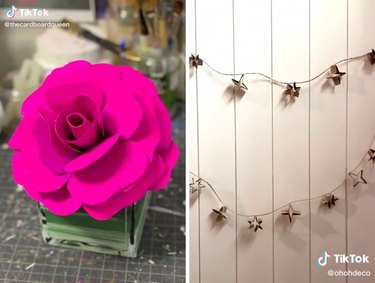 For your next great craft project, look to the bathroom...that's not a typo! The toilet and its less-than-glamorous accessories might not be your main sources of inspiration when it comes to creating art and fun DIYs, but we're here to change your mind. In fact, we're firm believers that toilet paper rolls are among the most underrated crafting materials. These cardboard tubes are so much more than vessels for necessary bathroom tissue—they're versatile (and easily accessible) tools for recycled crafting.
Start saving those toilet paper tubes and read on, as we've rounded up 14 toilet paper roll crafts from across social media for your consideration. From rainy day art projects to impressive and intricate pieces, there's a TP roll idea on this list for every sort of DIY enthusiast.
No matter when you create these easy and charming toilet roll star garlands, demonstrated beautifully by @ohohdeco on TikTok, you'll feel totally accomplished. All it takes is some folding skills, a pair of scissors, string and a hot glue gun. Add some sparkle or paint to dress it up. We think this would make beautiful home decor for any season!
While TikToker @sharon_0lat admits that this craft took most of the day, we think the results are totally worth waiting for. Using a large collection of toilet paper tubes, scissors and a sturdy weaving technique, she creates a useful (and cute!) trio of baskets that are perfect for craft storage. Might we suggest using them to collect more cardboard tubes?
3. Roll-molded DIY candles
Try your hand at making cylindrical candles using leftover wax bits and—you guessed it—an empty toilet paper roll! TikTok candlemaker @sassyflamingocandles offers a quick and easy idea for molding candles using empty tubes. Make sure you have the proper wick-making tools and use caution with hot wax. The results are totally whimsical!
As her name implies, TikToker @thecardboardqueen prides herself on creating awesome crafts from recycled cardboard. Her toilet paper tube roses offer an easy and genuinely gorgeous way to reuse your bathroom supplies in an unforgettable way. You'll need paint, hot glue, scissors and arrangement skills to create stunning roses from recycled TP roll tubes. Who knew toilet paper remnants could be so pretty?
5. Eco-friendly bird feeders
Feed the neighborhood birds in a sustainable (and affordable) way by making sweet and simple bird feeders from your leftover TP roll tubes. @newlifestyleabb on TikTok demonstrates just how easy this fun craft is. It just takes peanut butter, birdseed, string, a place to hang your feeder and—of course—toilet paper tubes!
6. Intricate cardboard animals
Remember when we promised to include impressive and fun ideas for all abilities? Here's where the "impressive" element really comes into play. TikTok artist @raminta_art creates realistic and detailed animals almost entirely from upcycled toilet paper rolls. We're absolutely enamored with her beautiful giraffe, but each and every one of these animal crafts is worth admiring.
We'll admit it: We're pretty excited that Barbiecore is becoming a trend again. Whether you're a Barbie collector, the parent of a little one who loves dolls or just a creative spirit searching for a new project, you'll be charmed by TikToker @heartsydolls' fun toilet paper roll costumes for Barbies and other small dolls. If you're feeling creative, switch up the design and create a totally original outfit for Barbie!
When it comes to craft ideas, nothing beats a playful and childlike project. After all, creativity inspires us to release our inner child and allow ourselves to embrace silliness. You'll do just that while making toilet paper tube robots like the ones designed by @madetobeakid on TikTok. Made with pipe cleaners, buttons, colorful paper, mini pom poms and—you guessed it—toilet paper rolls, these robots are hard not to love.
9. Homemade knitting loom
How about a craft within a craft? That's exactly what you'll have after following this tutorial from @timmsevitz, a TikToker who illustrates how empty cardboard rolls can be paired with Popsicle sticks, hot glue and yarn to create a DIY knitting loom. What a fun way to aid your stitching technique!
10. Mini cardboard landscape art
Do you ever find yourself gazing in awe at a craft project and wondering how the creator gained such talent? That's precisely how we feel while checking out this video from artist @bethanyfortnerart, who posted a TikTok documenting the creation of a tiny forested landscape made from leftover toilet paper rolls. How enchanting!
11. Floral-inspired wall decor
This is a fun DIY project for anyone who wants to spruce up their interior walls with something new—and affordable. Using cut up toilet paper tubes (paper towel rolls would also work here since you'll need a good deal of material), TikToker @craftscm paints and glues small sections of cardboard together to create an impressively elegant piece of wall art.
Here's an easy peasy and fun family craft that combines nature and art in one adorable package. After drawing the outline of a squirrel on an empty toilet paper tube, TikToker @unlockingfun cuts it out, adds paint and hot glues a real pine cone to serve as a squirrel tail. Talk about a cute and simple piece to display!
We couldn't leave our four-legged friends out of the toilet paper roll craft roundup! Take a cue from TikTok user @louithecattledog, who demonstrates an incredibly seamless way to make dog enrichment toys from toilet paper rolls. Simply add holes, fill the rolls with dog (or cat) treats, close the ends and let your animal pal have a blast.
@lulu__make on TikTok demonstrates another use for recycled toilet paper rolls: homemade stamps! While this particular video features a charming snowman design, the stamp idea might apply to any number of shapes. Simply fold your roll into the desired pattern, dip it in paint and enjoy! Kiddos will be especially enthusiastic about using this method to decorate birthday party cards or other homemade gifts.
The next time you think about tossing all your empty toilet paper tubes, think again! Those small but mighty cardboard cylinders might just hold the key to arts and crafts galore. After all, you know what they say: Some of the most brilliant, creative ideas begin in the bathroom!