Take one look (or bite!) of chef Selassie Atadika's artisanal truffles and you might think she always wanted to be a chocolatier. After all, there's so much artistry in every piece of her chocolate, from the intricate patterns to the delectable flavor combos. But for Selassie, the journey to chocolatier was a winding path, filled with many twists, turns and "detours," as she calls them.
It started in the 1980s when Selassie and her family fled political unrest in Ghana and settled in Westchester, New York. "As a kid, I really wanted to become a doctor," she says. "But premed courses in college convinced me otherwise!"
Selassie instead turned to international affairs, geography and environmental studies, eventually joining the United Nations Children's Fund (UNICEF). Through her humanitarian work with the UN, she traveled to 44 countries across Africa and, along the way, discovered a new passion—reimagining indigenous African ingredients in cuisine. She enrolled in culinary school at the Culinary Institute of America and, in 2014, Selassie returned to Ghana, this time as a chef.
When it came time to name her new food venture, Selassie looked to her roots. "As a kid, my dad would call me and my two siblings down to dinner by saying, 'Va Midunu!' or 'Come, let's eat!'" says Selassie, who is based in Ghana's capital of Accra. It was that welcoming phrase in the Ewe language of Ghana—which she associated with so much love and warmth— that went on to inspire Midunu, her nomadic private dining company, in 2014 and then her award-winning chocolate company, Midunu Chocolates, in 2015.
Now Selassie is on a mission—to share her love and pride of her culture with the world and to encourage others to explore African flavors through chocolate. With Valentine's Day on the horizon, we chatted with Selassie about her passion for building a more sustainable African culinary field, why it's so crucial to support women in the food industry and the magic that is Ghanaian smoked water.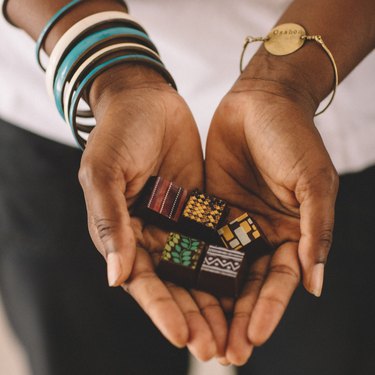 How did your love of cooking start?
‌SELASSIE:‌ I think it was always there. My mom tells stories about how when I was three years old in Ghana, I would follow her around trying to pound the corn for corn meal! By the time I was in elementary school, I was making bread for my parents to take to work. So I always had a love of food. It just took me a while to find my calling.
Why did you start a chocolate line?
‌SELASSIE:‌ My travels throughout Africa with the UN really showed me just how many indigenous ingredients we have in Africa but aren't really using. Here in Ghana, cocoa is an underrepresented ingredient. So I started incorporating cocoa in my private dining events—ending every meal with handcrafted truffles. People loved them and wanted to buy them. Then, when I had to close Midunu's kitchens during the pandemic, I shifted focus from dining events to producing truffles. That led to shipping Ghanaian chocolates to the United States, and the rest is history.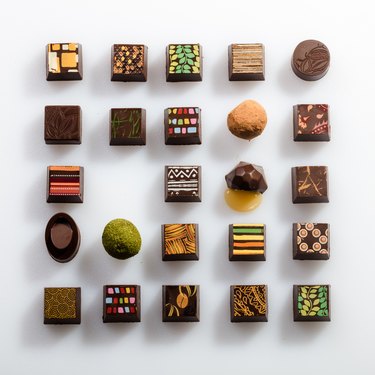 What sets your chocolate apart?
‌SELASSIE:‌ I've always focused on truffles specifically because they help showcase the depth of flavors throughout the African continent—you can taste the complexity. It's in the flavors and the designs. For example, we love ginger in Ghana, so I candied some in honey and combined pieces with dark chocolate ganache. We also use ‌prekese‌, a spice which has beautiful buttery notes, and fermented locust beans with a carob-like flavor. My chocolates incorporate Nigerian pepper fruit, which has gorgeous floral notes, and a hot spice blend called ‌xawaash‌ from Somalia. On the design side, we include colorful traditional patterns atop each truffle. And, maybe most important, our cocoa comes from organic Ghanaian farmers.
Ghana produces cocoa, but it's rare to find Ghanaian chocolate on the shelves. Why is that?
‌SELASSIE:‌ Cocoa is not indigenous to Africa—it's from South and Central America. It's planted here but only allowed to be exported. In fact, it's illegal for me to buy directly from a cocoa farmer, so we purchase from a company that takes organic cocoa and makes high-quality chocolate tablets called couverture. We also have to import cream and sugar, because although we have farm animals and sugarcane in Ghana, there are no dairy and sugar industries.
In my eyes, our chocolates really highlight the opportunity for governments to invest in a more sustainable food system and culinary industry. So much has been extracted from Africa. We should have the chance to use our own resources in a way that benefits Africa.
Your team is made solely of women. Why was that important to you?
‌SELASSIE:‌ For me, it's all about giving women the opportunity to learn. I believe that when you support one woman, you support the whole family behind her. Right now, my head chocolatier is someone who used to wash dishes for my private dinner events. Another team member was a cleaner whom I taught how to bake. It's amazing to see these women grow from knowing nothing about chocolate to troubleshooting with me about the process. In the culinary space, women sometimes do the grunt work and get left behind. I wanted to change that.
And women are the ones who hand down culinary traditions, as well?
‌SELASSIE:‌ Yes—I call them culinary custodians. Across the world, aunties, mothers and grandmothers are often the ones who hold on to how and why we do things. But when you look at fine dining and Michelin-star restaurants, I feel that women are underrepresented. As I built my business, I asked myself, "How do I honor the people who allow this food to exist?"
A Recipe from Chef Selassie: Chocolate Bark with Popped Sorghum
Inspired to try your hand at making chocolate? Chef Selassie Atadika has just the beginner-friendly chocolate recipe for you: Chocolate Bark with Popped Sorghum. "Chocolate can be tricky to deal with," she says, "but this bark recipe is forgiving and fun."
The simple recipe calls for Midunu's real Ghanaian dark chocolate and popped sorghum. Sorghum is an ancient grain that has become trendy thanks to its high fiber content and lack of gluten. A few minutes on the stove turn it into mini-popcorn with a slightly sweet and nutty vibe. Enjoy!
‌THINGS YOU'LL NEED: ‌
1/2 cup sorghum
Sea salt
Baking sheet
Baking paper or silicone mat
Sauté pan
Wooden spoon
Double broiler
‌HOW TO MAKE: ‌
1. Line baking sheet with baking paper or a silicone mat.
2. Place a sauté pan over medium heat and warm, then add sorghum. Using a wooden spoon, move sorghum in the pan to heat evenly. As the grains get hot, they will start to "pop." Continue moving grains in the pan so they heat evenly until most have popped. Remove pan from fire and allow it to cool before removing popped sorghum and discarding any unpopped grains.
3. Cut chocolate into small pieces. In a double boiler (i.e., a metal bowl with chocolate set over a pot of simmering water, making sure the bowl does not touch the water), let chocolate melt, stirring occasionally. Make sure no water comes in contact with the chocolate. When chocolate is almost completely melted, remove bowl from heat and finish stirring until chocolate is fully melted.
4. Pour chocolate onto prepared baking sheet and spread evenly. Top with popped sorghum (making sure to press them into the chocolate slightly). Sprinkle with a few pinches of sea salt.
5. Refrigerate bark for about 10 minutes, or until hardened. Remove baking paper or silicone and break chocolate into pieces. Serve and enjoy!
Can you give us an example of something you learned from a female elder?
‌SELASSIE:‌ In Ghana, we have something called "smoked water," which I learned about through a friend's mother. While walking outside after one of my dinners, my friend spotted a palm tree and said, "You know, my mom uses palm trees to make special water." Of course, I immediately asked to meet her so I could learn the process! First we burned pieces of palm trees and placed them in upside-down ceramic pots to capture all the smokiness into the crevices—the idea is to purify the water through carbon. We then turned it right-side up, poured water inside and covered it. Traditionally, that's how water is kept and served to visitors in Ghana.
My friend's mom was so embarrassed to teach something simple and traditional to a "big" chef. But I was the one who was learning. Today smoked water is the first thing I serve at my dinners. It even inspired a truffle with smoked cream.
Cooking has played such a big role in your life. What do you enjoy most about it?
‌SELASSIE:‌ I'll tell you what I ‌don't‌ enjoy: cooking for one! I live alone and when people come over, they ask what I have in my fridge. If I'm being honest, it's probably just a bottle of wine! But I love cooking for people, nourishing people, taking ingredients that are part of history or culture and making something that I can share with others.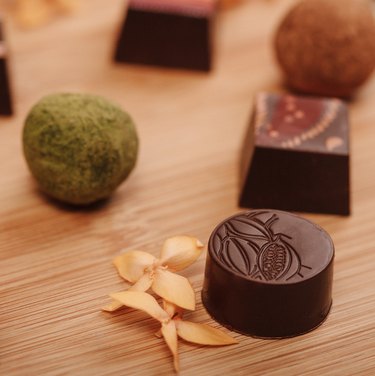 What motivates you to continue your mission of drawing attention to indigenous African ingredients?
‌SELASSIE:‌ During my time working with the UN, I'd be in, say, post-conflict Liberia and hear my colleagues complain about the food. And I'd say, "It's actually really tasty, but you don't necessarily understand the flavors. And we're in a moment of scarcity, so you're not getting the best of everything."
Part of me had this drive to prove people wrong about how great African cuisine can be. I also had a chance to see how many of our indigenous ingredients aren't being used—and to understand how food can solve a lot of problems, from nutrition to economics, and ultimately bring people together. In the end, that's my goal. To bring people together through food.