Ever since Tim Burton's ‌Wednesday‌ hit Netflix, the eldest daughter of the Addams family has taken over TikTok! From her '80s goth-club-kid-inspired dance to her iconic black and white style, Wednesday and her wonderfully wacky world have given creative TikTokers and DIYers plenty of inspiration to draw from. So, we've rounded up three of our favorite Wednesday-inspired DIYs for your next decidedly moody project!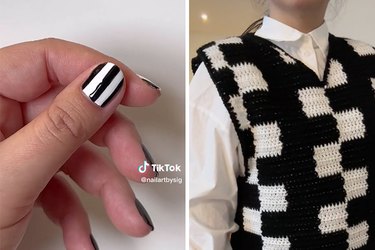 First up is @crochetbybev's Wednesday-inspired crocheted vest, which we just can't get enough of. Wednesday's original outfit includes an oversize white button-down topped with a black and white checkered vest and a cropped black jacket. The vest worn in the show was designed by Alice Morell Evans—and @crochetbybev got her permission to share this DIY with the world. Whether you're a seasoned crafter or picking up a crochet hook for the first time, this pattern is so easy to follow that it's worth giving it a shot.
Next is @nailartbysig's Wednesday-inspired nail art. The artist creates vertical black and white stripes on their thumb and pointer finger while painting the rest black. Personally, we'd love to try out the stripes on all 10 fingers for an over-the-top Addams approach. Obsessed.
If you feel a little more connected with Wednesday's roommate Enid's style (i.e., bright with a touch of whimsy), this nail tutorial inspired by her colorful claws might be more your speed.
Finally, @jeffmackay's window tutorial (inspired by the giant stained glass window in Wednesday and Enid's dorm room) is so fun ‌and‌ affordable. According to the TikToker, the DIY only cost $2.50 to make with cardboard and what looks like colorful mylar tissue paper. This could be a fun winter DIY for your craft room, dorm room or—if you're feeling bold—living room! Better yet, use it as a decorative element for a Wednesday-themed party. (Anyone up for an Addams Family New Year's Eve bash?)
We absolutely love (or should we say loathe?) these "altogether ooky" Wednesday-inspired DIYs. When will we stop appreciating TikTok's creative side? Nevermore!