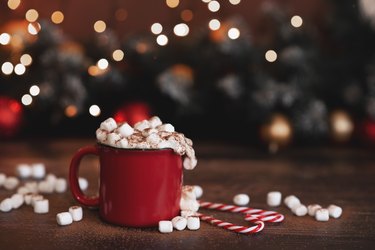 To make any drink, from hot chocolate to eggnog to your everyday cup of coffee, taste better this Christmas season, all you have to do is pour it into an extra fun and festive holiday mug. Designs range in style, price and care requirements, but any holiday mug would be a delight to sip from each day now until Christmas.
Not only do holiday mugs make for great gifts (especially for Secret Santa exchanges), but they can become instant family heirlooms too. Here's betting you'll smile every time you pull them out of the Christmas decorations bin, and immediately pour yourself a mug of your favorite beverage to celebrate.
What to Consider When Purchasing a Holiday Mug
‌If It's Dishwasher- or Microwave-Safe:‌ Some holiday mugs can be heated and reheated over and over by a microwave or dishwasher. Others, especially hand-painted designs, don't fare so well in the heat and require hand-washing instead. Before clicking "add to cart" on any holiday mug, be sure you know whether it is dishwasher- and microwave-safe or not to save you any surprises.
‌Size:‌ Whether holiday-themed or not, mugs can vary in size, often holding between 12 and 20 ounces of liquid. How big (or small) you prefer your mugs is all personal preference and may be determined by how much cabinet or shelving space you're working with.
Scroll on for 10 of the best holiday mugs you can add to your online cart right now to sip in style all December long.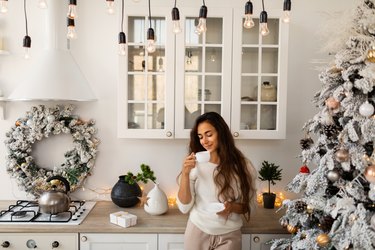 The Best Mug for All Families
This adorable Santa Claus mug comes in three shades—caramel, chocolate, and honey color—so he can represent your family the best. It's made of glazed ceramic, and hand-painted with metallic gold paint, so each mug is one-of-a-kind. It's not microwave-safe (drink your coffee while it's still hot!), nor is it dishwasher-safe, so you'll want to be careful to hand wash it after every use. For a complete set, match him with the coordinating Mrs. Cocoa Claus Mug. Trust us, this mug will become an immediate heirloom.
‌Dishwasher-Safe:‌ No
‌Microwave-Safe:‌ No
‌Size:‌ 12 oz.
The Best All-Winter-Long Mug
Leave it to Rifle Paper Co. to design an adorable holiday village scene that you'll want to pull out of your cabinet morning after morning. Not only will you reach for it this holiday season, but since it features a skating rink, snowflakes and snow-capped trees, you'll drink from it all winter long too. Add this one to your coffee cup collection, or indulge in all four of Rifle Paper Co.'s holiday mugs, which also include two nutcracker designs and a mistletoe one.
‌Dishwasher-Safe:‌ No
‌Microwave-Safe:‌ No
‌Size:‌ 16 oz.
The Best Classic Pattern Mug
Instead of indulging in an actual candy cane, opt for this colorful, graphic, candy cane-striped mug instead. Not only is it a delight to look at and drink from, but since it's made of durable earthenware, it's both dishwasher- and microwave-safe, making for ultra-easy cleaning and reheating. Peppermint hot chocolate will suddenly taste 100 times better. Just don't forget the marshmallows!
‌Dishwasher-Safe:‌ Yes
‌Microwave-Safe:‌ Yes
‌Size:‌ 17.6 oz.
The Best Mug for Keeping Your Coffee Warm
If there's one brand we trust to keep our morning coffee (or tea or hot cocoa) warmer longer, it's Le Creuset. Crafted from durable, nonporous stoneware, it offers superior heat retention, whether you fill it with some serious caffeine or a single serving of soup. It's finished in a vibrant glaze, which is not only easy to clean but is resistant to chips, scratches and stains. In addition to this Santa mug, you can also collect their other beautiful mugs—which include reindeer mugs, a snowman option, and a Christmas tree design—so the whole family can cheers with them.
‌Dishwasher-Safe:‌ No
‌Microwave-Safe:‌ No
‌Size:‌ 14 oz.
The Best One-of-a-Kind Mug
Holiday mugs don't get much more special than these charming tree designs, which are made of Italian stoneware and hand-painted in Tuscany. They come in two sizes, so you can mix and match and always have one to sip from, even if the dishwasher is full.
‌Dishwasher-Safe:‌ Yes
‌Microwave-Safe:‌ Yes
‌Size:‌ 12 oz.
The Best Value Holiday Mugs
Yes, you read that price correctly. Yes, for that price you get two mugs—one red "naughty" one for the playful troublemaker in your family and one green "nice" design for, well, you. Not only do they tell Santa who is on the naughty or nice list, but they're also cheeky, comfortable to grip and big, fitting 20 ounces of liquid each.
‌Dishwasher-Safe:‌ Yes
‌Microwave-Safe:‌ Yes
‌Size:‌ 20 oz.
During this oh-so-maximalist season, the minimalists among us will appreciate this handmade stoneware mug. The "merry + bright" text is on both sides of the cream mug in black lettering, so both you and on-lookers can admire its design. It's merry and bright (but not ‌too‌ bright) indeed.
‌Dishwasher-Safe:‌ Yes
‌Microwave-Safe:‌ Yes
‌Size:‌ 14 oz.
The Best Festively-Shaped Mug
It's a fact: All of your favorite holiday drinks, whether mulled wine, eggnog, or coffee splashed with peppermint creamer, simply taste better when sipped out of this too-cute Christmas tree mug. This Etsy artist also sells a snowman design, so good luck adding just one to your cart!
‌Dishwasher-Safe:‌ No
‌Microwave-Safe:‌ No
‌Size:‌ 10 oz.
If you're going to spend serious money on just one holiday mug, make it this one. It's made by hand by this Etsy ceramicist with clay, then hand-painted and glazed—a long process that makes an extra special mug that you'll enjoy sipping from for a lifetime. Keep this festive mug out of the dishwasher and microwave so you can admire it in all its gold-painted glory for years to come.
‌Dishwasher-Safe:‌ No
‌Microwave-Safe:‌ No
‌Size:‌ 18 oz.
The Best Christmas Movie Mug
Next time you grab a cup out of your cabinet, make it this one. It features everyone's favorite Christmas movie characters and is dishwasher- and microwave-safe too. Also, all the movie lovers in your life would delight in receiving this cheeky mug as a gift. (Hint, hint.)
‌Dishwasher-Safe:‌ Yes
‌Microwave-Safe:‌ Yes
‌Size:‌ 11 oz.