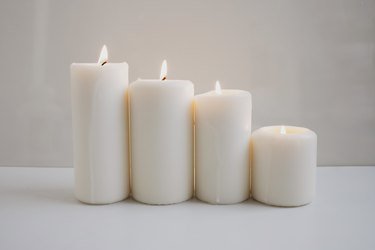 Candle-making is an ancient craft born out of necessity, in order to bring daylight into the evening and illuminate the home with a warm glow. While many of us still keep candles around in case of a power outage, they're often viewed through the lens of luxury, especially when you consider the cost of high-quality candles. From beginners to seasoned crafters, candle-making is an exceptional art for all creative levels. And, with the right supplies, you can make a DIY candle that looks (and smells!) as luxe as store-bought.
If you want to get into candle making, there are a few supplies to consider. Below, we break down those supplies—and other things to consider when shopping for candle supplies—plus share our top picks for the best soy wax, wicks and more.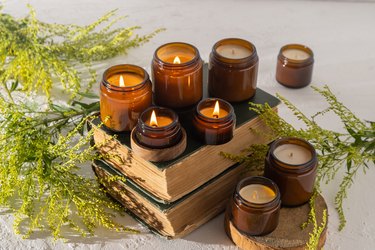 What to Consider When Shopping for Candle Supplies
‌Wax Type:‌ You can't make a candle without wax! And, while this might seem like a fairly straightforward thing to consider, it's actually important to choose the right candle wax for your project. Common candle-making wax types include soy wax, beeswax and paraffin wax, but you can also make candles out of palm wax, gel wax, grapeseed wax and coconut wax. Most crafters prefer either beeswax or soy wax as they are all natural and, therefore, considered nontoxic. Beeswax tends to be a little more durable, which makes it an excellent choice for candlesticks or candle molds, while soy wax is a little more delicate and best for glass jars, tins and other vessels.
‌Fragrance Type:‌ When making your own candles, also think about the type of fragrance to use in your DIY project. Fragrance oils are the easiest to work with and many of them come in both single aromas as well as blended scents. Another option for scenting candles includes essential oils—yes, the same ones you use in your diffusers—which are a more natural approach to candle making. With that said, essential oils are notably trickier to work with compared to fragrance oils as they have a lower boiling point. That means when mixing them into hot liquid candle wax, they are more likely to evaporate more quickly, so you need to add more than you would when using fragrance oils.
‌Wicks:‌ Similar to candle wax and fragrance, there are a variety of different wicks available, too. The different types of candle wicks include cotton, hemp and wood wicks. When choosing a cotton or hemp wick, it's recommended to look for a pre-waxed wick as wax wicks stand upright and are a lot easier to work with. They also have a high-melt point and promote a more even distribution of fuel to burn the candle. Wood wicks are preferred for their more nontoxic features since the wood wicks don't produce a ton of soot and carbon, and you don't need to worry about the debris build up. Many wood wicks also create a crackling sound that resembles a fireplace and feels ultra cozy.
‌Candle Molds:‌ Shopping for candle supplies also requires you to consider the type of vessel to use, or how you'll actually make a solid candle out of melted wax. While some might choose candle containers like jars, votives and tins (more on that below), others prefer candle molds, which allow you to create candlesticks and sculptural wax figurines, too. If working with a candle mold, first consider the types of candle molds you want to work with—be it a classic pillar candle shape or a trendy bubble candle mold—then think about the type of wax to use. Most prefer beeswax for candlesticks and other candle molds since it's so durable, but you can get away with using softer soy wax for some wax molds, too.
‌Candle Containers:‌ If you prefer to skip the molds, consider other vessel options for your candles instead. Candle containers include everything from new or upcycled tins to glass jars to tea light holders to votives. You can also pour the wax into empty (and cleaned) cans, seashells, and upcycled objects like glass or ceramic butter dishes, tea cups and saucers, or vintage barware. Since candle making requires pouring hot wax into a vessel, use only glass, metal and ceramic containers
‌Additives:‌ In addition to the basic candle supplies needed to make your own candles, also consider other add-ins such as candle dye, crystals, herbs and more. Candle dye is a fun addition to candle-making supplies because it allows you to customize your candle color, transforming creamy white soy wax into colorful eye candy. When shopping for candle dye, you'll find it in a few formations, including wax chips, dye blocks, powder and liquid dye. The liquid dye is the easiest to use—and is most ideal for beginner crafters—because it resembles food coloring and therefore, feels a little more intuitive if you aren't confident in your crafting skills (but have experience using food dye when cooking and baking).
‌Additional Candle-Making Supplies:‌ To make your own candles, you also need a way to melt the wax, stir it and pour it into a vessel. These additional candle-making supplies include a pouring pot and stir stick, as well as wick holders to keep wax wicks in place, tweezers to place any herbs, crystals or other objects on top (once the candle is mostly solidified), and wick tabs to keep wicks secured to the bottom of the candle container before pouring (although many pre-made wicks already come with this).
‌Skill Level:‌ Candle-making can be relatively simple but, if you're new to it and not sure how often you will make your own candles, it might be best to look for beginner-friendly candle-making kits. Most candle-making kits will come with everything needed to create at least one candle (if not more), including a candle container, wick, wax, fragrance oil, and a pouring pot. Our favorite candle-making kits include the YRYM HT Candle-Making Kit on Amazon and the Cozy Celebration Kit from Makesy. For those interested in rolled beeswax candles, Amazon also sells a kit for that, too.
The Best Candle Making Supplies
1. American Soy Organics Freedom Soy Wax Beads
When making candles, soy wax is highly recommended as a foundational supply. The American Soy Organics Freedom Soy Wax Beads are made for beginners and seasoned candle makers with their easy-to-use bead-like formula. They also melt in the microwave, making it even easier to create your own candles (without the hassle of double boiling, too).
2. Beesworks Yellow Beeswax Pellets
With its durability, beeswax is often recommended for more fragile candle projects, such as pillars or intricate molds. For the best beeswax, look no further than the Beesworks Yellow Beeswax Pellets on Amazon. The all-natural wax is designed for a variety of crafty uses, including salve, lip balm and soap making, in addition to candles. It also never goes bad, so it's a good option for the more casual candle maker who doesn't want to start from scratch with a fresh bag every time.
3. Antimbee 15-Pack 6 oz Glass Candle Jars With Airtight Bamboo Lids
Classic mason jars (such as these ones from Amazon) make for good and cheap candle containers. However, if you want something a little more elevated, these glass candle jars with bamboo lids have that same jar look with a more store-bought luxe feel. The jars also come in a variety of colors, including matte black, bubble gum pink and an evergreen hue.
4. Cocopin Candle-Making Supplies
In addition to jars and wax, other supplies like wicks, a pour pot and stir sticks are needed to make candles. This candle-making kit comes with all of the extras—plus a wick holder to keep it in place while the wax sets—so you don't have to go scouring the internet for every little supply. The collection is the perfect starter kit for beginners looking to stock up on supplies without investing too much in their new venture.
5. NOOR 50 Pieces Smokeless Wooden Wicks With Trimmer
If you want to up the ante with your candle making, investing in wooden wicks can take the finished product to a level of luxury. These ones from NOOR come with 50 ready-to-use wood wicks that crackle when lit, plus clips to keep them in place and a trimmer to customize the length while making.
6. Northern Lights Candle Making Dye Squares
Candle dye isn't a necessity, but it does allow you to create more unique finished products and is fun to play around with (especially if you're a more experienced candle maker and are looking for a challenge). While liquid dye is often preferred for its easy-to-use formula, these dye squares are just as easy (and mess-free). The squares simply melt into candle wax and mix together to create a colorful blend.
7. JSMAASER Rainbow Arch Candle Mold
Molds are another fun way to create candles. You can find classic silhouettes like the Northern Lights Candle Making 3 x 3.5 Pillar Mold from JOANN, or go for a more modern touch with this adorable Rainbow Arch Candle Mold from Amazon. The candle mold is made from silicone, making it ultra-easy to release wax candles once they're set. With their store-bought feel, candles made from this mold make for excellent gifts or items to sell on Etsy.
If you wish to add an aromatic touch to your homemade candles, the VA Essentials Premium Grade 60ml Fragrance Oil from Etsy is the best of the best. Available in over a dozen scents, including lavender, vanilla, coffee and lemon grass, there are plenty of scents to choose from for your candle creations.