As more people look for more ways to cut back on plastic waste like disposable plastic bags, reusable food storage bags are gaining in popularity. As a result, the quality and capabilities of these eco-friendly alternatives to single-use plastic baggies have been greatly improving. They're also a more space-efficient alternative to food storage containers, with the best reusable food storage bags doing just as good a job of keeping food fresh. And, although they're a bit more of an upfront investment than their disposable counterparts, they're more cost-efficient in the long run as well.
What to Consider When Purchasing Reusable Food Storage Bags
‌Material:‌ Reusable food bags are made from a number of different materials. Silicone is the most common. It's durable, versatile, and a good choice for a wide range of uses. Others are made of various types of plastic, which are often lower priced but tend to have less versatility than silicone (e.g., less likely to be dishwasher- or microwave-safe). Also, be sure to select a BPA-free product if you're buying plastic. PEVA (polyethylene vinyl acetate) is another good, highly affordable option. It's technically a plastic, though it's considerably more fabric-like than other plastics. And then some products are actually fabric, made of cotton and best suited to dry foods, though they may have linings that accommodate wet uses too.
‌Features:‌ You can find reusable food storage bags that can go in the freezer, microwave, dishwasher (or washing machine for fabric models), and even hot water for sous vide or the oven. It's best to find products that provide an airtight and leakproof (or at least leak-resistant) seal, too. Some are designed as stand-up bags as well, providing upright storage. A leakproof seal is important if you want to store something like soup or other liquids, or for marinating use, so think about the types of food you intend to put into the reusable bags.
‌Size:‌ Just like disposable food storage bags, reusable products come in a wide range of sizes. There are small snack bags, sandwich bags, quart-sized bags, gallon-size bags and more. Again, think about what types of food you'll be using them for. Generally speaking, it makes sense to buy a set of reusable food storage bags in a variety of sizes.
These considerations will help you select the best reusable food storage bags for your home.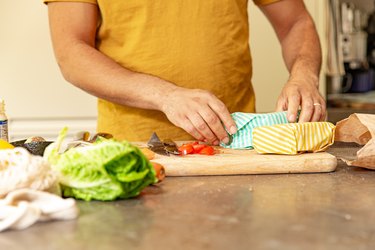 1. Homelux Theory Reusable Food Storage Bags
These flexible silicone storage bags are sold in sets of various sizes and quantities, making it easy to find the right selection for your needs. The set of two small, two medium and two large bags is a great option if you're not sure which to choose. The bags are freezer-safe, leakproof and airtight, so they can hold liquids and they'll keep food fresher for longer. They seal with an easy-to-use removable slider bar rather than the more-common zipper mechanism, and they have convenient measurement markings on the outside. Also, because they're dishwasher-safe and you can turn them inside out, they're a breeze to clean. When the slider bar is off, you can also put these bags in the microwave or oven.
2. Stasher Reusable Storage Bags
Here's another great food-grade silicone option available as single items and in sets of various sizes and quantities. Plus, you can pick from a large selection of different colors—but they're all still transparent, allowing you to see what's inside. These are airtight and leak-resistant; you can use them for liquids, but they're not quite leakproof, so they might dribble a bit during a turn-it-upside-down-and-shake-it test. Put these in the dishwasher, freezer, microwave and even the oven up to 400 degrees Fahrenheit. And, as an added bonus, Stasher pledges 1% of all sales revenue to nonprofits working to protect the environment.
3. W&P Porter Reusable Food Storage Bags
If you're looking to purchase individual reusable silicone food storage bags, these high-quality products are a smart buy. Choose from snack, sandwich and larger sizes, as well as a few different color tints and a couple of stand-up options. Made without glue or other adhesives, the bags are durably constructed. Curved edges prevent stuck-in buildup, and you can turn these inside-out and stick them right in the dishwasher. Also use them for freezing, microwaving, steaming and sous viding.
4. Roonoo Reusable Food Storage Bags
For a budget-friendly set of reusable food storage bags, buy these. Made from food-grade PEVA, they're lead-, chloride-, BPA- and PVC-free. The double-sealing zipper mechanism provides an airtight, leak-resistant seal, and they do an excellent job staving off freezer burn. They're top-rack dishwasher-safe, but keep in mind that these can't go in the microwave. Reinforced edges help the bags last extra long, too. Choose from four different sets that include various size and quantity configurations. The 10-piece pack with two gallon-sized bags, five sandwich bags and three snack bags is a particularly useful assortment.
5. Ideatech Reusable Storage Bags
Here's another extremely budget-friendly option for PEVA reusable food storage bags. These too are lead-, chloride-, PVC- and BPA-free. Choose from six different sets; the 15-piece pack, which includes four large-, four sandwich- and seven snack-sized bags, is a sensible starter assortment if you're not sure which to pick. These bags offer an airtight, leakproof seal, thanks to a high-quality double zipper sealing mechanism. The trade-off for the notably low price is that these bags can't go in the dishwasher or microwave, though they're fine for use in the freezer (they're temperature resistant from -22 to 120 degrees Fahrenheit).
6. SPLF Reusable Food Storage Bags
If you're looking for high-quality stand-up reusable storage bags, look no further. These are made from BPA- and PVC-free PEVA. They have a wide mouth for easy filling and accessibility, and they reliably stand without falling over. The eight-piece set includes four half-gallon and four quart bags, though you can buy a few other single-size sets as well, including gallon-sized bags. The double zipper provides an airtight, leakproof seal, doing a great job keeping food fresh and preventing freezer burn. Cleanup is easy too, as these are top-rack dishwasher-safe, but like other PEVA products, they're not for use in the microwave or oven. It is recommended that you hand wash and air dry when possible though to extend their life.
7. Winrock Reusable Food Storage Bags
For an alternative option for stand-up bags to the previous entry that are more versatile—but also pricier per piece—check these out. They're silicone, so they can go in the dishwasher (top and bottom rack), freezer, microwave, and sous vide or boiling water. They stand well and have a wide opening, so they're easy to fill and extract from. The zipper-locking mechanism gives you an airtight, leakproof seal, plus there are handy measurement markings on the bags. The set with a small, medium and large bag is a convenient package, though you can also buy pairs of large or medium bags.
8. ANLOMI Reusable Storage Bags
Here's a set of five reusable fabric food storage bags if you prefer a cotton product. However, it also has a food-safe polyester lining to prevent stains and accommodate wet foods. Because it seals with a metal zipper, it's not airtight and leakproof, but it's a more stylish way to keep and carry around food. In fact, it's available with several different fun patterns. This also makes it ideal for storing makeup, smaller art supplies, household items and more. You get a snack bag (3.5 by 6.5 inches), two sandwich bags (6.5 by 6.5 inches) and two slightly larger bags (7 by 7.8 inches). Clean these bags easily in the dishwasher.
9. LunchSkins Reusable Food Storage Bags
For another fabric option, if you're just in the market for a snack-sized and sandwich-sized cotton reusable food storage bag, this is a recommended product. They have a food-safe, grease-resistant polyester lining to prevent stains and make the bags suitable for wet foods. Like most similar products, these bags seal with a metal zipper, so they're not airtight or leakproof. They can go right in the dishwasher for hassle-free cleaning. They're BPA-, PVC- and phthalate-free bags, so don't worry about those potentially harmful compounds that are found in some products that are made from or contain plastic. Choose from five lively patterns.
10. Bee's Wrap Reusable Food Storage Wrap
For an interesting, highly effective alternative to reusable food storage bags, consider this reusable food wrap. It's even more eco-friendly than many other reusable products, biodegradable, made from organic cotton and infused with responsibly sourced beeswax. It comes with a small (7 by 8 inch), medium (10 by 11 inch) and large (13 by 14 inch) wrap. The heat from your hands softens the wrap, allowing you to mold it tightly around food or dishes. It keeps food fresh remarkably well. Clean the wrap easily with cool water and a mild soap, then let them air dry. Just keep them away from sources of heat, as the beeswax can melt. With regular use, these storage wraps typically last for about a year.