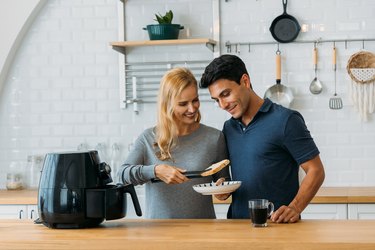 Air fryers are great for their ability to turn out lower-calorie, healthier versions of so many comfort foods and other dishes—without sacrificing coveted qualities like deliciousness, crispiness and crunchiness. They're also great for their versatility; there's so much you can cook in one of these convenient countertop appliances. And the possibilities expand exponentially if you pick up some key air fryer accessories.
What to Consider When Purchasing Air Fryer Accessories
‌Compatibility:‌ The first thing to confirm before buying any air fryer accessory is that you'll be able to use it with your machine. Not all models support all types of accessories. Check the manual to be sure you'll be able to, say, attach the grill pan you're looking at. Also, accessories need to fit, so confirm that they're made for the size air fryer you own (check the diameter or width of the accessory and the quart size of your appliance). Sometimes, you need accessories made by your air fryer brand, but generally, if an accessory is the right size, you can mix brands.
‌Functionality:‌ Of course, different accessories do different things. Disposable or reusable liners help minimize cleanup and are universally useful. But something like a skewer rack is a great buy if you like to make kabobs, but not particularly useful otherwise. Cake barrels and pizza pans are common air fryer accessories. If you want to bake cakes or pizzas in your air fryer, you'll want these tools—but don't think they're highly specialized because of their names; you can use them for a range of cooking and baking tasks. Then there are accessories that complement your air fryer, rather than go in it. You'll see a few of these among the recommended products below.
‌Material:‌ Many air fryer accessories are made of food-grade metal (such as stainless steel, steel or aluminum) or heat-resistant silicone. These are durable materials and usually dishwasher safe, and they're typically good picks. Certain accessories—particularly metal ones—may have a nonstick coating that makes it easier to release food and to wash, while silicone is itself a nonstick material. You'll probably want liners, too; parchment paper air fryer liners are a good disposable option, while silicone liners or bowls are a go-to reusable option if you prefer not to re-buy and create extra waste.
Along with your budget considerations, these factors will help you pick out the best air fryer accessories for your needs and preferences.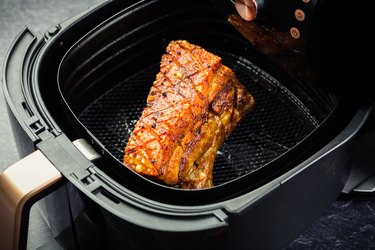 The Best Air Fryer Accessory Kit
If you're looking to fully outfit your air fryer in one fell swoop, this set is a smart buy. It includes a lot—at a price comparable to buying just one or two of some of the included items. You get a 7-inch nonstick cake barrel and a 7-inch nonstick pizza pan, which leave you well equipped for a variety of baking tasks. Plus, there's a metal rack and skewer rack, toast holder, six silicone muffin/cupcake cups, an egg bite mold, a plate clip for removing hot dishes, silicone oven mitts, a silicone mat, an oil brush, three silicone spatulas, 100 disposable air fryer liners and an air fryer cookbook. And for easy cleanup, all the items are dishwasher-safe (well, except the cookbook).
The Best Air Fryer Grill Pan
This is a perfect accessory for grilling, searing and frying in your air fryer, and it lets you cook smaller pieces than you can with a rack or basket. The cookware performs reliably well with meats, poultry, seafood and veggies. Importantly, the pan has adequate perforations for air circulation (remember, air fryers are convection ovens, using circulated air to cook food). The nonstick coating easily releases food and prevents stuck-on bits that are hard to clean, and it comes with a silicone scrubbing brush; it's also dishwasher-safe. This product has broad compatibility and is available in several different sizes.
Air fryer racks are useful for a variety of preparations, and they provide more cooking surface while allowing effective air flow. These stainless steel racks are well made, durable, easy to clean, rust resistant and heat resistant up to 500 degrees Fahrenheit. And you get two at a good price, with a single-layer rack and a double-tier kabob rack. The latter is a great accessory for making countless variations on this dish without the hassle. Put these accessories right into the dishwasher when you're done with them.
The Best Air Fryer Baking Pans
Yes, you can bake in an air fryer! Especially if you have the right accessories. This high-quality barrel pan and pizza pan get you set up for baking bread, cakes, pies, casseroles and more. Plus, the pizza pan doubles as a frying pan. These durable steel pieces have an effective nonstick coating and they're dishwasher-safe. And the 7-inch pans are universally compatible with all standard 3.2-quart air fryer makes and models, while the 8-inch pans are universally compatible with all large 4.2-quart makes and models.
The Best Silicone Liner for Air Fryers
Silicone bowls are a popular alternative to disposable air fryer liners that require replacement and create waste. This 8-inch BPA-free product fits into standard 3.2-quart air fryers and larger models. It's durably made, dishwasher-safe and also easy to clean by hand—much more so than the bottom of your appliance after cooking certain foods; you can even flip it inside-out for a more thorough scrubbing. It's designed to allow for effective air circulation and is heat resistant up to 446 degrees Fahrenheit.
The Best Disposable Air Fryer Liners
If you prefer the easier cleanup with air fryer liners you can just crumple up and toss in the garbage can, pick up this budget-friendly pack of 100 liners. They're available in 7-, 8-, 9- and 10-inch diameters to fit any make and model machine. These are nonstick parchment paper—the material of choice for disposable air fryer liners—and they do a lot to prevent cooked-on food and gradual damage to the inside of your appliance. The liners are heat-resistant up to 450 degrees Fahrenheit and are manufactured with enough holes to promote proper air circulation.
A mandoline is a must-have accessory for air fryers, which are great for all sorts of homemade chips, onion rings and more that require uniformly thin slices. This mandoline has sharp blades that makes quick work of slicing, plus one of the comfortable rubberized grips the brand is known for. There's lots of opportunity for customization, too. It includes a straight V-shaped blade, plus a wavy blade and small and large julienne blades. And you can adjust the thickness of your slices with a four-setting knob. The angled setup makes slicing work easy, and the food holder keeps your fingers and hands well protected from the blade during use.
You probably bought an air fryer in part because you liked the idea of cooking with much less oil. Still, many foods cooked in one of these machines benefit from a light misting of oil, which adds flavor and helps develop a crispy exterior. These refillable, non-aerosol, BPA-free plastic 8-ounce sprayers are a perfect accessory for your food prep. The ergonomic trigger provides good control over your sprays, which come out in a unique fan pattern. Plus it's nice that you get a pair of these misters, which you can also use for things like spraying oil and vinegar on salads.
The Best Air Fryer Cook Time Cheat Sheet
If you're new to air frying, or simply like having a quick reference guide for cooking this way, magnetic cheat sheets are a convenient item. Just stick them right on your fridge (or any other magnetic surface in your kitchen), and you can find cook times and temperatures by size for a wide range of foods commonly prepared in an air fryer. This two-pack covers more than 100 foods, but it also has a slightly larger, easier-to-read font than many similar products. And the information is good for a wide array of the most common air fryer brands. The charts are printed on waterproof, oil-proof and durable stock, so they'll hold up for a long time to come, too.