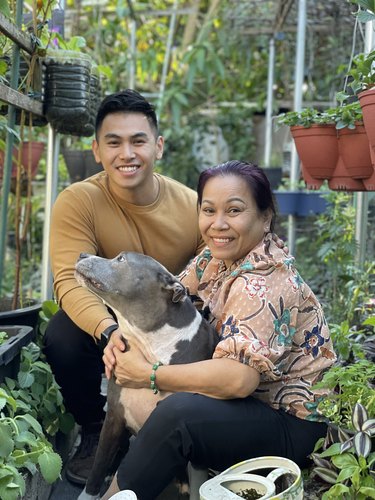 When Judy Bao immigrated to Tampa, Florida, as an 18-year-old refugee from Vietnam, she brought along two things: a desire for a better life and a love of gardening. Soon after her arrival in the United States, Judy enrolled in a beauty academy and became a hairstylist and nail tech. She got married, started a family and bought her first home. Along the way, the mom of three kept on gardening, turning her backyard in Tampa into a sanctuary of jackfruit, rambutan, chayote, lemongrass, star fruit, guava and desert rose, stretching some 2,000 square feet.
But it wasn't until recently—when her son, Thong La, started sharing videos of his mom's gardening tips on social media under @judybaogarden—that Judy's garden became famous. Today Judy has more than 880,000 followers on TikTok and 200,000 followers on Instagram, where she's lovingly referred to as Mama Judy.
Just play one of Judy's reels and you can see why she's racked up such a following. She beams as she walks, prunes, plants and harvests in her 25-year-old garden, offering practical tips on how even beginners can create soil mix, plant seeds and propagate growth. The videos are just so...soothing. Vines climb metal trellises to create a canopy, a mini bamboo forest thrives, orchids bloom and leafy pots of varying heights hang everywhere. It's a virtual oasis. One that drew in viewers during the pandemic and has kept on thriving, introducing a whole new generation to the magic of gardening. Not to mention endless plant varieties. Like the lesser known fruits and veggies Judy grew up with, from June plums to purple yams to bitter melon.
"Don't ask me how many plants I have," says Judy Bao with a laugh. "I have no idea!"
Judy's upbeat, approachable DIY vibe is a breath of fresh air, Thong says. "People connect with her because she's very positive. She has this natural, organic personality, and she's just learning and sharing her successes," he says. "People see that and say, 'Mama Judy is just like us.'"
We caught up with Judy and Thong to chat about the roots of their passion project, why gardening is for ‌everyone‌ and the power of plants to heal.
First of all, your patterned gardening outfits are everything! What's the story behind them?
‌JUDY:‌ Thank you! A lot of them are actually silk pajamas, typical Vietnamese-wear. They're very light because it gets really hot in Vietnam. I wear them now to keep the mosquitoes from biting me. Plus, the prints are just so happy and fun.
Where does all your plant knowledge come from?
‌JUDY:‌ I spent a lot of time with my grandma as a kid. When I was 9, she taught me everything she knew about growing plants. In my country, at that age, you learn how to do it all: cooking, babysitting—everything. She told me, "If you plant your own food, you'll never go hungry." Throughout the years, I've continued to learn through trial and error. I started in one corner of the backyard, and as my kids left home, the garden grew and grew. Now when I'm upset and sad, I come home to my garden. My plants are my babies, my friends. They're my best friends.
Why did you start posting videos?
‌THONG:‌ Mom actually wanted to start a YouTube channel for fun. Since she isn't the best with tech, she asked me to help. I told her I could help create content for TikTok because it's easy and it's something I can do quickly on my phone. We started posting every day. One day, we made a video about strawberries and it went viral. It skyrocketed from there.
How do you keep so many plants healthy? Your water bill must be enormous!
‌THONG:‌ Everyone thinks that, but there's actually a pond right next to the backyard. My mom designed an irrigation system that draws water out to use on the plants. She also makes planters and pruners from plastic bottles and sticks. Growing up, she didn't have a lot. So she pretty much keeps everything—it's something I've noticed since I was a kid.
Mama Judy, what do most people not understand about gardening?
For someone who doesn't have a lot of room, which three plants grow easily?
‌JUDY:‌ Herbs like cilantro and basil, along with green onions, are all so easy to grow in small pots. They just keep giving. And if you want something beautiful, you can't go wrong with orchids.
Grow a Mini Garden...the Mama Judy Way!
You might not have Mama Judy's green thumb—or room for a sprawling garden!—but you can still grow decorative, useful plants indoors with some light and love. These are some of Mama Judy's favorite easy-to-grow indoor plants:
‌Scallions (Green Onions): ‌Mama Judy grows these low-maintenance dinner staples on her kitchen window sill, where they thrive in direct or bright indirect light. Just cut store-bought scallions at the white base, stand them up in water for a few days till the roots grow longer, and plant them in all-purpose soil. Water thoroughly once a week. Clip the green tops whenever a recipe calls for scallion. "I love that they grow back pretty fast, so I can use them for all of my cooking," Mama Judy says.
‌Aloe Vera: ‌Pick a sunny spot in your home for this versatile succulent, which Mama Judy likes to use for minor burns and scrapes. Water every two weeks. Another use for this elegant plant: Peel the leaves and add the gel chunks to smoothies for a boost of amino acids, and A, B12, C and E vitamins.
‌Orchid: ‌Mama Judy's favorite flower thrives with infrequent water—just water thoroughly every 7 to 10 days and make sure to drain properly. Another secret: Plant orchids directly on top of horticultural charcoal, which helps the water drain and kills toxins and bacteria.
‌Ginger: ‌It's an extremely useful root that's used in a number of meat or vegetable dishes and often used in teas to help with digestion. Make sure to keep ginger roots in direct or strong indirect sunlight, and water very infrequently—once a month—to avoid root rot.
You also grow plants that are medicinal, not just ones that are pretty to look at or produce food.
‌JUDY:‌ Yes! Aside from edible stuff, I have things like bitter melon, which may lower cholesterol. I also grow aloe, which soothes burns.
‌THONG:‌ She's constantly bringing in new things to the garden. I'll come home and she'll show me five different projects she's working on and tell me, "I can't wait to share it with people." She hopes she'll inspire people to do the same.
She must be so inspiring for you as a son, Thong.
‌THONG:‌ Yes. She's made a lot of sacrifices for us three kids, and now my aim is to retire her with this channel so she doesn't have to work anymore. Then she can spend all her time with her plants. Mom didn't have the best childhood. As an immigrant, she had to grow up fast and figure things out on her own. She uses her garden as an escape and a way to show gratitude for coming to this country and creating the kind of positivity she wishes she had growing up. It's her sanctuary.