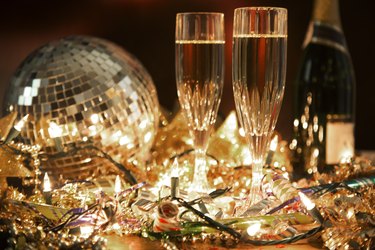 So long, 2022! The countdown is on to ringing in the new year. (Wasn't it just Labor Day? We don't know where the year went either.) Let's greet 2023 in style with a New Year's Eve party your friends and family will be talking about long past Valentine's Day. Whether that's with a black-tie soiree with a miles'-long guest list or a small gathering with your closest loved ones (perhaps cozied up in your pajamas), all you need to do to stir up New Year's Eve party ideas is to buy a few affordable decorations. They'll bring your bash to the next level—we promise.
Balloons? Check. Confetti? Definitely. Don't forget the noisemakers either. We've shopped for the best of the best decor ideas that'll give your party the sparkle it needs and 2022 the sendoff it deserves. All you have to do is click "add to cart," then determine your New Year's resolution.
What to Consider When Purchasing New Year's Eve Party Decorations
‌Price:‌ One downside of New Year's Eve party decorations? Most of the time they're one-and-done, usage-wise. Anything that says 2023—party hats, tiaras, confetti poppers—will likely make its way to the garbage come January 1st. Because you'll only use them for one night, you probably don't want to drop much money on decorations. (Especially coming off of the oh-so expensive holiday season.) Unless you're buying decor you can use year after year, opt to be budget-conscious.
‌Kid- and Pet-Friendliness:‌ If you're hosting a party that's welcoming to all ages—and all species—think twice before purchasing party decorations that could be a choking hazard for little ones or four-legged friends. Confetti, pokey photo booth props and fringe curtains may all be a no-go—or at least be conscious to keep them out of reach.
‌Color Scheme:‌ When in doubt, keep a New Year's Eve party color scheme neutral. You can never go wrong with black, white and metallics. You'll find plenty of cost-effective decorations within that color scheme too. Plus, it's easy to make a neutral scheme feel casual, formal or somewhere in between, and no matter what guests are wearing they'll coordinate with the scheme.
Ready to celebrate the arrival of 2023 in serious style? Scroll on for 10 New Year's Eve party decorations that we love and think you will too.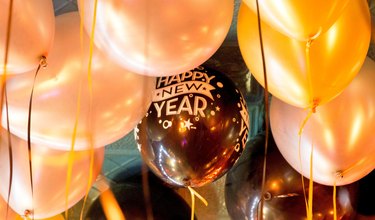 1. Metallic Tinsel Foil Fringe Curtains
One must for your New Year's Eve party: A photo wall—and not against your due-to-be-taken-down Christmas tree or in your dimly-lit entryway. Instead, for just a few dollars, you can nab one of these eye-catching fringe curtains that will surely lure your friends and family into capturing the night's memories with a slew of funny faces. These curtains are available in over two dozen color options, but for a New Year's Eve party, stick to metallic hues, whether gold, silver, rose gold or champagne gold. (Think how great a curtain like this would be for a birthday party or bachelorette bash too.)
2. New Year's Eve Party Photo Booth Props, 9-Count
Even your most shy loved ones will embrace a photo wall—perhaps one set against the fringe curtains above—when goofy props are involved. This set includes a melange of silly yet sophisticated props like a champagne bottle, champagne glass, two sets of red lips, one "cheers" prop, one top hat, a pearl necklace, a bow tie and a customizable sign. While very much NYE-themed color-wise, these could easily be repurposed for a wedding or bachelorette party too.
There are few things more fun than a balloon garland, especially one as celebratory as this one. Blow up these latex balloons, which include white, gold and confetti-filled options, in various sizes, then accent it with the champagne bottle foil balloon, and let the "oohs" and "ahhs" from your guests commence. It's a show-stopper, decorations-wise, yet easy-as-can-be to blow up and install.
4. Black, Gold, and Silver New Year's Eve Confetti
It doesn't take much effort (or money) to add some shimmer and shine to your party decor. The trick? Confetti, and lots of it. Scatter this bulk bag of black, gold and silver "happy new year" and "2023" confetti around for instant party vibes. If you'd rather not spend New Year's Day picking up confetti from your floor, keep them tidy by arranging them around your table decorations, circling them around a centerpiece or along a buffet table. Feeling brave? Allow guests to throw them for Instagram-worthy photo opportunities, perhaps in front of the tinsel fringe curtains above.
5. 22-inch Disco Ball Foil Balloons
Nothing says "party" quite like a disco ball. If you don't want to store or display a disco ball all year long though, we don't blame you. This pack of five disco ball balloons would add serious fun without you having to store one the other 364 days of the year. Here's betting all of your guests will want a photo with these balloons. Choose from silver, rose gold or rainbow disco ball balloons, then use them as a photo wall backdrop or hang them above the beverage station. That way guests always know where to refill their glass. Not jazzed about blowing them up? Don't worry—the seller includes a straw, which makes inflating a breeze.
6. Extra Long Copper Firefly String Lights
Lighting is key to setting a mood in all circumstances, even for a New Year's Eve party. To add charming twinkling lights to your party, either indoors or out, add a set of these firefly string lights to your cart. It's long—98 feet!—and the LED bulbs are strung on a bendable wire with a water-resistant electrical adapter, so you can get creative with how and where you put them. Best of all, these can be repurposed throughout your home all year long, whether in a teenager's bedroom or framing your front door.
7. Silver 2023 Balloons Numbers
Balloon numbers are a classic, whether to ring in the new year or celebrate a graduate. They're fun, festive and friendly on your budget. For under $10, you can add this cheerful set to your party decor, adding all-the-more excitement to midnight. Now comes the hard part—choosing a color. What's it going to be? Silver, gold, rose gold or a bold color?
8. Auihiay New Year's Eve Party Kits, 12-Count
If you're leaning toward a gold color scheme, look no further than this decorating kit. It makes decorating for an intimate party ultra easy, since it includes six party hats, six glitter tiaras, six fringed noisemakers, six horns and 12 leis—everything you need for a simple yet effective party theme. Add one or two of these to your Amazon cart, then check "buy party decorations" off your to-do list.
9. Waterfall Champagne Flutes, 4-Count
It's almost time to pop the bubbly! If you're overdue for new Champagne glasses, what better time is there to nab a fresh set? This set of elongated flutes, which includes four hand-painted crystalline glasses, is sweetly delicate and would make for a charming glass to cheers with come NYE—or any day, really. Choose from five color options: pink, clear, mint, honey luster or blue, or mix and match for an eclectic collection. While on the pricey side, you'll have these forever and they will remind you of all the champagne-worthy moments in your life, including ringing in 2023.
10. Big Dot of Happiness Happy New Year Dessert Cupcake Toppers, 24-Count
Don't even think about whipping up your beloved cupcake recipe (or a cake or treats of any kind) without adding these adorable toppers. This set of 24 cut-out treat toppers includes 12 "Happy New Year" designs, six "Hello 2023" designs and six "New Year's Eve" ones. They're professionally printed on sturdy cardstock, so you don't have to worry about them wilting into your perfectly piped frosting. And here you thought cupcakes couldn't get any more adorable …