We all know the importance of maintaining a connection to your roots. Not just for yourself but for your loved ones. After all, research shows that people who can trace their family's lineage have a deeper sense of identity and resilience. But what happens when you're not exactly sure what to do with that box full of old letters, family pics and mementos tucked away in your closet?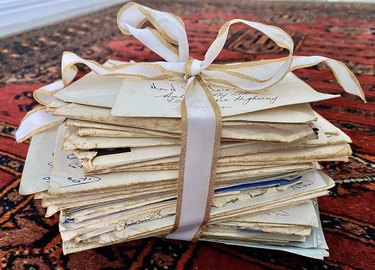 An old-school family tree on your wall may be good enough, but why stop there? If you're looking to display your family legacy in a more unique and fun way (and maybe do some easy craft projects or tutorials with the whole family), keep reading.
We spoke to Kate Mirand Calleri, the director of education at the Brooklyn Children's Museum in New York City, for her tips on how to curate your family heirlooms, so your history lives on in a tangible, accessible way. And the best part? It's not just about the photographs! We've got some fun craft ideas and DIY projects too.
"At Brooklyn Children's Museum, we are strong believers in the power of objects to tell stories. Through intergenerational conversations, objects help us understand what life was like for someone's mom, grandmother or great-grandmother." —Kate Mirand Calleri
1. Create a "family museum"
If you've collected family heirlooms through the years—say, an old handkerchief, a pocket watch or even home accessories such as vases or frames—you can create your own museum-quality exhibit...at home! "Family heirlooms don't have to be expensive to be displayed," Mirand Calleri says. "If you want to have a permanent presentation, clear off one row of a bookshelf and that can be your intergenerational display. To physicalize the material distances between our moments and past moments in our family history, you can talk within your family about what the piece means." If you have young kids at home, Mirand Calleri says this exercise could be as simple as asking your kids where they think their grandma wore her handkerchief, for example, and you can even make up a story about that specific heirloom so these special objects come to life through storytelling.
Tip
To up the fun, add little cards in front of each family heirloom that describes what it is, as if it's an item in a museum!
2. Make a recipe card mobile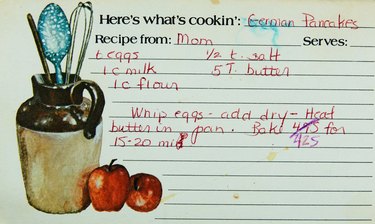 Getting your hands on your ancestor's birth certificates, passports or immigration documents can be a complicated experience that can lead to a lot of dead ends. Instead of focusing on official records, try showcasing your lineage through handwritten documents. "One of the most cherished family documents are actually recipes and recipe cards, because it's in your ancestor's handwriting and the paper is old," says Mirand Calleri. "Those recipes convey history and tell a story about the food your ancestors use to make, but there is also a useful component to them because you're making a meal and enjoying it using the same process your ancestors did."
There are several ways Mirand Calleri recommends displaying these treasured recipes. Try laying them all on a table and photographing them in one snapshot, placing them in plastic sleeves and using magnets to put them on your fridge door or buying poster frames and hanging them up. Or create a display by threading the recipe cards into a garland or mobile. You'll have a fun decoration and an amazing conversation starter at the next holiday or family get-together.
3. Create an ancestry gallery wall
We all know and love a gallery wall. Take it to the next level by centering it around your family's history or even a specific theme, such as love. Brooklyn-based artist Dawn Kendall did just that with her weddings-themed gallery wall. It's organized like a family tree, with each generation's wedding photo branching off the other. "Since the photos are important, I make a copy in black and white, put the copy in a silver frame and hang them on my gallery wall." If you don't have wedding photos of your ancestors, you can create your own theme—like a wall display about all the strong women in your family or one that tells the story of your family's immigration to America.
Of course, you may have to consult relatives to get just the right items to display, from photographs to old letters. "Luckily, every family has a historian," Kendall says. "In my family, it's my aunt and on my husband's side, it's his sister. Both have helped me collect wedding pictures of extended family members."
4. Replicate family artifacts
Some passed-down mementos or heirlooms are just too delicate to handle or expose to the elements. If that photograph, paper-based document or item of clothing is too fragile, create a stand-in with easy craft ideas. "You and your family can make your own version of that artifact by using art supplies found around the house," says Mirand Calleri. Your kiddos can create intricate patterns commonly found on old heirlooms using items you have on hand, such as construction paper, a pair of scissors, pom-poms, coloring pages, stickers, a paper plate and floral stencils, while older children can take on a more interpretative role by actually writing down the object's history and displaying it alongside the memento. "They can record things as if they were the curator and tell the story of your family using descriptive details and the classic who, where, when and why," suggests Mirand Calleri.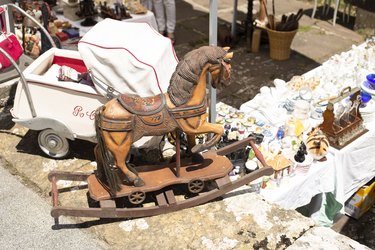 If you don't have enough heirlooms from your loved ones, you can track down and display items that represent different time periods and places connected to your ancestors. "You can ask your grandparents, for example, about some of the toys they had when they were little," says Mirand Calleri. "A lot of these objects can be found at flea markets, garage sales and online."
While a curator at a museum works with authentic pieces, you don't have to stress the authenticity of your objects as the curator of your family's history. "It can be a stand-in or a representation. Objects tell a story, and it's all about the story you want to convey—not necessarily the complete accuracy of the object itself," Mirand Calleri says.