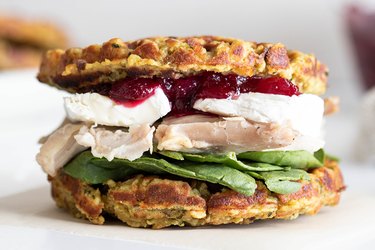 After several hours of Thanksgiving dinner prep, there's nothing better than finally digging into a scrumptious meal of roasted turkey, mashed potatoes and cranberry sauce. But when all the fun is said and done, you might find yourself with leftovers galore. Of course, you can always recreate your Thanksgiving meal the next day, but why not switch things up? Thanks to these creative post-Thanksgiving recipes, you'll enjoy holiday leftovers without boredom.
We'll introduce you to three Thanksgiving leftover dishes: mashed potato patties, leftover turkey sandwiches with stuffing waffles, and mini no-bake cranberry cheesecake cups. Each recipe will give new life to your favorite Thanksgiving foods and help you celebrate creative comfort food this season.
Recipe 1: Mashed potato patties
Things You'll Need
2 cups leftover mashed potatoes

1/2 to 1 cup all-purpose flour

1/2 cup shredded cheese

1 egg

Salt and pepper, as needed

Sour cream, chives, fresh parsley and gravy, for topping

Butter or oil, for cooking
Tip
Prefer sweet potatoes? They'll work just as well in this recipe.
How to make mashed potato patties:
1. Prepare the mashed potato mixture
In a large bowl, combine the leftover mashed potatoes, 1/2 cup all-purpose flour, shredded cheese, egg and salt and pepper. For an extra-cheesy recipe, add another 1/4 cup of shredded cheese. We used smoked Gouda.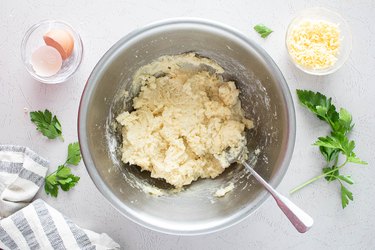 Stir the ingredients until the mixture can be easily formed into patties. If it's too sticky, add all-purpose flour a few tablespoons at a time.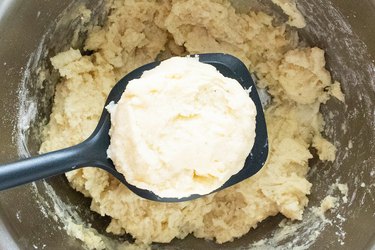 Tip
The amount of flour required depends on the moisture of your mashed potatoes. You can add other herbs and spices, like dried oregano or chili powder, for extra flavor.
2. Cook your leftover mashed potato patties on the stove top
Heat oil or butter in a large skillet over medium heat. Cook the potato cakes for about 5 minutes or until golden brown. Flip and cook for another 3 to 5 minutes.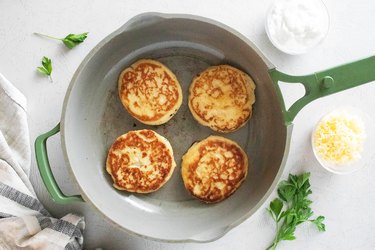 Once cooked, the potato patties will develop a fluffy, thick texture that's similar to dumplings. Enjoy them as a side dish with sour cream, fresh parsley, chopped chives or leftover gravy. You can also eat them for brunch in place of typical home fries.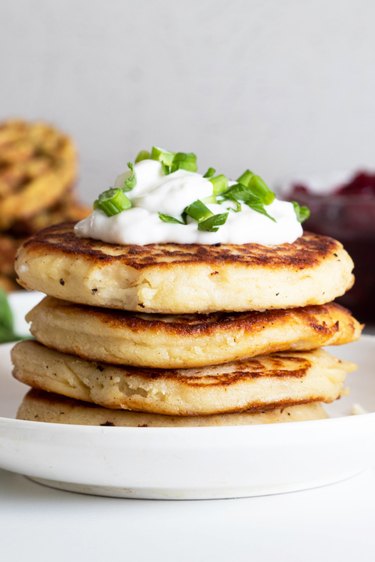 Recipe 2: Leftover turkey sandwiches with stuffing waffles
Things You'll Need
4 cups leftover stuffing

2 large eggs

1/4 to 1/2 cup vegetable or chicken broth

Spinach or kale

Leftover Thanksgiving turkey or chicken, shredded or sliced

Brie cheese, sliced

Cranberry sauce

Mini waffle maker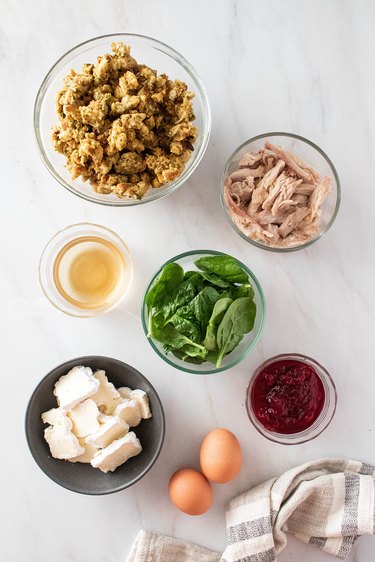 Tip
This Thanksgiving leftover recipe can also be made with cornbread stuffing.
How to make leftover turkey sandwiches with stuffing waffles:
1. Cook the stuffing waffles
In a large bowl, combine the leftover stuffing, eggs and broth. The ideal amount of liquid will depend on the moisture of your stuffing recipe, so use 1/4 cup of broth to start. The mixture should be sticky and clump together.
Grease a mini waffle maker. Spread the stuffing mixture onto the maker in an even layer; avoid overstuffing it.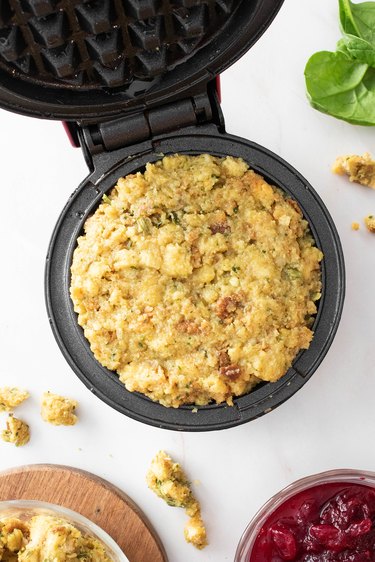 Cook the waffle according to the appliance's directions. It won't puff up like traditional waffles, but it will be ready once it's golden brown and crispy.
2. Make leftover Thanksgiving sandwiches
To construct each sandwich, add a layer of leafy greens on a stuffing waffle. Follow with leftover turkey or chicken, brie cheese and cranberry sauce. Top with another waffle and dig in!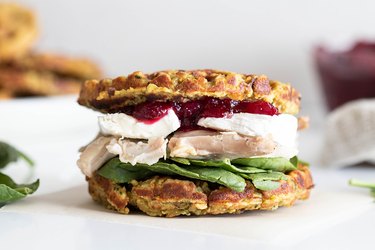 Alternatively, you can make open-face sandwiches by skipping the second waffle. Either way, you're going to love this spin on typical Turkey Day food.
Tip
This sandwich recipe works well with myriad Thanksgiving appetizers. For example, you can add gravy to your sandwich for even more flavor. If you're doing an open-face sandwich, try topping the waffle with leftover roasted veggies or green bean casserole. Craving something cheesy? Use the stuffing waffles to make grilled cheese sandwiches in a panini press.
Recipe 3: Mini no-bake cranberry cheesecake cups
Things You'll Need
1/2 cup graham cracker crumbs

2 tablespoons brown sugar

2 tablespoons unsalted butter, melted

2 8-ounce bars cream cheese, softened

1 teaspoon vanilla extract

1 cup powdered sugar

2 to 4 tablespoons orange juice (optional)

1 cup leftover cranberry sauce, store-bought or homemade

Whipped cream and orange zest, for topping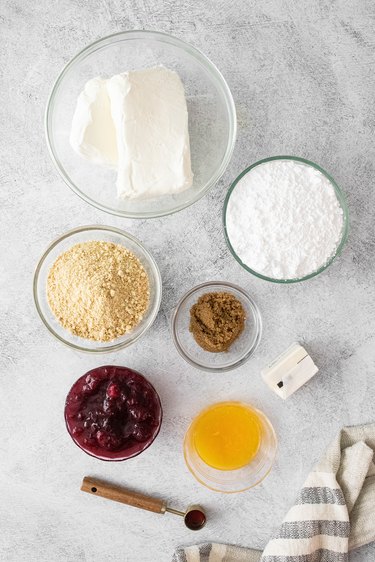 Tip
You can quickly crush graham crackers in a blender or food processor. Other types of cookies, like gingersnaps, also work well for this recipe.
How to make mini no-bake cranberry cheesecake cups:
1. Prepare the crust layer
In a bowl, combine the graham cracker crumbs, brown sugar and melted butter. Since you will not be baking the crust, feel free to add more or less butter according to your preference. Set it aside.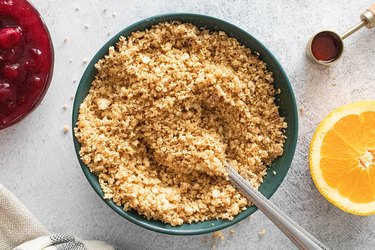 2. Whip up the no-bake cheesecake filling
In a large bowl, beat the softened cream cheese with an electric mixer until fluffy. Add the orange juice, vanilla extract and 1/2 cup powdered sugar and then beat until combined. Add the remaining 1/2 cup powdered sugar and beat well.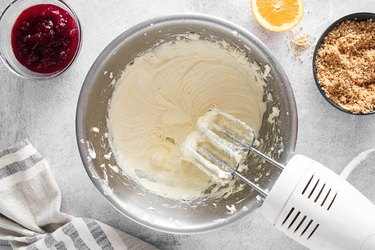 Tip
To switch things up, use almond, maple or orange extract instead of vanilla extract.
3. Layer the ingredients for a delicious dessert
In small cups or jars, add a layer of graham cracker crumbs. Top with the cream cheese mixture followed by cranberry sauce.
Cover and refrigerate for about 2 hours. When you're ready to eat, top each mini cheesecake with whipped cream and orange zest. Other tasty ideas include chocolate chips, chopped pecans and coconut flakes.
Tip
This recipe will yield four to eight mini cheesecake cups depending on the size of your containers. You can use small glasses like we did or 4-ounce Mason jars.