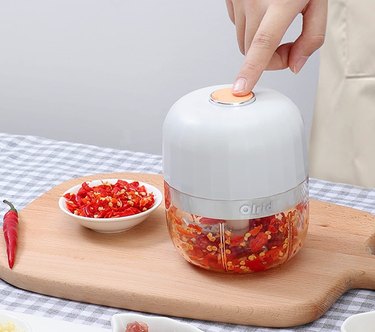 If you're anything like me, you're not a fan of washing lots of dishes or kitchenware. Or chopping vegetables. Or eating too much processed food (but WHY must it taste so GOOD?!). And also, if you're like me, you're probably interested in preparing more fresh food at home, but are somewhat lazy and want it to be easy. Well, there's a pretty good solution for this, and it's compact, efficient and affordable. Enter the mini food processor.
Why Mini Food Processors Are Great (for Some People, at Least)
Mini food processors are, you guessed it, small. Also known as mini choppers or mini food choppers, not only are they smaller, lighter and easier to clean than their full-size counterparts, but they're also less expensive. While you probably won't get the same array of settings or controls as a full-fledged food processor, if you're more of a novice home cook than a Rachael Ray anyway, or only need to prepare food for yourself or one other person, a mini food processor is really all you need.
It's a great option for people tight on kitchen space, college students or recent grads on a budget (who are also probably tight on space!), or anyone like me who sort of enjoys cooking and food prep, but isn't ready to fully commit. Sorry, Rachael. Mini food choppers are also a smart way to test out new recipes; since you're limited by volume, you'll avoid making too much of something if it turns out not to be good (but it WILL be good, right?).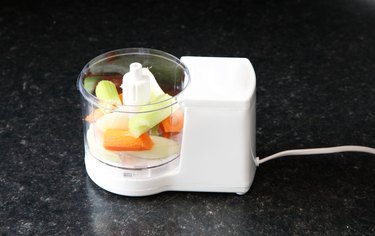 Once I saw videos of mini food processors in action on TikTok, like this one from user @mandyshipp, I decided to get one for myself and try it out.
Olrid Mini Food Processor Review:
I ordered the same mini food processor in @mandyshipp's video for $21.99 on Amazon. It's manufactured by a brand called Olrid and is available in two sizes, 250 or 350 milliliters (approximately 8.5 or 11.8 ounces). I got the 250-milliliter version (it holds just over 1 cup of ingredients), which feels adequate for one person, but it's nice to know there's another model (out of stock at the time of writing) with a taller chopping bowl and somewhat increased capacity.
The Olrid mini chopper uses a 60-watt motor and comes with a USB charging port hidden beneath a waterproof silicone cover on top, which also doubles as the one and only button on the entire appliance. There are no fancy settings or different speed options, just the one button: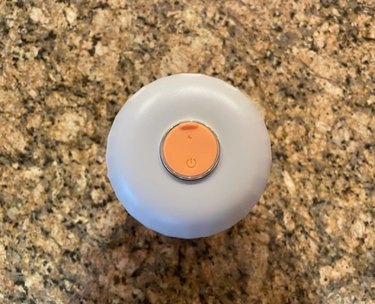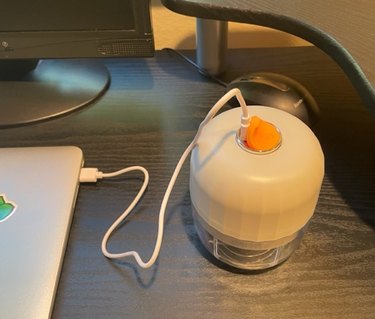 The Olrid model comes in three pieces (plus a USB charger): a food-grade blender cup, a detachable 304 stainless steel tri-blade, and the motor cover that goes on top. It's quite easy to assemble and lock the top piece into place, thanks to a magnetic safety lock design. The appliance won't work until the motor cover and blender cup are completely closed, either.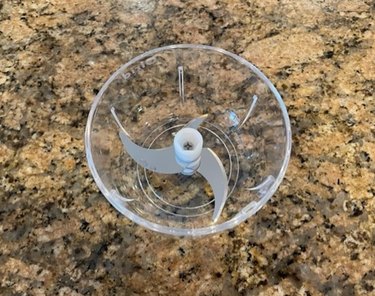 To test its effectiveness, I made three different foods using simple recipes: pico de gallo, hummus and applesauce.
For someone who doesn't like chopping vegetables, using a mini food processor to do the bulk of the chopping felt really convenient. While I did have to chop tomatoes, white onion, cilantro and jalapeños into smaller pieces (as expected) in order to fit everything into the blender cup, the food processor took everything from there.
As you can see in the photo below, the chopping is a bit more fine than you'll often see when it comes to pico de gallo, but I actually prefer a finer texture, and I chalk this up to pressing the button for longer. If you want a chunkier pico de gallo, a shorter run time will probably do the trick.
To clean the mini food processor, I simply rinsed the different pieces under the kitchen faucet and let them dry. It was super easy. No little food particles getting stuck anywhere—that's a win in my book.
Next, I made cashew hummus (instead of using chickpeas) using this recipe from Clean Eating Kitchen. Why cashews instead of chickpeas? I just really like cashews. (However, cashew hummus is a great alternative for people on a paleo, Whole30 or legume-free diet.) Basically, I soaked raw, unsalted cashews in hot tap water for a couple of hours. Then, I added the soaked cashews, lemon juice, store-bought tahini, a clove of garlic and sea salt to the mini food processor and pressed away. It took around 1 1/2 minutes to get a creamy consistency.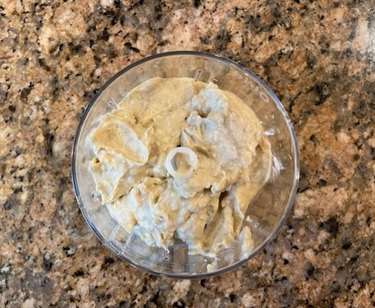 Rinsing the different pieces after making hummus was even easier than after making pico de gallo. Any leftover goops of hummus just "melted" right off. So easy!
Lastly, I tried making some homemade applesauce. I used a really simple recipe from LifeMadeSimpleBakes.com. I used a KitchenAid apple slicer on a large Fuji apple and then cut the slices in half so they'd fit better in the mini chopper's small bowl (I didn't bother peeling them because A) too lazy, and B) The peel has lots of nutrients! Then, I boiled the slices for around 15 minutes and drained them. After I let them cool off a little, I transferred them to the mini chopper (not all of the slices would fit), added some cinnamon and let the mini chopper do its thing.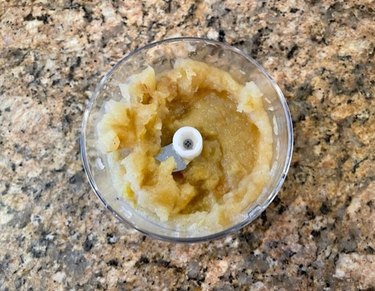 It took longer this time, compared to the other recipes, to get a consistency I was mostly satisfied with—around 2 1/2 minutes. After that time, it didn't seem like it was going to get any smoother, so I stopped. The result is slightly chunkier than I would have preferred, but it still definitely counts as applesauce. I think leaving the peel on makes it more difficult to chop super finely—but then again, you want applesauce, not a purée, anyway. I didn't add sugar, hoping a Fuji apple would be naturally sweet enough, and it mostly was, but it's possible I went back and added a little bit of sugar. Not saying I did, but it's possible.
Overall, I'm impressed by this little food processor. It doesn't look like it can handle much (and I would avoid chopping really hard ingredients without soaking them first, if possible), but it really works. It's straightforward to use, inexpensive, super easy to wash and the perfect size for one person (two people max, depending on what you make with it. Do we have to share everything?).
For someone who doesn't like chopping fruits and veggies into tiny pieces, having something like the Olrid mini chopper to do most of the work saves me time (and my fingers). I recommend it for novice cooks who want to try more fresh recipes and mostly just prepare food for themselves or one other person (and remember, there's a 350-milliliter model out there).
Other Mini Food Processors You Might Like
Ninja Master Prep Professional Chopper QB1004
This mini food processor made our list in The Best Food Processors in 2022. The Ninja Master Prep Professional Chopper can function as a food chopper or a blender, depending on which container you use. It comes with three blade sets and a 2-cup chopper bowl, a 5-cup processing bowl and a 6-cup pitcher to chop, process or blend your ingredients.
The small chopper bowl and the larger processing bowl each comes with a four-blade set, while the pitcher comes with a six-blade set. You push down on the top-mounted motor to operate the chopper. The removable parts are made from BPA-free materials and are dishwasher-safe. Included are two different-sized lids for the 2-cup and 5-cup bowls, so you can store processed food in the chopper bowls themselves.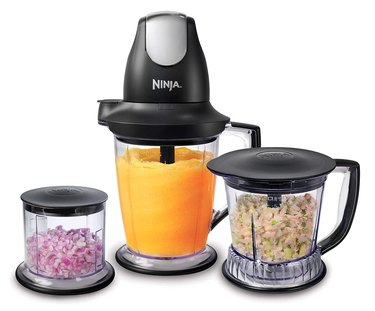 Ninja NJ100GR Express Food Chopper
If the Ninja Master Prep set is more than you need, this alternative from Ninja gets the job done beautifully while saving you money. The affordable 2-cup mini food processor has a 2-in-1 lid that functions as both a splatter guard and a storage lid. Simply flip the hinged center point open to add the motor, and flip it closed to seal the lid on the work bowl. The bowl includes helpful measurement markings, and two levels of blades work to process ingredients in the bowl. The control consists of a single large button on top, making the unit intuitive and straightforward to use.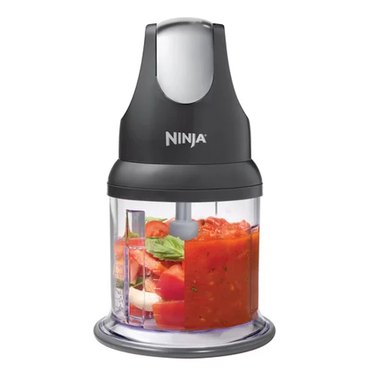 AYOTEE Cordless Small Electric Food Processor
At first glance, this mini food processor seems like a pink clone of the Olrid model we tested. They are remarkably similar and both feature USB charging ports, but this model from AYOTEE features the charging port on the side of the motor cover rather than right on top. Unlike the Olrid mini chopper, which comes in only two sizes, the AYOTEE chopper comes in three sizes: 100, 250 and 300 milliliters (250 milliliters being just over 1 cup). You can also choose between pink and white.
While we haven't tested this model specifically, it appears to be a nearly identical experience to the Olrid model, but with slightly more options. (The question is, who copied who? Based on the date first available, the Olrid model precedes the AYOTEE model by a mere five weeks). If you're looking for a cute, compact and effective food processor, you can't go wrong with either.