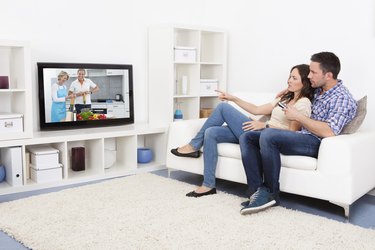 Culinare no longer manufactures its Rocket Chef kitchen appliance, a device that allows you to make soups, drinks, sauces and ice cream after slicing, dicing, chopping or pureeing all the ingredients. It's a versatile piece of equipment that has several uses. With some practice of the basic fundamentals, you may be able to replace your blender and food processor with a Rocket Chef, claims Culinare.
Step 1
Place the clear mixing bowl on a counter.
Step 2
Slide the end of your the implement -- either the chopper, slicer, beater or whisk -- onto the corresponding end of the mixing bowl's center stem piece.
Step 3
Slide this stem/attachment onto the mounting post at the bottom center of the mixing bowl, being careful when handling any sharp blades. The end with the larger hole and attachment will face down, placing the implement along the bottom of the bowl. If you're using the grater or slicer, attach the chosen attachment to the circular blade holder, then connect the stem's larger end directly to the bottom of the mixing bowl first. After the stem is in place, attach the blade holder to the stem, with the attachment facing upward.
Step 4
Place the cover on top of the center attachment/stem and bowl. Twist it clockwise until it locks in place.
Step 5
Turn the chosen attachment with the handle on the cover as you push food through the cover's feeder port, with the plunger, which you'll need for foods like cucumber slices or hard cheeses that are sliced or grated, at the top. Remove the lid to add items meant to be chopped or blended that are too cumbersome to add through the feeder port.
Warning
Use caution when handling the blades. Always use the plunger when grating or slicing, never your fingers.