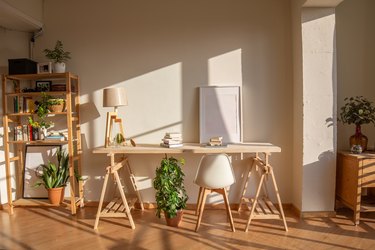 Work-from-home is officially a household name... and it's going nowhere fast. Whether you're loving your loungewear uniform or really missing the office snacks, one thing is true: Your at-home work space matters more than ever. So how do you optimize it (yes, even if it doubles as the kitchen table) for maximum productivity and creativity?
For a little guidance, we teamed up with Total by Verizon — a new wireless provider on a mission to free savvy creators to live beyond boundaries — and turned to entrepreneur Lisa Nicole Rosado for some advice. As the founder and CEO of We Are Women Owned, a platform for discovering and supporting women-owned small businesses, Rosado knows a thing or two about inspiration and motivation. She's sharing the simple yet effective ways that she upgrades her home office to keep that energy flowing from nine to five.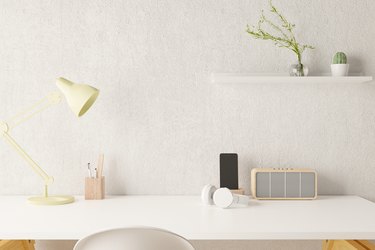 Last year, Rosado moved into an apartment with tons of charm — but limited square footage. As a result, she's intentional about what she brings home. "Having a busy mind, the concept of less is more is crucial for me," Rosado says. "I do my best to keep my desk as minimal as possible, while still keeping a few items around that inspire me and serve a functional purpose." No matter how big or small your home is, experiment with minimalism — and see if it induces inspiration, intention, and focus.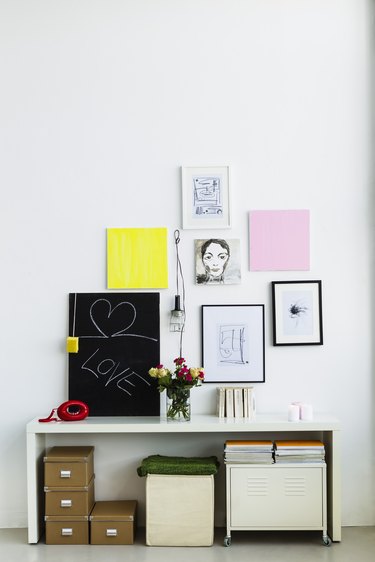 2. Designate a place for everything
For the things you decide you ‌do‌ need in your office, create designated places that make them easy to find. "As founders, our minds can be cluttered with so many thoughts and so much information," Rosado says. "If there is a way to diminish even the slightest bit of stress, distraction, or wasted time, let's aim for it!" So go ahead and splurge on drawer dividers, color-coordinated racks, and storage bins.
3. Create space to unplug from work, and plug into community
Taking breaks throughout the workday is an essential part of keeping productivity (and creativity) levels high — so consider building reminders to take five into your home office space. Think: an aesthetic alarm clock that goes off when it's time to go take a walk, a cheeky desk plaque reminding you to breathe, or a well-designed backdrop for quick video calls with friends.
"Find your community and stick with them," Rosado says. "Having a tribe of self-starters, founders, and entrepreneurs who understand the journey can truly make so much of a difference." One way to stay connected to your community is with Total by Verizon, a new carrier from the network America relies on that will help you stay close to your crew.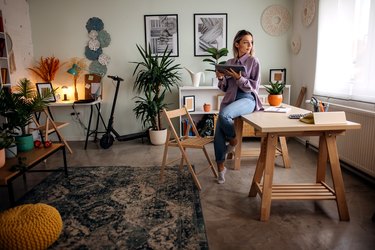 4. Let your walls do the talking
While Rosado loves a minimalist desk, she's also inspired by bright, bold decor. "Utilize your wall space to really get creative and express your aspiration — like a vision board of sorts," she says. "One of my favorite places to source affordable art from emerging artists is PxP Contemporary, which is women-owned." She believes your inner work is essential to your outer work, and empowering quotes and colors can have a real impact on both.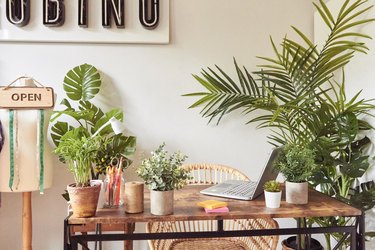 For a productive, lighthearted ambiance, Rosado infuses her workspace with greenery. "In the past few months I have been obsessed with adding live plants to every nook in our home — including my work area. I can't express enough how life-giving and joy-bringing they've been to me!" If you're not much of a green thumb, opt for low-maintenance snake plants or succulents. They're perfect for new plant parents and won't require much time away from your busy schedule.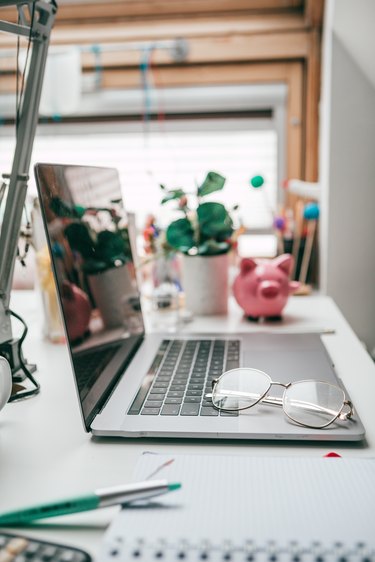 6. Invest in your productivity
You invest a lot into your work — so it's important to invest in things that make it a little easier. "Consider items and accessories that could optimize your work experience," Rosado says. "For me, that includes a comfy chair, a second monitor, a mouse, and blue light glasses." And don't forget to pair those productivity purchases with a joy-inducing treat every now and then. Inspiration, sparked.
‌‌Keep your home office connected with a no-contract plan from Total by Verizon, starting at just $30 a month. Click here to learn more.‌‌