Apple pie is one of the darlings of fall, and who doesn't love a good cookie? Put the two together and you have the perfect fall dessert. The apple pie cookie is the latest food trend on TikTok, and it has us drooling. If this dessert sounds like it would be the apple of your eye, then you're in luck—we found two variations on the apple pie cookie that sound just decadent.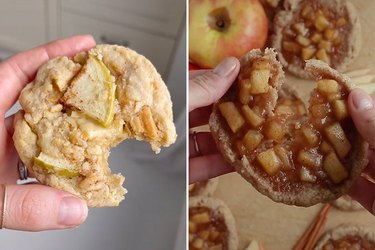 The first apple pie cookie recipe comes from creator @bromabakery. It incorporates all the ingredients of apple pie (pie crust, butter, sugar, apples, etc.) but combines the elements in a fun, unexpected form. Our favorite part of this recipe is that you add baked pie crust to the mixture—a truly unique way to reimagine your average apple pie.
If you're looking for a vegan apple pie cookie recipe, creator @shortgirltallorder has just the one for you. The key swaps for making this recipe vegan are vegan butter instead of regular butter and flaxseed mixed with water instead of eggs. However, if you're not looking to make these cookies vegan, you can just use regular butter and eggs!
Another thing we love about @shortgirltallorder's recipe is that you basically create mini pie crusts out of cookie dough and make apple pie filling to top off the treat. It's like a personal pizza but for pie!
Tip
But which to choose? If you want apple-pie-flavored cookies, we suggest trying @bromabakery's recipe. If you want apple-pie-shaped cookies that are a miniature take on apple pie, try @shortgirltallorder's!
And if these cookies have given you an appetite for a real-deal apple pie but you want to stick with the miniature theme, TikTok creator @emilylfigueroa created the absolute cutest miniature apple pies using a muffin tin.
By pressing small circles of dough into muffin tin cups and stuffing them with apple pie filling, @emilylfigueroa creates bite-size apple pies. She even makes miniature lattice pie crusts as well as miniature top crusts with three small cutouts. These are certainly the most adorable apple pies we've ever laid eyes on.
With that, we're off to pick out some apples and start baking!