One of the fastest ways to upgrade your baking game is with a pastry bag. Yes, you can put icing on cakes, cookies or cupcakes with nothing more than a butter knife. There's nothing wrong with that, but learning to use a piping bag is an absolute game-changer. It's what you need to make your cupcakes look bakery-chic, and you'll have a whole new world of cookie-decorating and cake-decorating options (literally!) at your fingertips. Whether you're an absolute beginner or already have professional-level skills, your choice of piping bag can make things easy-breezy or a source of frustration. We've picked out a half-dozen of the best pastry bags for your consideration, so you can skip the trial and error and go straight to the fun stuff.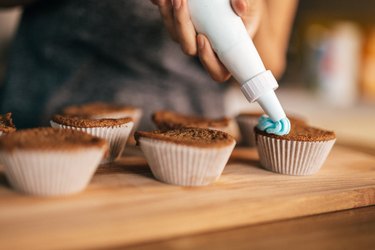 Tip
You'll see different products described as decorating bags, pastry bags or just plain piping bags. Not all manufacturers make this distinction, but broadly speaking, decorating bags are smaller and meant for finer work. Pastry bags run from small to medium-large and can be used for most baking and decorating work. Finally, piping bags can be any size but skew toward larger and heavier-duty bags.
What to Consider When Purchasing Pastry Bags
‌Size:‌ Pastry bags come in a range of sizes. For food service use, some bags can be up to 28 inches in size, but for the retail market, you'll seldom see one smaller than 10 inches or larger than 18 or 20. As a rule, small bags (12 inches or below) are best for finely detailed decorating work, medium bags (14 to 16 inches) are a good all-purpose size, and large bags (anything above 16 inches) are best for large projects and high-volume work. That's not a hard and fast rule, of course. The size of your hands may lead you to favor a larger or smaller bag.
‌Materials:‌ Disposable piping bags are generally made of plastic, which is practical if not environmentally-friendly. Reusable piping bags are made in a range of materials, including nylon, silicone, polyester, polyurethane and plastic-coated fabrics in addition to the traditional heavy canvas bags. Disposable bags are cheap and convenient because they require no care. Reusable bags must be washed, dried and stored, but they're sturdier and can handle stiffer fillings. Restaurants use them for piping things like steaming-hot mashed potatoes (that's how you make your shepherd's pie Instagram-worthy), which would wreck a disposable bag. They cost more upfront, but are cheaper in the long term.
‌Weight and Texture:‌ These are closely related to the material you choose. A textured bag is easier to grip reliably, even when your hands are wet or greasy. Some materials, like canvas, are naturally textured. With disposable piping bags, adding a texture is the manufacturer's choice. Weight, in this case, refers to the thickness and sturdiness of the material. Lightweight bags are excellent for cake decorating and other delicate work because they're easy to squeeze. Heavier bags are more reliable when you're working with stiffer buttercream or batters. There's no right or wrong, it's all about using the right bag for a given job.
‌Accessories and Bundles:‌ A piping bag is useful on its own, but most of its versatility comes from the piping tips and couplers you use with it. There are dozens of common piping tips and hundreds of less-common ones, from tiny ones for fine decorating to oversized tips for covering a cake quickly. There are also couplers to match, in standard, medium and large sizes. You can insert a single tip into a suitably-sized bag and use it that way, or you can attach a coupler to the bag and switch tips as often as needed during your project. Some bags come bundled with one or more tips, clips to hold the bag closed when in use, or other accessories such as a conical tip-cleaning brush. All of these are nice to have, but make sure the actual bag suits your needs before you're swayed by the extras.
The Best Overall Pastry Bag
Ateco dominates the world of commercial baking in the same way that Wilton does for home bakers. They make the cake-decorating tools used by most working professionals, from stainless steel decorating tips to pastry bags, couplers, decorating turntables, and much, much more. This versatile piping bag is the exact kind you'll see in working kitchens all across the country. It's made from heavy-duty cotton coated in polyurethane, with a reinforced hem—to make sure it won't burst open around your tip—and a loop so it can hang on a hook when not in use. The bag comes in sizes ranging from 10 to 28 inches, but we've made the 14-inch our top pick because that's a good all-purpose size for home use. These bags will handle anything you want to throw at them, from buttercream to stiff batters and even hot foods. To clean, just turn the bag inside out and hand wash it with hot water and dish soap. The only downside to these bags is that they're a bit stiff when new, so you may want to wash it a few times to soften it up before you use it. The German-made Wunderbag works with Ateco or Wilton tips and couplers as well as most other brands. They're a bit pricey compared to other brands, but they'll last you for years with a minimum of care.
The Best Disposable Pastry Bag
Disposable bags typically come in rolls, and the bags have a slant to one side or the other (picture a rectangle cut diagonally in half). That's not at all a deal-breaker, but it means the bags aren't symmetrical and can be slightly awkward to work with. These ones from Weetiee (a popular piping bag maker) come stacked, rather than on a roll, and make a symmetrical cone when filled. You'll be able to use them easily with either hand and rotate the bag as you work without being thrown off by changes in its feel. The Weetiee bags are as heavy-duty as disposable bags get—they're made of BPA-free 8-millimeter plastic rather than the usual 4-millimeter—so you can trust them with stiff fillings or even hot materials. In fact, though they're disposable, they're sturdy enough that you can wash and reuse each bag several times, reducing their environmental impact. The pack of 100 bags also includes a pair of couplers, as a bonus. If you're really reluctant to send more plastic to the landfill, you may consider Ateco's biodegradable piping bags to be a better option. Made from cornstarch with a resin binder, they're a functional bag that's both biodegradable and compostable.
The Best Value Pastry Bag
There are cheaper options out there, but this set of food-grade silicone pastry bags from manufacturer Riccle is tough to beat on the basis of pure value. Silicone piping bags are tough and durable but also easy to clean, easy to handle and nonslip. That makes them a solid choice for bakers at any skill level, and getting six bags—two each of the 12-, 14- and 16-inch bags, the most versatile sizes—for a price substantially below the cost of our top pick would already represent good value. Riccle doesn't stop there, though, rounding out its value proposition with six of the most useful piping tips, six plastic couplers, six bag ties and one plastic scraper (useful for getting the last of the icing out of your bowl or smoothing icing onto a cake). This isn't a full-bore set of cake decorating supplies, by any means, but it's certainly enough to make a good start into the hobby and as much as many bakers will ever need. At the price, it's a heck of a buy.
The Best Pastry Bag for Beginners
It's not always necessary to jump right into the cake-decorating hobby with both feet. If you just want to decorate a few batches of cupcakes or cookies, without making a big commitment to equipment, Wilton has you covered. Wilton has built a very good business out of home bakers relying on its cake decorating supplies and teaching the skills needed to use them, so it's unsurprising that they'd have options for novices. We like these sets because they really represent the lowest imaginable level of commitment. Just affix the star tip to the bag, fill and start decorating. When you're done, discard the bag (and wash the star tip). It doesn't get any simpler than that, and the price is certainly reasonable.
There's a place for buttercream frosting on cookies, but high-end cookie decoration leans more on free-flowing royal icing. This set of plastic bags from Weetiee has you covered either way. You can cut the tip to size and use them with pastry tips, or make a smaller snip and use the bag without a tip for piping royal icing. You can even outline and flood your cookies with the same bag, just by cutting the hole a bit larger once you've finished the outlining. The bags are textured for nonslip handling, and the 12-inch size and relatively soft plastic make them easy to work with even if your hands are on the smaller side. The bags include a pair of bag clips and a scribing needle, which is handy for marking out complicated designs on your cookies. It's everything you need, and nothing you don't.
The Best Pastry Bag and Accessories Bundle
The Riccle reusable bags made a reasonably complete piping bag set for beginners, but if you're all in on cake decorating, you'll find it limited. This set from Cakebe is not. You'll get a pair of reusable silicone pastry bags with couplers, 50 disposable piping bags, bag clips, over 40 decorating tips, a flower nail and flower lifter, three cake scrapers in different patterns, an offset spatula and even more. The kit even includes a handy toolbox with a tray for your decorating tips and couplers on top and storage for the rest of your tools underneath. It's a complete all-purpose decorating set, suitable for anything from a few trays of holiday cookies to large and elaborate cakes.