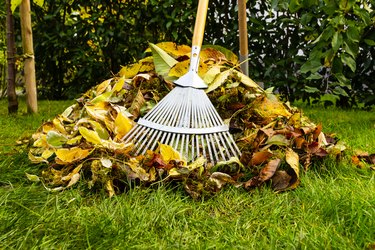 Fall heralds the call for trees to put on their annual show of brilliantly colored leaves in shades of red, purple, orange, yellow and bronze. Although their beauty is stunning, once the foliage litters your yard, you're stuck with nothing more than a big mess. Before you know it, your flower beds and lawn are covered in colorful debris, making you spend your spare time cleaning up rather than relaxing.
Whether you bag the leafy mess or use it in your compost bin, your leaf clean-up doesn't have to turn into a backbreaking, chore-filled day. Using some of the available leaf-gathering tools saves time and energy and makes cleaning up the dropped foliage a breeze.
Below are some of our favorite leaf cleaning tools and things you should consider when purchasing the best one for your needs.
What to Consider When Purchasing Tools for Leaf Clean-Up
​Amount of Leaf Debris​: When deciding what tools are best to clean up all the fallen leaves, you should consider the size of the area you're cleaning and the number of leaves. If you're only dealing with one or two trees dropping leaves or your landscape is small, you can get away with more conventional tools like a rake and tarp. However, if your landscape is large and tree-filled, the job will be easier using tools like a lawn sweeper, blower and vacuum.
​Garden Areas:​ If you have plant-filled garden beds with fallen leaves between shrubs and other plants, you'll need something narrow to get between plants without damaging them. Although rakes with larger heads are great for gathering leaves in large open spaces, they don't work well trying to get into the nooks and crannies between plants. Rakes with smaller heads are the perfect solution for gathering fallen debris between shrubs and plants without disturbing them.
​Cost:​ If you want to get the leaf cleanup job done without busting your budget, you can opt for rakes and handheld leaf grabbers. They are usually not that expensive, and although you have to put in some work, they'll pick up the fallen leaves without spending a fortune. If you don't mind spending a pretty penny on a tool that will make collecting leaf debris easier, a blower or blower and vacuum multi-tool works well.
​Gas, Corded or Cordless Tools:​ When purchasing tools like a leaf blower or a leaf blower and vacuum multi-functional tool, your choices include gas, corded or cordless. Although a gas-powered unit is noisier and not as eco-friendly as the other options, they are usually more powerful and get the job done quicker. Corded tools are lighter and eco-friendly, but you have the problem of only being able to go as far as the cord allows. They are good choices for landscapes that are smaller. Cordless models offer the freedom to move around the landscape, but you'll have to recharge them once they start losing power and don't typically offer as much power as gas models.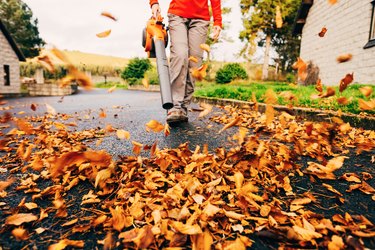 The Best Rake for Large Leaf Piles
True Temper Clog-Free Poly Leaf Rake
Nothing is more frustrating when raking than constantly stopping to clear your rake's tines. However, you won't have that worry with True Temper's clog-free rake design. The patented poly head of the rake is designed not to clog or spear the leaves as you rake them in a pile. It has a 48-inch long hardwood handle that is ergonomic with its padded grip, relieving stress on your hands. The 24-inch rake head is the perfect size for tackling and making quick work of large or medium areas filled with leaf debris.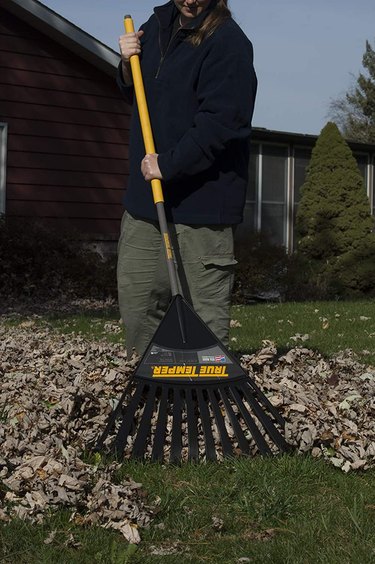 The Best Rake for Tight Spaces
Homimp Adjustable Garden Leaf Rake
Sometimes you need a leaf rake with a smaller head to pull leaves out of cramped spaces between shrubs or other plants in flower beds, and this adjustable leaf rake comes to the rescue. With stainless steel metal tines, the 8-inch head is the perfect size to get into tight spaces without damaging your plants. The aluminum handle is lightweight and easily adjustable from 34 inches to 55 inches long, making your raking job a bit easier. The sturdy handle has four rust-proof detachable tubes that you use to lengthen or shorten it to fit your needs. You can even get the kids involved in the leaf cleanup fun by adjusting it to their height and wingspan. It's a good leaf cleanup tool when you require something smaller than your standard-sized rake.
The Best Leaf Claw Grabbers
Get that pile of leaves picked up quickly with these handheld leaf claws and grabbers. The handles have an extended reach of 1.5 feet, meaning less bending and relieving stress on your back. They feature a leverage grip that allows you to grab more leaves quickly. These leaf claws are large enough to pick up large piles of leaves with dimensions of 26.5 inches tall, and their large head is 19.5 inches wide. Made of heavy-duty plastic, these leaf claws work like hand rakes picking up the smaller debris items at the bottom of your leaf pile. They are also great for picking up dog waste and other debris in the yard. Use them year-round and not only during the fall leaf drop.
ENERTWIST Push Lawn Sweeper
If you're looking for a solution to cleaning up those fallen leaves that won't put a strain on your back and makes the task a breeze, then this push lawn sweeper by ENERTWIST answers the call. This eco-friendly lawn sweeper functions manually so there's no need for charging a battery or adding fuel. All you need to do is push it over the leaf debris, and it's swept into the collapsible hopper bag. The woven collection bag is weather-resistant and holds up to 26.5 gallons of leaf debris. The handle quickly adjusts to your height. There are four durable rotating brushes, and you can adjust their height to pick up the debris in your yard or on a patio. You can easily remove the hopper bag for effortless dumping, and the entire unit folds up for easy storage. This push lawn sweeper will make cleaning up a leaf-filled yard easy and save your back from aches and pains.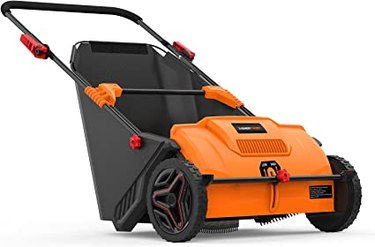 The Best Tarp Leaf Hauler
EZ Reusable Leaf Hauler Tarp
A durable leaf hauling tarp is an essential gardening tool no gardener should be without, especially when it comes to transporting those raked piles. The EZ leaf hauler tarp holds four times more debris than your standard wheelbarrow, making quick work of the task. It's made from durable woven polyethylene and has six built-in handles that make moving the leaf pile easy. You also don't have to worry about the tarp blowing around on windy days with the included ground stakes that hold it in place. The leaf hauler tarp is 4 feet by 6 feet, giving you 24 square feet of holding capacity. It has a dustpan design with a higher back and sides to keep your debris in place with no worries of the mess falling off the sides as it moves. You can easily fold it up for storage.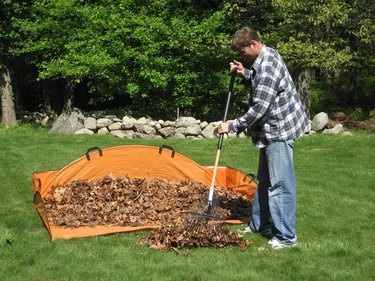 The Best Leaf Rake and Grabber
Clear N Collect Garden Leaf Rake/Grabber
If you're looking for a multi-functional leaf rake that will gather your fallen leaves into a pile and then grab them up so you can easily place them in a bag, then this hinged leaf rake and grabber might fit the bill. This rake saves you from having to do a lot of bending as all you have to do is rake up the pile, open the hinged basket, scoop up the leaves, close the hinge, and then drop the debris in a vessel to carry it away. It has a wooden handle, and the head and the large-capacity basket area are made from durable plastic, making the rake lightweight. It works well on the lawn or hardscape areas and will make your leaf cleaning chores easier.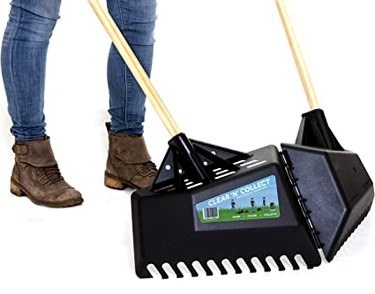 The Best Leaf Vacuum and Blower
Greenworks 40V Cordless Vacuum/Blower
You don't have to worry about dragging an electrical cord around, giving you more freedom to clean up fallen leaves with Greenworks' cordless, multi-functional leaf vacuum and blower. With 185 MPH and 340 CFM that power this unit, it makes quick work powering through a pile of leaves whether they are wet or dry. Tools are not required to convert it from a blower to a vacuum. The conversion takes only seconds. The brushless technology allows for quieter use, less vibration and longer running times. The charger is included along with a reusable bag to collect your leaf debris. It has a variable speed dial allowing for six speeds, along with a turbo button.
The Best Handheld Gas Blower
Husqvarna 2-Cycle Handheld Gas Blower
If you desire more power to move those fallen leaves around, then Husqvarna's 2-cycle handheld gas blower will definitely get the job done. The blower offers 170 MPH of wind power, it's lightweight at 9.4 pounds, and has an ergonomic fan housing that relieves fatigue while using. The blower tube design lines up with the handle, which minimizes the rotational force on your wrists. The blower has a 1.1-horsepower, 2-cycle engine, and a maximum power speed of 8,000 RPMs, so it's built to blow away the most stubborn piles of debris. It even has a cruise-control setting, allowing you to set a steady blowing speed.