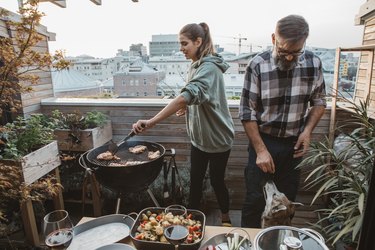 Summertime and grilling go together like ... well, burgers and buns! But, sadly, not everyone has the space to set up a massive party-sized grill or entertain the whole neighborhood. It's still possible for almost anyone to grill, even in the cramped confines of an apartment balcony or a small condo's patio, it just means you'll need to choose a grill that's space-efficient. We're here to help with this list of the very best compact grills for small spaces.
What to Consider When Purchasing a Grill for a Small Space
​Fuel:​ This is an important one. Are you allowed to use charcoal (or do you want it?). Is there a natural gas hookup? Are you prohibited from keeping a propane tank on your balcony or patio? These are all make-or-break questions, so check with your landlord or condo association before you start shopping.
​Size and Cooking Area:​ These two numbers will always represent a tradeoff. Ideally, you'll want a very compact grill that still leaves plenty of room for you to cook and socialize. On the other hand, you'll also want enough cooking area to prepare a reasonable meal. Balancing those two considerations might mean doing without some conveniences (such as side tables or a side burner) that would usually be a selling feature.
​Heat and Searing Ability:​ Small doesn't necessarily mean "low performance." With gas grills, compare the heat measurement (in BTUs) with the cooking area: The fewer BTUs per square inch, the less searing ability you'll have. If you opt for an electric model, its power in watts is the comparable spec to look at. In most cases, the manual or sales literature will also list a maximum temperature. With charcoal grills, if you can have one, heat isn't an issue because even a small grill can generate intense temperatures.
​Ergonomics:​ Will you be using your grill on a tabletop, or do you need one with its own stand? Will the stand still leave you room enough to move? Are there side tables, and do they fold? Are there thoughtful features meant to improve your grilling experience? Considerations like these can be just as important to your actual daily usage as a grill's raw performance specs.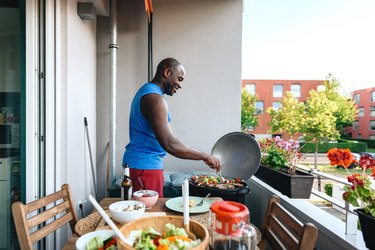 The Best Overall Compact Grill
Weber is one of the biggest and best-loved brands in grilling, so it's unsurprising to find one of their products here at the top of our list. The Q2200 is just about everything you could want in a compact grill. Its cooking surface is surprisingly large for such a small grill at 280 square inches, its 12,000 BTU output is appropriate to its dimensions, and its folding side tables mean you can opt for greater prep space (open them up) or more room on the balcony (fold them down).
The grill itself is designed for tabletop use, but Weber offers a sturdy cart as an option if you'd rather use it as a freestanding grill (there's also a folding stand, so you can take your grill with you to the beach). Its combination of small size, solid performance and Weber quality make it our top overall pick.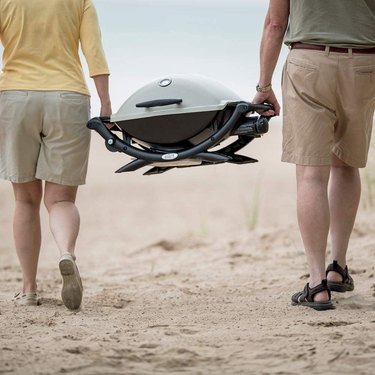 The Best Compact Charcoal Grill
Weber Smokey Joe Portable Charcoal Grill
Weber's reputation was built on the sterling quality of its classic kettle-style charcoal grills, and the Smokey Joe is the scaled-down version of those classics. Aside from its relatively small 14-inch diameter (and minimal 10-pound weight), it's the same highly functional grill you already know and love. The kettle itself features the same sturdy, porcelain-coated steel construction you'd expect with any Weber, and the 147 square inches of grill space provide room for five standard-sized burgers or several pieces of chicken.
If charcoal wasn't forbidden to so many apartment and condo dwellers, the Joe could have been our top pick, and its price point is low enough that we won't make a separate "value" pick. If you like charcoal and you're allowed to use it, this is a stellar grill for the size.
The Best Compact Kamado Grill
A basic grill works well for basic grilling, but serious enthusiasts will find a way to do more in even the smallest spaces. One way to do that is with a heavily insulated kamado-style grill, which combines kettle-style grilling functions with the ability to smoke, slow-cook or even bake. Most kamados are large and heavy enough to deter renters, but this one from Char-Griller is not.
The scaled-down Akorn Jr. uses double-walled steel construction, rather than the usual heavy-duty ceramic, so on moving day, you can pack it along with a minimum of fuss. The 155 square inches of cooking area will handle up to eight burgers at a time, four to five steaks, or several chicken breasts or fish fillets. The locking lid even keeps smoke and cooking smells to a minimum, something your neighbors will appreciate. If you're allowed to have a charcoal grill in your space, this is a good one to have.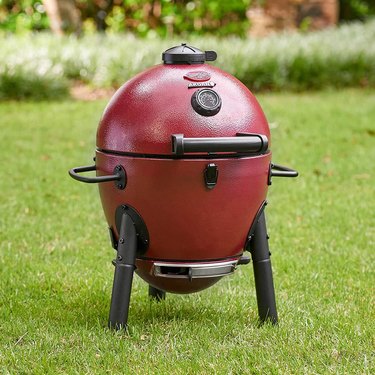 The Best Compact Pellet Grill
Traeger Tailgater 20 Portable Wood Pellet Grill and Smoker
"Compact" is a relative term. The Traeger Tailgater is about 3 feet wide—easily the biggest grill in our roundup—but it's small and lightweight for this class of cooker. It's fueled by hardwood pellets rather than gas or charcoal, and it means you can do real barbecue (the traditional, slow-cooked kind) even on a relatively small patio or balcony.
It'll smoke or roast brisket, pork shoulder or whole racks of ribs, or you can grill up to a dozen burgers at once on its 300 square inches of cooking surface. Your neighbors might object to the smoke (be considerate and check the wind direction before lighting up) but they'll probably forgive you if you share your brisket or pulled pork with them.
The Best Compact Electric Grill
Weber Q1400 Electric Grill
If your living space forbids charcoal ​and​ propane tanks, or any form of open flame (which rules out gas and pellet grills as well), your outdoor cooking options will be limited to electric grills. That's not necessarily as bad as you might think. While electric grills won't give you the whiff of smoke you get from charcoal or hardwood, or the quick heat of gas, they're still surprisingly effective.
This one from Weber is the electric sibling to our top pick, though with a smaller 189 square inches of cooking space (the Q2400 is a larger electric model, but it has the same power for more cooking area and therefore offers somewhat lower performance). It's constructed in the same style as Weber's other Q-series portable grills, with durable steel construction and porcelain-coated cast iron grates. It's also a breeze to use: Just turn the knob to your desired temperature setting, and you're good to go! As with our top pick, it's made for tabletop use right out of the box, but Weber's optional stand can turn it into a freestanding grill.