If you're in need of a way to save space in your luggage, travel backpack or duffel, packing cubes are a surprisingly great solution. When you think about the logistics of adding more things to your suitcase to save space (in this case it's packing cubes), it seems counterintuitive, but packing cubes can actually help you fit ‌more‌ items in your bag.
A packing cube is a small bag designed to fit inside your suitcase that organizes and compartmentalizes clothes and other travel items to help you optimize the use of space. The best packing cubes come in a set—anywhere from two to eight cubes. They typically come in different sizes which can give you flexibility in how you fit them into your suitcase and what you pack inside them. The multiple size options also give you the ability to use the smaller cubes in your carry-on.
What to Consider When Purchasing Packing Cubes
‌Type:‌ There are two types of packing cubes to consider: regular packing cubes and compressions packing cubes. Compression packing cubes help you save space in your suitcase by compressing the air out of them. Regular packing cubes have one zipper that closes the main compartment, while compression cubes have two zippers—one of which compresses the items inside to eliminate extra bulk.
‌Size:‌ Packing cube sets often come in a variety of sizes. Most packing cubes will fit in a checked suitcase, usually starting at 23 inches. You can find some that are large capacity for larger suitcases that can hold more items. Carry-on bags will require smaller packing cubes, so you might want to measure the interior of your carry-on and compare the dimensions before making your purchase.
‌Weight:‌ Whether you plan on using packing cubes in your checked bag or carry-on, most airlines have weight restrictions. If you tend to get pretty close to that weight limit, you'll want to buy packing cubes that are ultra lightweight.
‌Material:‌ Nylon is the most durable material for packing cubes, as it's usually tear-resistant and can withstand wear and tear. Durable zippers are also important, because if they break, you'll be stuck without a working packing cube. The most durable zipper brands are YKK zippers.
Now that you have a better idea of the type of packing cubes that'll work for your luggage, check out our picks of the best packing cubes of 2023.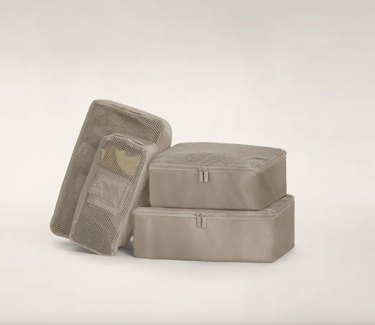 The Best Overall Packing Cubes
Whether you prefer to fold or roll your clothes, these packing cubes can help keep your clothes wrinkle-free. There are six total items in this set, including one extra large cube, one large cube, one medium cube, one small cube, a shoe bag and a laundry bag to keep your clean clothes separate from your dirty clothes. They are all made from thick nylon, which is highly durable and tear-resistant. The material is also waterproof, which is a nice touch to prevent your stuff from getting wet from any accidental toiletry spills (we've all been there). There are 13 available prints and colors to choose from.
The Best Budget Packing Cubes
Similar to Veken's packing cubes, this set of six comes with four cubes in various sizes, along with a shoe bag and a laundry bag—only this set is less expensive. The multiple sizes make it easier to pack more items and fit everything into one bag. Choose from 10 different colors and prints, including green leaf, black leaf, white marble, black, blue, dark blue, forest green, gray, pink and teal (not all colors are always available).
The Best Large Capacity Option
Travel organizers can make going on trips a lot smoother. This four-piece packing cube set will make your travel life feel easier. The cubes come in three size options: small, medium and large. The largest size has enough space to hold clothes for a few days, and since there are four of them, it's ideal for over packers (you know who you are). There's also the option to buy a set of assorted-sized cubes. They are made of nylon material with breathable mesh panel on the front, allowing you to see what's inside. They have a carrying handle and double zipper closure.
The Best Compression Packing Cubes
The compression design of these four packing cubes helps get the air out so you have room to pack more things. Made from durable, lightweight and water-resistant nylon, these cubes are designed to be long-lasting. They're ideal for suitcases, as well as a backpack or carry-on. These cubes come in eight colors and two size options, which includes one large, one medium and two smalls, and one large, one medium and one small.
If you plan on using compression cubes in your getaway carry-on, check out Thule's high-quality set of packing cubes. Compatible with most brands of checked luggage, most carry-on suitcases can fit two medium compression cubes or one medium compression cube along with one small compression cube. Durable YKK compression zippers eliminate excess air between clothes and other items to maximize packing space. The 100-denier ripstop nylon material fabric is semitransparent so you can see what's inside without having to unzip the cubes. The fabric on these small packing cubes is also water-repellent to keep your things dry.
The Best Waterproof Packing Cubes
There are a lot of perks that come along with this three-piece set. First, the bags are super thin and ultra lightweight, so you can pack what you need without worrying about adding excess weight to your suitcase. Also, they're made from translucent nylon so you can see the contents inside, and they're also waterproof. The three cubes come in three sizes: large, medium and small. The large is made for bigger clothing like sweaters, the medium can fit around five t-shirts and shorts, and the small is good for smaller items like socks and underwear.
The Best Packing Cubes for Kids
These packing cubes for kids make packing and unpacking way easier since all of their clothes and travel accessories are already organized. In fact, it's so easy, they can even pack and unpack themselves—or maybe that's wishful thinking. There are three cubes in this set. The top panel is made of mesh and all three of them are machine washable. Dual zippers make the cubes easy to open and close. There are eight designs to choose from, including two dinosaur themes.
Not only are these small packing cubes expandable for extra storage, they also come in six designs, including an adorable fruit theme. The bigger bags are great for storing clothing, shoes and other travel essentials, and the smallest bag makes the perfect toiletry bag. An attached loop makes the bags easily portable from your suitcase to the bathroom (or wherever you need to take them). They're made from recycled ripstop nylon and they can be machine washed and hung to dry.
The Best-Design Packing Cubes
We love this set of four packing cubes for their design and the seven chic color options. Away's packing cubes organize and compress your belongings, from socks to pants to shirts to even the bulkiest items. Made from water-resistant nylon, the cubes are designed with a mesh panel to make it easy to find what you're looking for so you don't have to unpack everything. They fit like a puzzle inside most suitcases, possibly with room to spare depending on the size of your luggage.