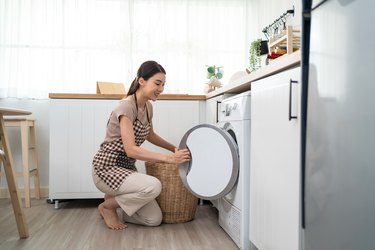 Many little tricks and tools make chores more manageable, including mesh laundry bags that make it safer to wash delicates and other small items in the washing machine. If you're washing clothes with laundry bags, it's important to consider what you can and should put in them. You'll also need to think about whether they're safe to use in the dryer. The best mesh laundry bags are usually made of polyester or nylon.
Washing Clothes in Laundry Bags
Washing with laundry bags is easy; it isn't all that different from doing a regular load of laundry. Fill the bag with the clothing you need to wash and put the bag of clothes in the body of the washer.
Add the soap, then start the cycle as you usually would according to the care instructions on the clothes themselves. For example, if the clothing tags say to wash in cold water on delicate, follow those instructions.
What Should You Put in a Laundry Bag?
You can put just about anything in a laundry bag, but some things make more sense than others. Small items that could get easily lost among more oversized items are great to put in a laundry bag. Also, anything with ties and strings that could become tangled works well in laundry bags.
Many people put delicate items in laundry bags to prevent them from getting too much agitation in the wash cycle, which can wear them out faster or damage them. These include articles of clothing with lace, bras, baby clothes, bathing suits, hosiery and silk items.
Don't stuff the bag until it is full. The items in the bag should have room to move around so that water and soap can get between them. You also don't want to put too large items in a mesh bag. Even if they're delicate, if you have to fold them down to get them to fit, they won't have room to move around, and they won't come clean in the bag. In this situation, you should either buy a bigger bag or place the items directly into the machine.
The Best Mesh Laundry Bags
There are many mesh laundry bags available. The best mesh laundry bags are made of machine-washable materials, usually polyester or nylon.
Beyond that, they should be durable, and ideally, last at least several hundred washes. They should also be the correct size. If you only have a couple of small items to throw in your loads, then a small bag is sufficient, but get a bigger size if you're washing a lot of baby clothes.
More Uses for Mesh Laundry Bags
There are other uses for mesh laundry bags, as well. Keep one in your gym bag and use it to store sweaty clothes or shoes. You'll keep them separate from everything else while still letting them air out. The same principle applies to used towels and swimsuits after a day at the pool or beach. You can store bath toys for your kids in them; this allows them to dry while keeping them contained and easy to find.
Mesh laundry bags can go in the dryer. After all, there's no point in taking care to keep them in the mesh during the wash cycle, only to have them damaged in the dryer. Ensure that the individual items of clothing themselves are safe for the dryer by checking the care instructions on the tag.