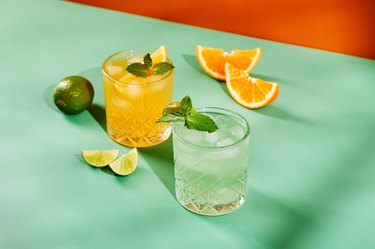 Whatever your mixed drinks of choice, there are cocktail glasses specifically designed to accentuate their aromas and flavors, help maintain a proper temperature, and showcase their color and consistency. There's considerably more variety in cocktail glasses than in typical beer and wine glasses, too. Ideally—at least if you enjoy mixing various drinks at home and for guests—you'll have a range of barware for cocktails. And what you're drinking should dictate your glass choice.
What to Consider When Purchasing Cocktail Glasses
‌Types of Cocktails:‌ There's a perfect cocktail glass for every type of cocktail. Sure, some cocktails are equally at home in more than one kind of glass, and plenty of cocktail glass designs are pretty similar to others. For example, martinis can go in a V-shaped martini glass, a coupe glass or a Nick and Nora glass—the latter combining characteristics of the other two. Then there are rocks glasses, lowball glasses and other variations on the glass tumbler that are relatively versatile. And, of course there are specialized glasses like margarita glasses or copper mugs and tin cups used to better insulate certain cold cocktails like Moscow mules and mint juleps. So, think about which cocktails you'll be making most often.
‌Size:‌ Most cocktail glassware has a typical, small range for its capacity. But there are oversized versions and miniatures available for most styles, too. Giant margarita glasses that hold two or three servings worth are popular among revelers who don't like to make frequent trips back to the blender, for example. You'll also find variation in the size of stems. Longer stems are intended to provide a secure grip without holding the bowl, thus preventing your hand from warming a chilled drink. Shorter stems and stemless glasses are intended to let your hand have some or total contact with the bowl for beverages that benefit from a little extra warmth.
‌Construction:‌ Most cocktail glasses are made of glass or crystal. Either is a fine choice, with crystal being a bit stronger and usually a little higher priced. Products of either material can be dishwasher safe or hand-wash only. Some types of cocktail glasses are thin, while others have thicker bodies. In general, a minimal lip provides a more enjoyable drinking experience. Also, look at the base; thicker, heavier bases make for sturdier glasses.
‌Number:‌ You can buy individual cocktail glasses or get them in pairs or sets (often of four or six). Determine how many you want and have the storage space for. But also, think about your priorities as to how many of the same glasses you want and how much variety you want in glass styles. You'll have to find the right balance, considering your storage capacity and your barware budget.
These considerations—along with how much you're willing to spend per glass, as prices range widely—will help you select the best cocktail glasses for your home bar.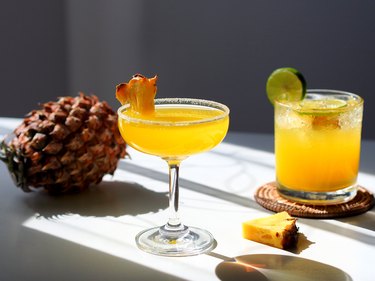 The Best Overall Cocktail Glasses
This set of four glasses—which are basically lowball or whiskey glasses—offers a versatile solution if you're looking for something you can use for a wide range of cocktails and liquor. They're made of lead-fee crystal with a simple, elegant, unique design and a weighted base to stabilize the glass. They hold a little more than 12 ounces, making them a good size for standard servings of many mixed and straight alcoholic beverages (or mocktails!).
The Best Highball Glasses
These tall, narrow, dishwasher-safe glasses are a great buy if you're looking for highball glasses or Collins glasses. They're perfect for effervescent cocktails poured over a stack of ice. Use them for a highball, Tom Collins, Long Island iced tea, mojito, Bloody Mary, screwdriver and classic combos like rum and Coke, gin and tonic, and scotch and soda. At 17 ounces, these glasses have an extra-large capacity—which is nice, given the notably low price per glass—and a heavy enough base to secure them at their height.
Rocks glasses are a classic type of cocktail glass, favored for straight spirits neat or on the rocks, as well as sweet drinks enjoyed in small portions and popular cocktails like an old fashioned. Their short, wide stature and hefty base make them well suited to building cocktails directly in the glass, including when it involves muddling dry ingredients. These budget-friendly glasses have a high-end look, and the quality on these dishwasher-safe, break-resistant, machine-made glass products surpasses the price. And, at 9 ounces, they're on the larger end for rocks glasses.
The Best Snifter Cocktail Glasses
There are numerous variations on the snifter—goblets, tulip glasses, hurricane glasses, whiskey glasses, and brandy or cognac glasses, to name a few. And each has its uses if you really want to delve into the world of spirits like whiskey, scotch, bourbon and brandies. But if you just want a versatile glass for the category, pick up this set of six snifters from a highly respected brand in glassware. The glasses have an elegant look and a generous capacity just over 17 ounces, as well as a widely rounded bowl to facilitate swirling. Plus, they're made from extra-durable, patented Tritan lead-free crystal with a sturdy design. They're also dishwasher safe for easy cleanup.
The Best Champagne Glasses
With its egg-shaped bowl, this champagne glass is ideal for showcasing the complexity of a sparkling wine, grappa, and fizzy cocktail like a mimosa, twinkle or black velvet. Much more so than a champagne flute, too, which doesn't allow much oxygen to interact with the liquid. It's also designed with a "sparkling point" that enhances the bubbles, and an elegant look that enhances the drinking experience in general. Made from machine-made glass, this pair of high-quality champagne glasses is durable and dishwasher-safe.
A traditional V-shaped martini glass is a must-have in any barware collection. Use it for regular gin or vodka martinis, dirty martinis, espresso martinis or vesper martinis. Or, use it to serve a Manhattan, cosmopolitan, daiquiri and lots of other classic cocktails. This set has a high-end look with finely etched, sturdy bases. The 6-ounce glasses are just the right size for martinis, and the durable, dishwasher-safe glasses are made from lead-free crystal. These products are from a well-known, age-old German glassware brand, too.
Standard coupe glasses are similar to martini glasses, but rounded rather than V-shaped at the bottom, with a wide, relatively shallow bowl. They're used for all the same cocktails—and more. But these particular glasses have a bit more of a V-shape than usual, which makes them a great hybrid that's perfect for countless mixed drinks. The ample 9-ounce capacity helps too. These beautifully designed and etched coupe glasses even have "effervescent points" to enhance fizziness in bubbly beverages. And they're made of extra-strong patented Tritan lead-free crystal that resists scratches, cracks, breaks, chips and thermal shock.
The Best Margarita Glasses
You simply can't have a margarita without a margarita glass. Well, you can, but you shouldn't. There are different styles in this category, but these glasses have the familiar design that's a classic for a reason. Their long stem helps keep the bowl's two-tiered contents cold, while the large rim has room for lots of salt. They're durable and dishwasher safe, and they're sold at a good price for the quality and 10-ounce capacity. Plus, they're eco-friendly, as the manufacturer runs efficient factories, uses recycled and recyclable materials, and minimizes packaging.
Every glassware collection needs some shot glasses, whether for taking shots or for easily measuring out cocktail ingredients. This is a good price for a set of six simple, nice-looking and dishwasher-safe, 2-ounce shot glasses. They have a thick construction and thick weighted bases, making them sturdy, durable and suitable for use where breakage is a worry. In fact, if you get satisfaction from slamming your shot glass down on the table after throwing one back, this is the product for you.
The Best Set of Cocktail Glasses
There are so many cocktail glass sets that only come with multiple pieces of the same type of glass, but the selection of sets containing different styles of cocktail glass is considerably smaller. This budget-friendly 18-piece set includes four pieces each of four different types of cocktail glasses: 13.5-ounce highball glasses, 10.5-ounce hurricane glasses, 12-ounce margarita glasses and 2-ounce shot glasses. It's a well-rounded lineup that equips you well for most cocktails (just pick up some separate rocks glasses and you're really in good shape). There's also a 16-ounce mixing glass with recipes for classic mixed drinks printed right on it, as well as a metal strainer. And you can put all the glasses right into the dishwasher.