Produce savers help your fruits and vegetables stay fresh (and edible) for longer, saving you money, as well as the frustration and wastefulness that goes along with throwing away avocados, strawberries, tomatoes and all the other produce that didn't get eaten in time.
The life span of produce varies based on the type and how you store it. Moisture breaks down foods like lettuce and berries quicker, but water can help other foods stay fresher longer—like asparagus, celery and carrots. Some fruits and vegetables last longer if you place them directly from the grocery store into the refrigerator, while others are fine on the kitchen counter at room temperature. Either way, produce storage containers can help extend the life of most fruits and veggies and prevent spoilage—even if only for an extra few days.
What to Consider When Purchasing a Produce Saver
​Material:​ Produce keepers are typically reusable, cutting back on wasteful and costly plastic wrap. They are made from three main types of materials: hard plastic, flexible plastic or glass. Hard plastic containers work well but take up more space than flexible plastic, and they aren't eco-friendly—although they're a much better option than using single use plastic bags or wrap. Flexible plastic containers are popular because they save room and cost the least, while glass containers are the most sustainable and durable, but they can be heavy—especially with heavier food contents inside.
​Type of produce:​ You can find general produce savers that work with most produce, but there are also more specific containers for produce that tends to need saving, like lettuce, avocados, garlic, onions and tomatoes. It's even possible to find two-in-one containers, like a banana holder attached to a fruit bowl.
Tip
To get your berries to last longer, rinse them in a vinegar and water solution as soon as you bring them home. Dry them completely and the put them in a food storage container lined with paper towels. The vinegar should kill any lingering mold that could cause them to go bad, keeping them fresh for up to 10 days.
​Storage:​ Produce savers that come in multipacks are often stackable, saving room in your refrigerator. So, if you don't have a lot of extra space in your refrigerator or kitchen drawers, buying containers that fit with each other makes the most sense.
Scroll on to see our top picks of the best produce savers in 2022.
1. Rubbermaid Produce Saver Containers
When it comes to keeping produce fresh for longer, you can't just use any ol' food storage container. Your best bet is to use something made specifically for produce, like Rubbermaid's Produce Saver Containers. The hard plastic containers use a built-in FreshVent filter that regulates airflow to create an optimal environment for your fresh produce. There's no need to replace the filter, as it's designed to last a lifetime. The BPA-free and dishwasher safe food savers have an elevated base to lift produce away from any moisture that settles on the bottom and to promote more airflow. The modular design of the plastic storage containers allow them to fit inside each other for storage, and the lids fit with all the bases, making things even easier. The container set comes in a variety sizes and number of pieces.
2. The Cellar Wood and Glass Fruit Bowl With Banana Hook
It's a bit on the pricey side, but this produce saver is a space-saving, efficient and stylish way to keep your produce fresh. It features a glass bowl with a wooden lid, designed to help ripen avocados more quickly than they naturally would on their own. As fruit ripens, it releases ethylene gas, so when avocados are placed inside the container with the lid shut, gases build up and the flow of ethylene gas is regulated through the lid's wooden vents to speed up the ripening process. The top of the wooden lid acts as a shallow fruit bowl for more fruit storage (not technically a fruit saver, but it does keep them off the countertop and spread out more), and there's also a banana holder that keeps bananas fresh for longer.
3. Cole & Mason Fresh Herb Keeper
It's always helpful to have fresh herbs on hand. The problem is keeping them fresh after using the small amount that's typically needed for recipes. This fresh herb savor pod can hold onto herbs like rosemary, oregano, thyme, mint and dill while keeping them fresh for up to 10 days longer. The clear lid lets you see your herbs, and air vents in the lid allow for air circulation. If you prefer that your herbs stay somewhat separate from each other—specifically herbs that are more potent—there are three removable dividers to help with that. The container easily stores in the refrigerator so you can quickly grab what you need.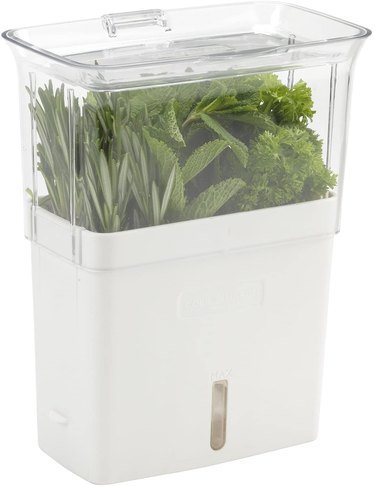 4. FoodSaver Vacuum Seal Roll
A convenient way to store produce (and other foods) without wasting space is by using FoodSaver's Vacuum Seal Roll. The BPA-free multi-ply material makes it possible to form bags that are the exact size you need instead of using plastic bags that may or may not be the right size. You can create custom-length storage bags without any wasted material or situations where the food doesn't fit. The multi-ply material is designed to lock in freshness and prevent freezer burn, so if you have a bunch of bananas that are on their way out, you can place them in vacuum seal and pop them in the freezer for smoothies. Purchasing options include a pack of one or a pack of two.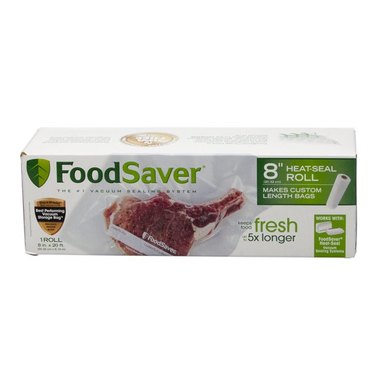 5. WalterDrake Lettuce Keeper
Unless you're making a salad or burgers for a large group of people, you probably don't typically use an entire head of lettuce at one time. This plastic lettuce keeper is the right shape to hold a head of lettuce, broccoli or cauliflower to keep them fresh longer. To use, remove the lettuce core, rinse and place the lettuce on the spike inside the container. Then cover and seal the lid, locking in the natural humidity and moisture—but not too much moisture as the container has a built-in drainage system to remove excess water.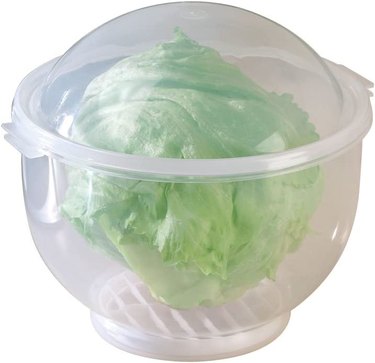 6. Lille Home Stackable Produce Saver
This set of three stackable produce savers will help with your meal prep. The containers come in three different sizes and stack on top of each other, saving room in the refrigerator and keeping your produce together for easy access. The containers are made from food grade, BPA-free plastic and have removable drain trays, keeping your food away from any excess water. The containers come in three colors: blue, green and pink.
7. Food Huggers Avocado Savers
This silicone avocado saver stretches perfectly around a halved or sliced avocado without the pit. You'll get one large and one small hugger, both made of flexible silicone, which provides an air tight seal around the avocado, slowing browning and keeping it fresh. The BPA-free container is dishwasher safe and eliminates the need for single use plastic. It even comes in recycled cardboard packaging, so you can feel even better about your eco-friendly choices.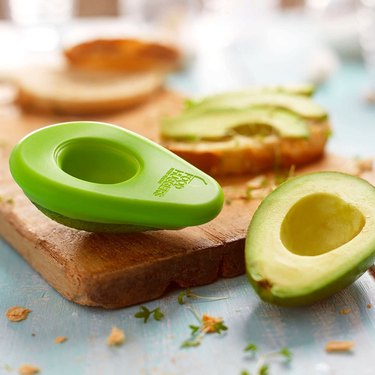 8. Hutzler Gourmac Tomato Saver
The BPA-free and dishwasher-safe container keeps cut tomatoes fresh and firm for a longer period of time. It can technically store any fruit or vegetable that'll fit inside, but the company also sells other vegetable storage options for garlic, mushrooms, peppers, grapefruit, lemons, limes and onions.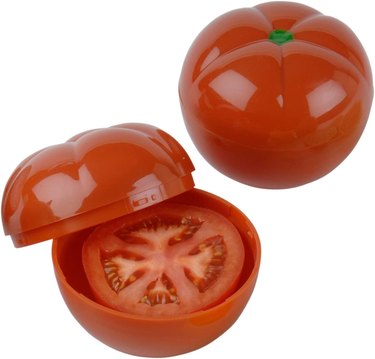 9. The Freshglow Co Freshpaper
If you prefer to skip the containers and keep your produce fresh in its natural environment (that is, wherever you plan to store it), try Freshglow's Freshpaper. They are food-saver sheets that are completely BPA-free, chemical-free, plastic-free and food safe. They are infused with organic botanicals that naturally extend the life of fresh produce up to two to four times longer. Each pack has eight reusable sheets, and each one works for about a month or until the maple-like scent is gone. To use, simply add a sheet to a fruit bowl, produce bag or inside a bag of greens and let it work its magic. You can even cut it to fit inside small containers. You can buy the sheets in an 8-pack, 16-pack, 24-pack, 32-pack or 80-pack.