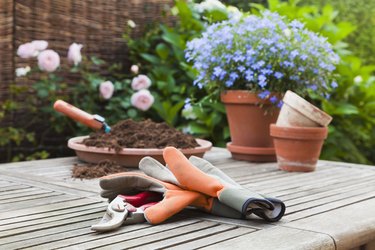 Whether you're a novice or have been gardening for too many years to count, there are essential gardening tools that should be in every plant addict's arsenal. It doesn't matter if you feel you have a green thumb or are more prone to owning one that's black; some tools will make your life easier and your gardening life more successful. Whether it's planting, weeding, clearing debris, or hauling clippings away, some gardening tools are essential in making your gardening endeavors less stressful and a little more enjoyable.
It's easy for first-timers to feel they need to purchase every gardening tool known to mankind to succeed, but that isn't necessary and can be a waste of money. However, there are a few essential tools that accomplish basic tasks for every gardener whether your garden is on an apartment balcony or covers a larger landscape. You'll probably find yourself using these tools regularly and wonder how anyone gets their tasks done without them.
We've covered some considerations when researching and selecting the best gardening tools for your endeavors. Additionally, we've also listed essential tools that every gardener should own and noted some high-quality brands that will assist in getting the job done with a little more ease. They'll give you more time to relax and enjoy your garden than pulling it into shape.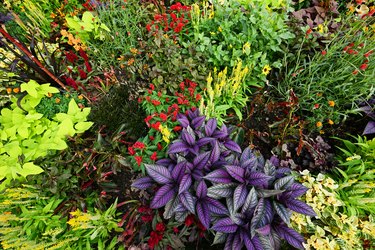 What to Consider When Selecting Essential Gardening Tools
‌Type of Garden‌: You'll want to consider the size of your garden area when selecting the best gardening tools for your personal needs. Are you only taking care of a small outdoor area like a plant-filled balcony? Do you have large areas to plant and tend, such as flower beds, raised beds or a vegetable garden, or are you only tending houseplants? By considering your gardening areas and all the tasks involved in keeping everything healthy and looking tidy, you'll be better equipped to select which essential tools best for your specific needs.
‌Physical Ability‌: When purchasing essential gardening tools, you need to take into account your physical ability to do the work. If you have trouble getting up and down from the ground, you'll want to purchase tools that make movements easier putting less stress on your back and knees. For example, you might find more comfort using tools with long handles over short-handled ones. Additionally, if you suffer problems with your hands like carpal tunnel, tendonitis or arthritis, you'll want to select hand tools that have an ergonomic design.
‌Tool's Material and Weight‌: For years of continued use, select gardening tools that are heavy-duty and made from quality materials. For example, tools made from materials like stainless steel are rust-resistant, durable and made to last for years. The handle is another important consideration. Although sometimes a bit pricier than those of lesser quality, you'll spend less money in the long run because you won't need constant replacements.
Consider the weight of the tool and how much you can comfortably handle. You want a tool that is light enough to comfortably handle and get the work done with the least amount of stress. Even the material of a tool's handle makes a difference. Materials like fiberglass, aluminum and bamboo are lightweight and won't wear your arms and shoulders out after a few minutes of use.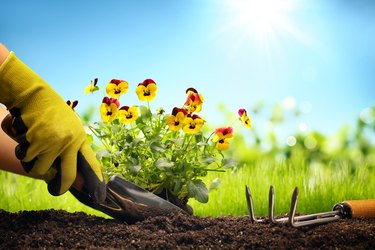 The Best Essential Garden Spade
Whether digging out sod, roots or just digging holes, every gardener needs a good garden spade shovel in their bucket of tools. The Truper round point spade shovel's 48-inch handle is made of fiberglass and has a reinforced resin insert giving it 400 pounds of strength. At 4 1/2 pounds, it's lightweight, making it easy to use. It has a soft cushion grip protective sleeve that adds balance and control and prevents splintering. The shoveling portion is made of heavy-duty 14-gauge steel with a sharp steel blade. A crimped-steel and rivetless collar ring give a solid connection to the handle and neck. Trumper's high-quality garden spade will stand up to the most difficult jobs and keep working for years.
The Best Essential Pruning Shears
Whether you're deadheading your perennials or tidying up your houseplants, you won't be disappointed in the 8-inch Gonicc professional bypass hand pruning shears, also called secateurs. Considered bypass pruners because of the curved SK-5 steel blades, this essential garden tool's carbon steel sharp blades stand up to all types of moderate cutting tasks. The pruning shear's blades are coated with anti-rust oil and no worries about the blades sticking together due to sap as there's a groove allowing it to flow away. The ergonomic aluminum handle has a PVC wrapping, making the hand tool lightweight and comfortable to use with no worries about blisters. You can lock the blades with a flip of the side lever when not in use. No matter the task, these bypass pruners will make your gardening life a little easier.
The Best Essential Gardening Gloves
A good pair of gardening gloves are an essential item no matter your garden's size, and WOHEER's leather and breathable gardening gloves won't disappoint. Whether you're weeding, planting or digging in the dirt or dealing with nasty thorns, these gloves with their microfiber leather-lined palms and fingers are sure to protect your hands. The palm and fingers have an ergonomic design allowing flexibility and better gripping. The elastic wrists make wearing the gloves comfortable and they won't fall off, as well as keeping dirt and debris on the glove's exterior and not entering the interior, keeping your hands clean and protected. With the top portion's breathable fabric lining, your hands will stay cool and sweat-free. With their finely stitched leather and durable design, these gardening gloves will hold up through the toughest and dirtiest gardening tasks.
The Best Essential Leaf Rake
Whether you need a leaf rake or one to gather your gardening debris, the Fiskars Pro 65-inch rake won't let you down. Its long handle made of lightweight but durable aluminum is ergonomic and won't stress your back. The teardrop-shaped shaft and soft-grip handle contours to your hand, offering comfortable use and control for hours. The rake has double-bolted connections, and metal tabs lock the tine rod in place, so no worries about the steel tines breaking or coming loose. The Fiskars rake's heavy-duty construction makes it up for any landscaping task, and best of all, it carries the Fiskars lifetime warranty.
The Best Essential Gardening Loppers
Loppers need to be added to your arsenal of essential gardening tools if your gardening duties involve trimming branches, and Fiskars bypass loppers will make the job a breeze. These heavy-duty loppers are 28 inches long and weigh a little over 2 pounds, so you won't wear yourself out using them. The razor-sharp hardened steel blades and the low friction coating cuts through branches up to 1 1/2 inches thick like butter and resists rusting. The loppers have an ergonomic design with shock-absorbing bumpers and cushioned hand grips making hours of use comfortable and less tiring. Although built to keep making smooth cuts for years, the loppers carry Fiskar's lifetime warranty in the event a problem with the loppers arises.
The Best Essential Gardening Weeder
The Gardtech weeder is an essential gardening tool for gardeners, both novice and seasoned. Its long handle made from metal and plastic makes a lightweight hand tool that won't tire you during its use. Its stand-up design is perfect for those having problems getting up and down while weeding. It has a 40-inch-long handle, and the steel head has a four-claw design that will easily pull out the entire root along with its taproot, eliminating noxious weeds like dandelions. It's a breeze to use because you only have to place the weeder over the center of the weed, thrust the head into the dirt, tilt the handle and the unwanted weed easily pulls from the soil. Gardtech's weeder will make your weeding life a little easier and quickly rid your garden beds of unwanted growth.
The Best Essential Garden Trowel
No more worries about a broken trowel with LRLXE's heavy-duty and durably constructed garden trowel made from 65 manganese steel. The hand trowel is ergonomically designed with the handle wrapped in a resin rubber sleeve giving it a good grip and allowing for comfortable, blister-free work. You won't suffer bending or breaking with the seamlessly welded handle with full solder joints. The trowel's mouth is V-shaped with sharp blades that dig easily into even the hardest soils. This multi-use trowel stands up to even the most difficult jobs and is strong enough to chop through bricks, cans or wires. Whether you need the trowel for scooping, digging holes or transplanting, LRLXE's sturdy trowel will get the job done with ease.
The Best Essential Garden Hose
Anyone who has ever warred with a kinking water hose knows the frustration, but Lefree's expandable garden hose makes kinking a thing of the past. The inner portion of the 3/4-inch hose is made from high-strength latex with the outer covering of abrasion-resistant polyester and is wear-resistant and won't kink during use. The lightweight hose expands to 50 feet when filled with water, and the brass connectors are built to last. In addition to the hose, you also get a garden sprayer made of heavy-duty zinc alloy and ABS that has 10 watering modes to fulfill all your watering needs. Besides the hose and sprayer, the package includes three sealing rings, a roll of PTFE tape, a storage bag and a hanger for easy storage.