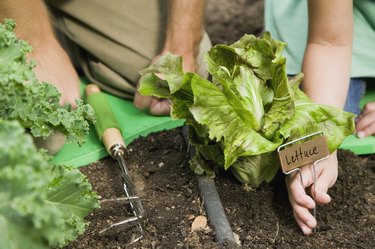 Of all your household chores, gardening can be the most relaxing and rewarding just by watching your efforts grow, bursting into bloom or experiencing the thrill of harvesting a bounty of tasty fruits and veggies. However, it can raise havoc with your knees, especially if you're elderly, suffer from arthritis or experience lasting effects from an injury or other problem. In those cases, gardening becomes a painful chore. Fortunately, using a high-quality kneeling pad can save the day and your suffering knees.
Whether your time in the garden is spent planting, weeding or tackling a big landscaping project, using some type of knee protection insulates your knees from direct contact with the hard ground, giving them a bit of padded comfort. Whether you prefer a soft foam, comfortable kneeling pad or regular knee pads you wear, you have a vast selection of choices in various styles. Whatever you decide is best for you, your knees will thank you for adding some type of garden kneeler to your array of garden tools.
We've outlined below some essential considerations when searching for the best garden kneeler to suit your personal needs. We've also rounded up our top picks among the various styles of the best kneeling pads, so your knee discomfort can become a thing of the past.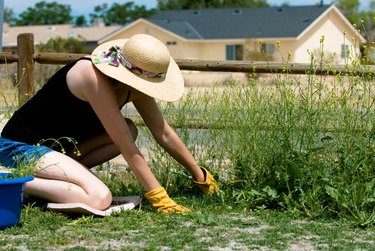 What to Consider When Purchasing Garden Kneeling Pads
​Kneeling Pad Size:​ When selecting a kneeling pad, you need to consider its overall size. You want to make sure you purchase one large enough to comfortably kneel upon to do your gardening work without your knees falling off the sides. You defeat the purpose of the garden kneeler if it's too small to accommodate your size or if it requires you to sit in an uncomfortable position in order to remain on the mat. It's better to purchase an extra large kneeling pad that's a bit too big rather than end up with one that's too small.
​Kneeling Pad Thickness:​ For that extra comfort your knees deserve, be sure to select a garden kneeler made from the thickest high-density foam. A quality foam kneeler is extra thick and contains memory foam that won't compress over time like cheaper quality foam kneeling pads. The thicker the foam, the more comfort your knees experience. You'll also want to get one that has a handle to easily carry and is water-resistant, making it more durable and easier to clean.
​Knee Pads:​ If you prefer, you can wear knee pads that allow you to wear your comfort and not have to move a kneeling pad from place to place as you move. Foam knee pads offer you mobility and knee protection—but be sure to select a pair with thick foam for the greatest amount of protection and comfort. Many types have velcro straps that are easily adjusted to fit a wealth of different-sized knees, as you don't want the straps cutting into the back of your legs. Make sure the pads are sturdy, made of the thickest high-density foam, and the straps are comfortable and large enough to fit.
The Best Overall Garden Kneeling Pad
Whether you need a kneeling pad for gardening, painting, DIY home projects or bathing the kids, the Gorilla Grip kneeling cushion will give your knees that bit of extra comfort. The sturdy kneeling pad is made of high-density foam that withstands the impact of having to kneel on rocky or uneven ground. The non-slip, premium thick kneeling pad is extra large, measuring 17.5 inches by 11 inches, with a thickness of 1.5 inches. It is large enough to allow you to kneel comfortably without cramping and the extra thick foam contours to your knees, adding to the pad's comfort level while still giving you the support you need.
The kneeling pad is water-resistant, allowing you to work on damp ground without it absorbing all the moisture. Its water resistance also makes the pad easier to clean and its sturdy durability makes the garden kneeler built to last for years of use. If you desire something other than standard black, the kneeling pad comes in a rainbow of colors. The garden kneeler is also lightweight and has a carrying handle, making it easy to transport from one location to another.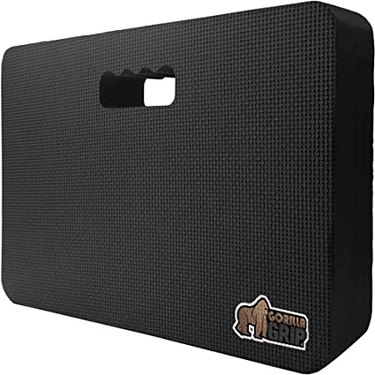 The Best Budget Garden Kneeling Pad
NETANY Extra Thick Kneeling Pad
If you're searching for a foam kneeling pad that won't squeeze your pocketbook—but is still high-quality and sturdy enough to offer hours of pain-free gardening work—then you can't go wrong with NETANY's extra thick kneeling pad. It's made of high-density foam and is extra large and thick, measuring 17.6 inches by 11 inches, with a thickness of 1.5 inches. The foam kneeling cushion has a non-slip surface and although it offers support, the soft foam feel adds to the cushion's level of comfort. Where cheaper foam kneeling pads compress over time, you won't have that worry with this one, as it holds its shape after hours upon hours of use. It's simply built to last. The extra thick foam protects your knees from the impact of working on rocky terrain or other inhospitable surfaces.
The garden kneeling pad is water-resistant, making it easy to clean. Plus, its lightweight construction and its precut handle make it a breeze to transport from one location to another. Besides helping make your gardening work and kneeling pain-free, it's also useful for a wealth of other household chores that call for you to get down on your knees. It also works for doing yoga. It's a good, extra thick foam kneeling pad that will keep some cash in your wallet while giving you much-needed knee protection.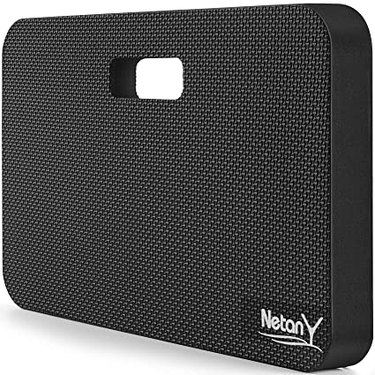 The Best Foldable Gardening Kneeling Pads
KneelyPad Foldable Extra Thick Kneeling Pads
If you're looking for a foldable version of foam kneeling pads without sacrificing any of the thickness or comfort of non-folding pads, then you won't go wrong with KneelyPads. They are lightweight and have a folding design with a handle, making them easy to transport. The pads add comfort to working in the garden and accomplishing other tasks that require you to kneel, such as giving a baby a bath. The pads measure 16 inches by 10 inches with a 3-inch thickness when unfolded. When left folded, the kneeling pads offer a 6-inch thickness, adding extra comfort.
The foam kneeling pads are made from a double layer of memory foam, with the soft foam adding extra comfort but still offering stability. Another neat trait of these pads is that they won't compress over time. There's also a water-resistant neoprene cover that's removable and machine-washable when it gets dirty, so it's easy to care for. The pads are ergonomically designed to add comfort to both your knees and back while completing your work. KneelyPads are constructed for years of use and won't lose their shape no matter how long you use them.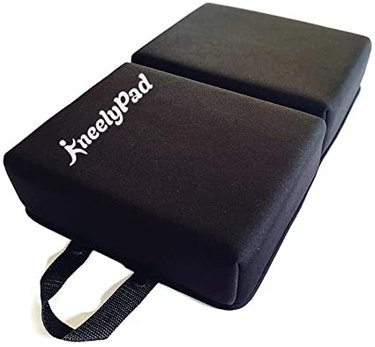 The Best Water-Resistant Gardening Kneeling Pad
Raise Your Game Waterproof Kneeling Pad
If you're looking for a thick kneeling pad offering extra comfort that's water-resistant, then Raise Your Game's waterproof kneeling pad answers the call. You won't have to worry about the pad or your knees getting wet thanks to its waterproof and removable cover that's made out of Poly Duck and is TPU-laminated. The cover has a double zipper to keep the inner cushion secure and is machine-washable. It also has a water-resistant inner layer that keeps the inner layer of poly foam from swelling if, for some reason, moisture gets in.
The thick kneeling pad is foldable, and the memory foam won't lose its shape or compress over time. The extra large pad measures 22 inches by 14 inches unfolded and offers 3 inches of thick foam to protect your knees from uneven surfaces or rocky terrain. It has a 9-inch handle and is lightweight, making it easy to carry from one location to another and get all your gardening or other projects completed pain-free. The durable cover even has a tropical leaf design and comes in blue, green or orange.
The Best Gardening Knee Pads
NoCry Home and Gardening Knee Pads
If you like the mobility gardening in knee pads offers but desire a high-quality pair that is durable but still comfortable, these knee pads by NoCry tick all the boxes. The knee pads are lightweight enough to make you forget you are even wearing them, but durable enough to get the job done in comfort. They're made from soft, EVA foam that is water-resistant, making them easy to clean. Their ergonomic design add extra comfort while kneeling.
The high-quality foam knee pads are designed to fit comfortably around your knees and remain in place in spite of your movements. The knee pads are held in place with flexible hoop and loop neoprene straps that are adjustable to different knee sizes up to 20 inches. They won't irritate the back of your legs, either. The outside of the knee pads are ribbed, offering non-slip use on smooth surfaces and protecting your knees from uneven or rocky surfaces. Whether you need to protect your knees from working in the garden or doing other household chores, you only need to strap these knee pads on and get to work.