The hotter the weather, the colder you'll want your beverages to be. That's easy when you're only a few steps from the fridge, but if you want your food and drink to go with you—to the backyard, the beach or a remote campsite—you're going to need a cooler. The best coolers can keep your drinks cold and your food safe for a week or more, but that performance comes at a cost. Here are a half-dozen of our favorites for a variety of uses, and in a range of price points.
What to Consider When Purchasing a Cooler
‌Capacity Versus Size and Weight:‌ The best coolers have extra-thick walls and insulation to keep contents cold. Unfortunately, this cuts into the cooler's storage capacity, which means it has to be physically larger in order to carry the same amount of food and beverages. You may find it makes sense to go for a wheeled cooler, which makes it easier to manage that extra bulk.
‌Usage:‌ Will you use your cooler mostly as an ice chest out on the deck? Take it with you on day trips and beach days? Or are you into serious all-terrain adventures, where ice retention (the ability to keep things ice-cold for several days) is crucial? That's going to impact your choice. Even a budget cooler works well as an ice chest, but you'll need something more robust for a serious camping trip.
‌Durability and Quality of Construction:‌ Your budget and your usage will determine how much you're prepared to invest in durability. If you're a fan of backcountry camping, a bear-proof cooler will be important to you. If you mostly use your cooler on the deck, you won't care as long as it's leakproof. The best coolers are rotomolded: The mold is turned with the melted plastic inside, so the plastic forms to it like chocolate in a candy mold. The end result is super-durable but often quite basic from a design standpoint. Injection molding, on the other hand, is less durable but more versatile, meaning injection-molded coolers tend to have more features. Budget coolers (like the classic Coleman and Igloo models) can be injection-molded or made of smaller pieces bonded together, and they're not as robust or well insulated.
‌Form Factor:‌ Do you want a classic hard-sided cooler? A cooler backpack, or a small soft cooler? How about a wheeled cooler? One you can throw into the back of your pickup, or one small enough to fit on the floor between the kids' legs? One cooler might fit all of your needs or you might need different models for different uses, but either way, those are questions you should ask yourself.
Tip
Coolers can also be used to keep hot things hot, which is great when you're doing pulled pork for the whole neighborhood or bringing the turkey to grandma's house during the holidays.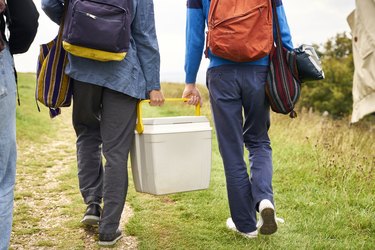 The YETI Tundra series won't give you the most capacity for your dollar, but it's almost unmatched in terms of functionality. These rotomolded coolers are certified bear-resistant and are durable enough to last a decade and more. They also have outstanding ice retention, at around 10 days, which makes them perfect for deep woods camping and long road trips. The sturdy shell has plenty of tie-down slots, so you can strap it securely to your truck bed or ATV with no worries of losing it to a sudden bump. There's also a handy basket for dry goods, to keep them out of the melting water from your ice. You won't get all the bells and whistles (it lacks cup holders) but overall this is a premium product that's well worth the investment for serious campers. Bear in mind that the YETI Tundra line includes several smaller models at lower prices if you like the durability and build quality but don't need this much capacity.
The benchmark in soft coolers is YETI's Hopper line, but RTIC offers a pretty spectacular value proposition as well. This relatively compact cooler bag will tote up to 30 of your favorite beverages, as well as enough ice or gel packs to help keep them ice-cold until you reach your destination. It provides much the same functionality as the Hopper M30 but at half the price (or less). You can expect to enjoy cold drinks for up to 24 hours, at 2 parts beverage to 1 part ice. You can stretch that, or compensate for hot weather, by packing more ice and fewer beverages. The shoulder strap is comfortable, the zipper is reliable, the tough shell won't tear or sweat, and it even floats if it falls overboard. What more could you ask for? OK, maybe a backpack cooler. But they make that, too.
This is a worthy update on the old-school blue Coleman cooler you remember from your childhood. It's slightly heavier—12.7 pounds, compared to the classic 48-quart cooler's 7 pounds—but well worth the tradeoff. To begin with, you'll get upgraded insulation, which Coleman rates at 5 days of ice retention. More importantly, the Xtreme 50 boasts both wheels and a telescoping handle. That makes it one of the lowest-cost wheeled coolers, giving a nice balance of price and functionality. There's room here for up to 84 cans, or for wine or soda bottles to stand upright. The drain plug is conveniently located between the wheels, so you can use the handle to tip it back for easy draining. It doesn't come with latches or other features found on high-end models, but it does boast cup holders, and it serves as a reasonably comfortable seat for campers of up to 250 pounds. All in all, it's perfect for day trips or tailgating.
The Best Large-Capacity Cooler
There are bigger hard coolers out there (RTIC's line goes up to 145 quarts), but this model from Magellan Outdoors hits a sweet spot for price and functionality. It goes toe to toe with higher-priced rivals like YETI and Pelican on sheer ice retention but at a much lower cost. More to the point, it has wheels, and at this size you'll really appreciate a wheeled cooler. Aside from its sheer size and performance, the Magellan is notable for being ambidextrous. The hinges on either side double as latches, so you can open it from either side. If you've ever packed everything into your car or boat only to realize the lid opened the wrong way, that's a really big deal. There's even a bottle opener on either side, so you can always reach one.
If you want high performance but don't need high capacity, there are lots of 20-quart coolers available. This rotomolded model from RTIC follows its brand strategy of rivaling big-money contenders like YETI and Orca in performance, but at a substantially lower price. There's still room for 20 cans of your favorite beverage or a corresponding amount of food—more than enough for one or two people. The heavily insulated shell, high-quality gasket and rubber latches combine to provide excellent ice retention for days, all in a package that's small enough to pack along easily. It's worth noting that Amazon is now following the RTIC strategy, offering its own 20-quart rotomolded cooler at a competitive price, but the RTIC is a more refined product.
The Best Thermoelectric Cooler
One of the nice things about car camping is not having to haul your cooler around. Another thing about car camping is that you'll have access to 12-volt power, which means you can skip the ice packs and go directly to a cooler with active refrigeration built-in. This model from BougeRV, a specialist in RV and "van life" accessories, is an outstanding option within that niche. Its 30-quart capacity is enough for short trips all on its own, or you can use it to complement conventional coolers on a longer trip. Its big party trick is fast-cooling, dropping from 77 degrees to 32 degrees Fahrenheit in just 16 minutes. It's quiet, sturdy, and draws less than 1 kilowatt per hour of electricity per day. You can run it directly from the vehicle's power, from an AC outlet, or from the company's optional battery pack or solar rig.