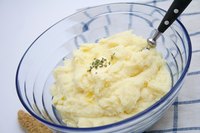 Potato Pearls are a staple at camping stores and disaster preparedness stores. Potato Pearls are a brand-name dehydrated potato product, much like instant mashed potatoes. Like the instant variety, they are useful for making quick meals but must be rehydrated before you can eat them or use them in recipes. Rehydrating Potato Pearls is a simple process that takes only a few minutes.
Things You'll Need
Bring a pot of water to a boil over high heat.
Measure 1 part of Potato Pearls into a bowl. Each 1/4 cup of Potato Pearls will make two to three servings of potatoes.
Add 2 parts boiling water and allow the pearls to absorb the water for several minutes.
Mash and fluff the potatoes with a fork to serve as mashed potatoes or use them in your recipe.