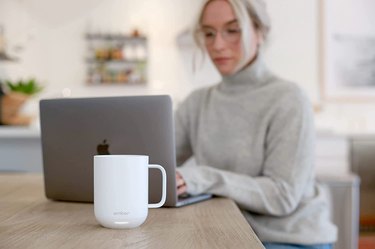 Coffee drinkers know that in order to fully enjoy a cup of coffee, the coffee's temperature needs to be exactly how you like it for the duration of your drinking experience. If you're tired of constantly reheating your coffee (or tea) in the microwave, the right self-heating, electric coffee mug warmer will change your life. Seriously, once you've tried a warming mug, you're never going to want to drink out of a regular mug again. Not only do warming mugs keep your coffee hot, but they also keep the flavor intact, as opposed to continuously nuking it in the microwave.
There are two types of coffee mug warmers: A standalone warming pad that requires your own mug (ceramic, glass or metal) or a warming pad set that comes with an electric mug. A heating pad is the less expensive option, but it doesn't allow you to control the exact temperature or have any other special features, but you do get to use your favorite coffee mug. Coffee mug warmer sets are higher-end and can sometimes be controlled via the company's app for precise temperature control, auto-off functionality and even wireless charging capabilities. The coffee mug, however, isn't dishwasher-safe.
What to Consider When Purchasing a Warming Mug
‌Battery Life:‌ If you buy a cup warmer like the Ember that has a charging pad and relies on the battery life to stay heated, you'll want to make sure the rechargeable battery works with your routine. Some mugs stay charged for upwards of an hour and a half and can take over two hours to fully charge. If you drink your coffee slowly or drink more than one cup within that time frame, battery life is something to consider.
‌Capacity and Size:‌ Capacity refers to the number of ounces a warming mug can hold. However, if you end up going with a warming base and use your own mug, you'll want to make sure that the size of the base can hold your favorite mug. A base is typically pretty small and won't take up too much countertop space but it needs to be large enough to hold an oversized mug, if that's what you use.
‌Care:‌ When it comes to a coffee mug—especially one that you use daily—it's important for it to be easy to clean. Most warming mugs and pads can be wiped down with a clean damp cloth after use and dried right away. The bottom of the mug has to stay dry or it'll damage the charging saucer.
‌Special Features:‌ Some electric warming mugs come with special features that others don't offer, like smartphone connectivity, wireless charging, an automatic shut-off function and precise temperature control. If you go with just the warming pad, there won't be any bells and whistles.
When you want your coffee hot, lukewarm doesn't cut it. So, take a look at the best mug warmers of 2022 and say goodbye to reheated coffee.
The Best Overall Warming Mug
Ember Temperature Control Smart Mug
Our top pick is the Ember Mug. Not only does this smart mug keep your coffee at the precise temperature of your choosing via the connected smartphone app, but the mug enters sleep mode when there's no hot liquid inside. The battery will last up to 80 minutes wirelessly, giving you plenty of time to enjoy your coffee at the perfect temperature. If you keep the Ember Mug on the charging pad, it'll stay warm all day. A smart LED light at the base of the mug lets you know when it's heating or cooling, when the coffee is ready to drink and when the battery needs to be charged. You can even change the color of the LED light.
‌Capacity:‌ 14 oz.
‌Battery Life:‌ 80 minutes
‌Clean:‌ Hand-wash only
‌Smartphone Controls:‌ Yes
‌Color Options:‌ White, gray, black
‌Special Features:‌ Auto sleep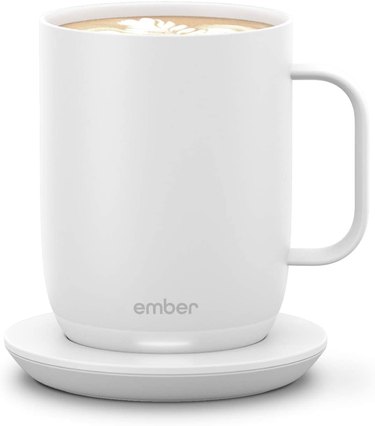 The Best Budget Warming Mug
ionMug Charging Coaster Set
You'll get a lot of bang for your buck with ionMug's Charging Coaster Set. Included is a warming pad, mug, and lid to help keep your liquid warm for even longer. While on the warming pad, your mug will maintain a consistent temperature of 122 degrees. After 60 minutes of inactivity, or if no liquid is detected inside the mug, the warming pad will automatically shut off. The warming pad doubles as a wireless phone charger, which means one less cable to keep on your desk.
‌Capacity:‌ 12.8 oz.
‌Clean:‌ Hand-wash only
‌Smartphone Controls:‌ No
‌Color Options:‌ Blue, black, white, yellow
‌Special Features:‌ Wireless phone charging, lid, auto shut-off
The Best Warming Mug for a Desk
Ohom Ui Self-Heating Coffee Mug
With the Ohom Ui Self-Heating Mug, you can keep your latte toasty without even leaving your desk. The charging pad maintains a temperature of 135 degrees for your coffee or tea, and it can also be used as a wireless phone charger. This cup warmer is also our top choice for the best design as it comes in several trendy colors.
‌Capacity:‌ 12 oz.
‌Clean:‌ Dishwasher-safe
‌Smartphone Controls:‌ No
‌Color Options:‌ Brown, gold, olive, violet, red, spring nectar, white, terracotta, deep navy
‌Special Features:‌ Lid, wireless phone charging
The Best Warming Mug for the Car
Ember Temperature Control Travel Mug
The best travel mug is the Ember Temperature Control Travel Mug. Using the Ember app, you can set your temperature, customize presets, receive notifications and more. The app also has a feature that lets you track your caffeine consumption. If you don't want to use the app, you can set your preferred drinking temperature directly on the mug. The smart mug will keep your liquid warm for up to two hours at your desired temperature while out and about, or you can keep it on the cup warmer for all-day heating.
‌Capacity:‌ 12 oz.
‌Battery Life:‌ 2 hours
‌Clean:‌ Hand-wash only
‌Smartphone Controls:‌ Yes
‌Color Options:‌ Black
‌Special Features:‌ Lid, customizable LED color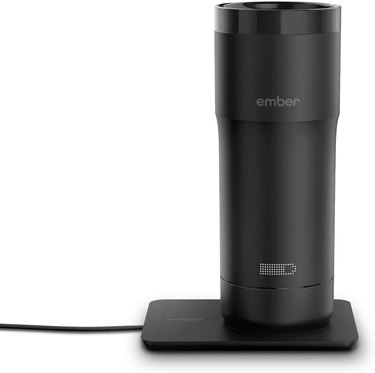 Bestinnkits Smart Coffee Warmer
Ready to keep your coffee or tea as hot as it was when you made it? This 19-watt mug warming pad doesn't come with a mug, which gives you the freedom to use your own mug that you just can't live without. This particular warming pad works best with a thin-walled, flat-bottomed mug. The weight of the mug needs to be over 13 oz. to activate the gravity switch, which automatically activates when you set your mug on top and turns off when you remove it. When your mug is placed on the warming pad, the temperature stays at a perfect 131 degrees.
‌Clean:‌ Wipe clean
‌Smartphone Controls:‌ No
‌Color Options:‌ Black, blue light, pink, white
‌Special Features:‌ Waterproof
The Best Warming Mug With Auto Shut-Off
Cosori Coffee Mug Warmer Set
Another budget-friendly option, the Cosori Cofee Mug Warmer Set lets you set your preferred temperature using touch controls on the LCD digital display. Built from food-grade stainless steel, the mug features a heat-resistant handle and a slip-resistant rubber sleeve for a secure grip. To prolong the mug's lifespan, it's best to hand-wash it after each use. The warming plate is water-resistant and can reach up to 230 degrees, giving you the opportunity to customize the temperature anywhere from 77 degrees to 158 degrees.
‌Capacity:‌ 17 oz.
‌Clean:‌ Hand-wash
‌Smartphone Controls:‌ No
‌Color Options:‌ Black and stainless steel
‌Special Features:‌ LCD digital display, auto shut-off
The Best Non-Electric Warming Mug
Reduce Insulated Travel Mug
If you're looking for a non-electric mug that'll keep your coffee or tea warm for several hours, the Reduce Insulated Travel Mug is a great option. Made of stainless steel and silicone, the BPA-free travel mug has dual-wall vacuum insulation to keep your liquid warm for up to four hours. It has a locking lid and is condensation- and leak-proof.
‌Capacity:‌ 14 oz., 18 oz., 24 oz.
‌Clean:‌ Dishwasher-safe
‌Smartphone Controls:‌ No
‌Color Options:‌ Eucalyptus, linen, rose, black, sapphire, stone
‌Special Features:‌ Condensation- and leak-proof