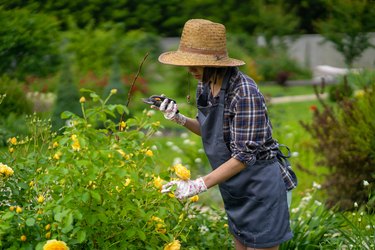 When it comes to chores around the house, gardening can be one of the most satisfying but it can also be one of the dirtiest. Besides the inevitable dirt, you also have a wealth of small tools and supplies you need to carry around and this is where a high-quality gardening apron with good functionality comes in handy. A work apron keeps your tools within easy reach and prevents your clothes from getting soiled.
Whether you're trying to protect your favorite T-shirt, need to carry an assortment of small garden tools and seed packets, or desire an apron with deep pockets suitable for carrying your bountiful harvest, there's a gardening apron to meet your requirements. Styles of gardening aprons range from a harvest apron with large pockets for toting your fruits and veggies to a basic garden tool apron. Once you experience how useful an apron can be, you'll wonder why you didn't buy one long ago.
We've outlined the characteristics of some of the best gardening aprons below and also noted some of the things you need to consider when purchasing a gardening apron.
What to Consider When Purchasing a Gardening Apron
​Material:​ The material of your gardening apron is the most important thing you need to consider when making your selection. Since you probably don't want to invest in a new one each year, make sure to get a durable one made out of quality, heavy-duty fabric. Your apron is going to take a beating in the yard, as well as in the washing machine getting clean, so you want something that will withstand wear and tear.
Depending on what you're looking for, your material choices include regular canvas or waxed canvas, cotton, plus water-resistant options like nylon or Oxford cloth. Since you'll most likely be carrying sharp tools like a trowel or hand clippers, you want a fabric with a bit of thickness so it doesn't easily rip from continued use. Aprons made from a quality material can last for years, offering more protection for your clothes, as well as saving you some cash since you won't need a continued replacement.
​Pockets:​ You want to select an apron that has a variety of pocket sizes to add to its functionality. A gardening apron with multiple pockets allows you to carry everything from your cell phone to your hand tools. Aprons with big pockets can easily tote larger hand tools, and those with deep pockets can carry your harvested goodies without getting damaged in the transport. With a harvesting apron, you want to make sure the large pocket where you carry your bounty has a release feature so you can easily drop your load.
​Adjustability:​ Many styles of gardening aprons are unisex and one size fits all but you still want to make sure it's adjustable so you can get the perfect fit. Many styles have an adjustable neck strap and may also have waist straps or waist ties so you can adjust it for a personal fit. You want to be sure the work apron fits comfortably in winter when you are wearing bulkier clothing, as well as in summer when you might only be wearing a tank top. The apron should fit snugly to your body but still allow you to freely move when doing your gardening chores.
​Style:​ There are a variety of gardening apron styles to choose from including bib aprons, waist aprons that look more like a tool belt, smocks, harvest aprons and longer half aprons. Of course, the longer the apron, the more protected your clothes will be (and you'll probably have more pocket space). If you often find yourself carting multiple tools around, you'll probably want to go with a longer style. However, if you only will be carrying a few hand tools, you might only need a waist apron.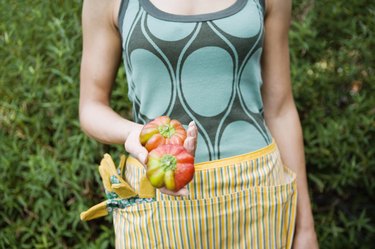 The Best Overall Gardening Apron
Typhon East Garden Apron Includes Knee Pads, 6 Pockets
The Typhon East Garden Apron offers durability with its wear-resistant and breathable nylon fabric along with water resistance, meaning the apron is built to last. You can also save your knees as the apron comes with a set of soft foam kneeling pads. It's got six deep pockets with five at the bottom and a zippered front pocket up top, so it will hold all your tools as well as your cell phone. With the zippered pocket, you don't have to worry about things falling out. The durable stitching adds to the apron's heavy-duty qualities. Its soft brown color hides the dirt, but when it gets too dirty, you can just throw it in the washing machine.
For added comfort and fit, this unisex apron has an adjustable neck strap as well as an adjustable cross-back strap. The thicker neck and shoulder straps mean more comfort without the worry of thinner straps digging into your flesh. Best of all, the company offers 100 percent of your money back if you're not pleased for any reason.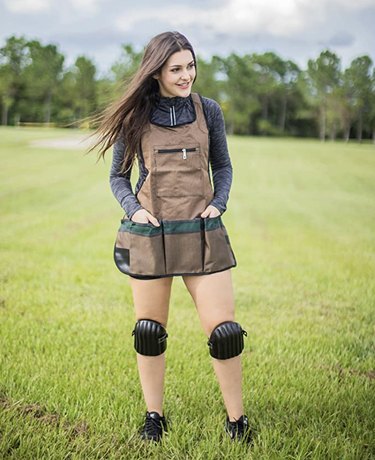 The Best Value Gardening Apron
PATILWON Gardening Apron, 14 Pockets
If you're looking for a durable gardening apron that's heavy-duty and fits your needs but also won't bust your bank account, then you can't go wrong with the PATILWON gardening apron with pockets. It's a bib-style apron with 14 assorted pockets including a top front pocket, five larger pockets, and four medium and small pockets that can hold an assortment of supplies. The pockets have reinforced stitching, making them stronger, and the apron is breathable, water-resistant and made of 600D Oxford cloth.
The apron has a unisex design and its adjustable shoulder and waist straps fit a variety of sizes. It can be adjusted from 28 inches to 52 inches. The straps are double-stitched so they'll stand up to the toughest wear. This multifunctional gardening apron is sure to fit all your gardening needs while keeping a few dollars in your pocket.
The Best Gardening Apron for Harvesting
Grace and August Garden Harvest Apron, 3 Pockets
Harvesting the fruits of your hard work calls for a garden apron that will hold your bounty and the Grace and August Garden Apron fits those needs with its large harvesting pocket. The apron is lightweight, durable, and made from 100% cotton canvas with a water-resistant liner. It has double stitching throughout, adding to the apron's durability and standing up to wear and tear. The apron has a top front pocket that you can slide your hand tools or other smaller supplies into and a large roo-style bottom pocket with elastic sides where you can put your harvested fruits and veggies. You can easily empty the bottom pocket by releasing the clips.
The apron also features cross-back straps and waist straps that are adjustable, fitting waists up to 60 inches. The adjustable shoulder straps help in distributing the weight of your load. This apron is made to last, and once dirty, you can simply throw it in the washing machine.
The Best Gardening Apron for Tools
NoCry Professional Canvas Work Apron, 16 Pockets
When working in the garden, you never know just how many tools you might need, and the NoCry gardening apron with pockets will hold them all. This durable bib apron is made out of 600D Oxford canvas and features double-stitching, adding to its strength. It's also lightweight and waterproof. You won't be at a loss for pockets because this apron features 16 deep ones in a variety of widths so it's ready to tote all your tools. It has a unisex, one size fits all design with an adjustable waist strap that adjusts to 55 inches. The shoulder straps are padded for comfort and are also adjustable. Both the waist and shoulder straps have quick-release buckles.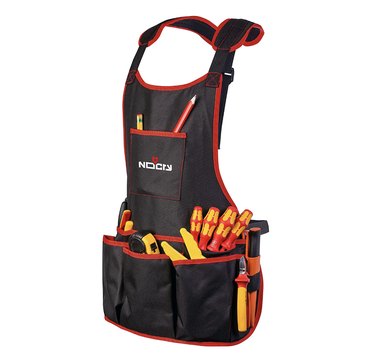 The Best Garden Waist Apron
PATILWON Gardening Tool Waist Apron, 13 Pockets
If you're looking for a smaller-sized gardening apron then this waist apron from PATILWON might fit your needs. It's made from high-quality and durable 600D Oxford cloth with double stitching throughout to enhance its strength. The apron features 13 pockets made up of five large pockets, four medium pockets, and four small pockets, as well as two loops on either side where you can insert an easy-to-reach tool like your hand pruners. The double stitching means you don't have to worry about your tools cutting through the cloth. This waist apron is one size fits all with an adjustable belt that features a quick-release buckle. Although small in size, this waist apron will certainly make carrying your gardening tools a lot easier and is made to last.