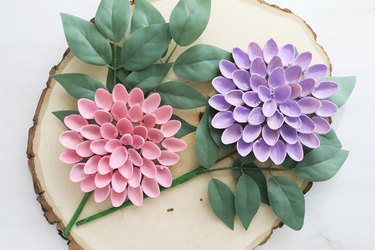 If you're looking for an easy craft idea that's inexpensive to boot, it might be time to eat some pistachios. Hear us out: The shells of pistachios are made of a durable, woodlike material. This means you can easily reuse and upcycle them for DIY pistachio shell crafts.
Take these pretty pistachio shell flowers, for example. They're made with layers of painted pistachio nut shells glued on top of scrap cardboard. Once arranged on a wood slice and displayed with faux leaves, the nut shells instantly transform into a beautiful room decoration.
What's more, like all pistachio shell crafts, this DIY project offers an excellent way to reduce waste materials. It's also budget-friendly, as it can be made with myriad upcycled supplies. In other words, it's a crafty dream come true.
Read on to learn how to make pista shell flowers plus tips for making it your own.
Things You'll Need
Pistachio shells (skins removed)

Acrylic or spray paint

Paintbrushes

Scrap cardboard

Scissors

Pencil

Round object (like a Mason jar lid)

Cardboard sheet, wood slice or canvas

Hot glue gun

Faux leaves
Tip
If you're using a wood slice and want to make a wall hanging, you'll need to attach a picture hanger to the back side. Picture hangers are available in the frame section of craft stores and Amazon. For even easier wall decor, you can also display your pistachio shell flowers in an old picture frame with decorative paper.
Step 1
Paint the inside of the shells.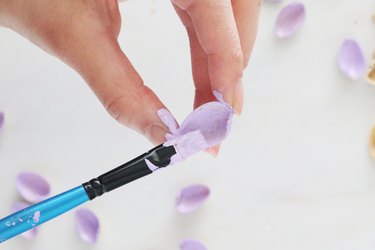 Step 2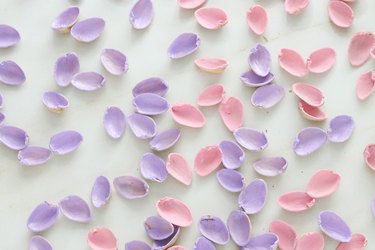 Step 3
While the pistachio shells are drying, trace the round object on scrap cardboard. The size of this object will determine the final size of your flowers.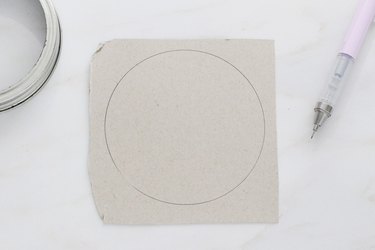 Step 4
Cut out the circle. Repeat as necessary.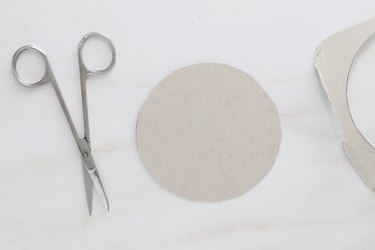 Step 5
Using hot glue, adhere the painted pistachio shells around the edge of the cardboard circle. Position the shells at a slight angle with the pointed end facing out and up.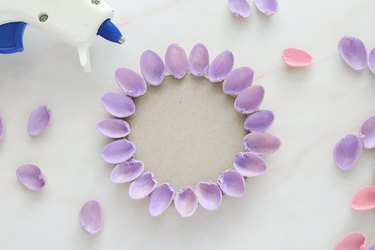 Tip
Since hot glue dries very quickly, it's best to work in small increments. Apply a short line of glue, add a few pistachio shells and then repeat until the row is full.
Step 6
Add another row of painted nut shells, placing them at an angle against the first row of shells.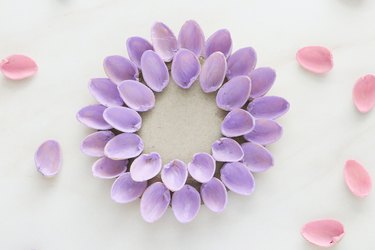 Step 7
Repeat this process, working in circular rows until the cardboard is covered and your shell art is complete. You might need anywhere between one and three shells to fill in the center.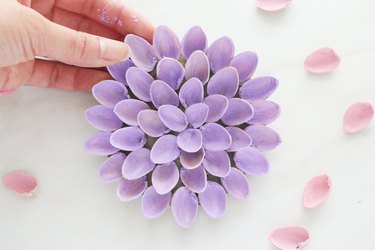 Tip
To make additional pista shell flowers, repeat the tutorial with different colors of acrylic paint. Also, consider mixing the paints you already have to create new shades. For example, we mixed red and white to make a light pink color.
Step 8
Using the hot glue, adhere the pistachio shell flowers and faux leaves on the surface of your choice. Your DIY home decor project is ready to display.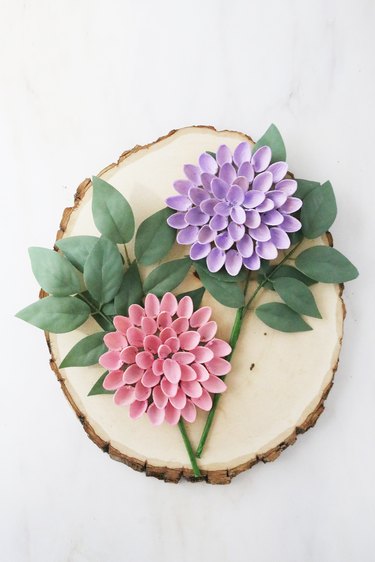 Although this tutorial is best for adults and older kids, it can be easily adjusted for younger children. Simply use smaller cardboard circles and nontoxic craft glue instead of hot glue.
If you're looking for even more home decorating ideas, consider making a "bouquet" of pistachio shell flowers. All you need to do is glue the cardboard circle base to a real wooden stick. Once you've prepared several flowers, place the sticks in a flower vase and add dried or faux greenery.